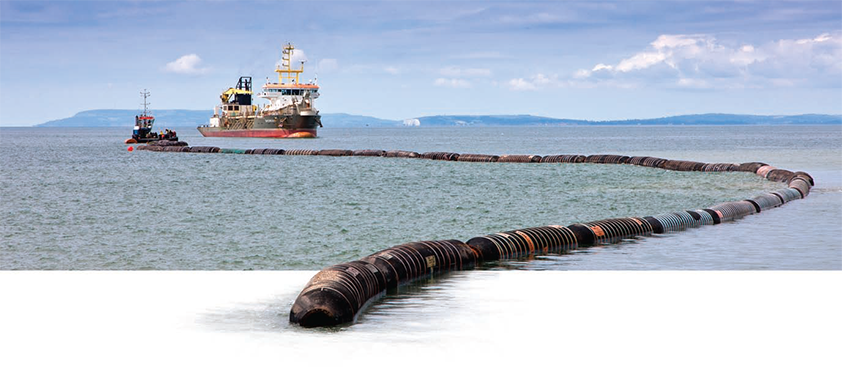 Boskalis International Pte Ltd
By royal approval
Boskalis International (S) Pte Ltd is the Singaporean branch of Royal Boskalis Westminster N.V., a market leading global business that provides marine and maritime services.
In Singapore, Boskalis International (S) Pte Ltd has been operational for three decades, completing a range of projects for clients in a wide array of fields.
"Royal Boskalis Westminster N.V. is a leading global maritime services company operating in the dredging, offshore energy and inland infrastructure sectors. Through SMIT it is also active in towage and salvage services. We deliver innovative one-stop solutions to major maritime challenges," said Pranab Choudhury, regional business manager in Singapore. "Boskalis has more than 11,000 employees, including a share in partner companies. It operates in over 75 countries across six continents, and its versatile fleet consists of over 1100 vessels and a variety of equipment.
"Boskalis Singapore was established in 1983 to execute projects in Singapore and the region," he continued. "Over the years we have completed several very large projects such as the land reclamation works in the Tuas and Jurong areas of Singapore and the phase 2 expansion of the Port of Tanjung Pelepas in Malaysia."
As Pranab explained, in Singapore and the surrounding region Boskalis carries out a wide range of activities and in its history has completed major projects for government agencies, oil companies and port operators. On a wider level, internationally Boskalis is active in projects in the energy, port and infrastructure markets working with clients that include oil and energy companies, port operators, governments, shipping companies, international project developers, insurance companies, and mining businesses.
"Regardless of region, we always place a very primary and high emphasis on customer service," he added. "This encompasses understanding the client's needs and developing innovative and competitive all-round solutions for the customer.In most cases, this also means walking the value creation path together with the client and coming up with solutions that create real value for them. Our growth based strategic framework is built on the four pillars of 'Focus, Optimise, Reinforceand Expand', which provides us the strategic competitive advantage in the market. We are also the only one among our peers that has the in-house capabilities to provide a complete integrated service to our customers – we arerightly seen as the one-stop solution provider for complex and large projects."
This approach means that the company invariably works with many of the leading names in the industry such as Shell, Petrofac, Petronas, and Daewoo. "The work on the Shell Bukom Single Point Mooring Pipeline Replacement project is ongoing at the moment," Pranab highlighted. "The scope of works include dredging, removal, replacement and protection of the Single Point Mooring (SPM) 48" subsea pipeline. This project is located within close proximity to the Shell Bukom refinery and also in the vicinity of a coral reserve.
"In 2012 we completed two very challenging projects for Petrofac and Petronas in their offshore fields. The locations were some 140km offshore and subject to high swells meaning that the work required precise dredging to replace soft materials near one of the foundations of the platform. Our vessel, 'The Queen of the Netherlands', carried out the work very smoothly – she is only one of the handful of TSHDs that's capable of dredging at that water depth." Successfully completing complex projects such as these ensures Boskalis remains busy. In fact, recently the company has been awarded a contract by Shell Philippines Exploration BV for the installation of an offshore Depletion Compression Platform for its Malampaya Project. In addition, the company has been awarded a contract to dredge the approach channel of a refinery project in Vietnam.
Boskalis' dredging work is carried out using the latest, state-of-the-art equipment, as Pranab explained: "All the dredgers in Boskalis' fleet are equipped with the latest available technologies in the field of navigation, communication and survey equipment. We have an in-house built software called dredge-view, which provides us with accurate dredging depths and mininises the dredging tolerances. In Singapore we have the fall pipe vessel 'Zinkoon 6', which is equipped with scrader® concept to install rock within centimetres accuracy.
"We are also refitting our mega sized Trailer Suction Hopper Dregder (TSHD) 'The WD Fairway' in Singapore. This mega Trailer has a hopper capacity of 35,508 m3 and total installed power of 27,550 KW. Not only is this very powerful and large equipment, it is also very environmentally friendly due to the environmental-valve installed in the hopper that significantly reduces the sediment plume in the dredging areas."
Considering the projects and contracts highlighted, as well as the favourable market conditions at present, Pranab concluded on a positive note for the future: "Singapore and South East Asia is expected to enjoy a robust market for our services for the remaining part of 2013. Singapore has already announced several large land reclamation projects in the next three to five years and we are keen to participate and add value in these projects. Similarly, the other countries in the region have national plans for expanding their infrastructures in the energy and port sectors. Our strategic vision is to be the leading service provider in the field of innovative and competitive all-round solutions to our customers in this region."
Boskalis International Pte Ltd
Services: Maritime services