Boustead International Heaters
Leading solutions
Boustead International Heaters is a company with a global reach and enviable track record of delivering a diverse portfolio of products and services to all corners of the world
Alongside some of its longest serving staff members, Boustead International Heaters (BIH) started in the 1960s as the European arm of an American fired heater company. In 1997, it was taken over by Boustead Singapore Limited (BSL), and the current brand was launched. Recognized as the oldest engineering company listed on the Singapore Stock Exchange with a 193-year history, BIH has learnt from its parent
company and maintained its core skill base to satisfy its growing clientele and forge strong links with a global supply network.
Now, the company is focused on supplying thermal heat transfer equipment to the world's energy and industrial markets. BIH designs, builds and installs bespoke equipment to meet exacting client standards and solve extreme engineering challenges. Stuart Cummings, the company's CEO, shares with us how BIH's wide-ranging process equipment experience stems from traditional oil and gas-fired heater applications, and how the company is determined to revolutionize the energy industry.
"We supply all the global majors either directly or via a broad spectrum of EPC contractors; BIH has an unrivalled reference list and holds approved supplier status with over 50 prestigious clients. BIH evolved its product offering over the last decade to include waste heat recovery units (WHRUs), which capture otherwise wasted exhaust gases and convert them into useable energy, and therefore reduces the carbon footprint of operations utilizing gas turbines," says Stuart.
In addition to the recovery units, the business' spectrum of system solutions ranges from fired heaters, heat recovery steam generators, once through steam generators, Selective Catalytic Reduction and ancillary products and services. To make this possible, it relies on the dedication of its widespread team, with headquarters in the UK and another base in Malaysia. "BIH employs a workforce of around 100 people who have delivered more than 1000 thermal heat transfer systems on over 250 projects delivered to more than 30 countries across every continent," says Stuart. "Design requirements ranging from the extremes of desert-based sites to offshore facilities and permafrost locations represent numerous technical challenges in terms of metallurgy expansion, fatigue and operability. Fortunately, all of these fall under BIH expertise and we have the knowhow and experience to address these issues effectively. It is this flexibility, innovation and agility to scale the required resource for any given project that ha contributed to BIH's market leading position and has helped us to maintain our longstanding relationship and reputation with all our customers," he shares.
As Stuart acknowledges, the company's name has become synonymous with technical problem-solving capability, responsive customer service, dynamic project execution and superior quality and health and safety standards, all of which have contributed to its ample repeat business. "Our financial strength as a standalone entity is a combined effort of unwavering support from our listed parent company and client confidence. This allows us to weather the toughest storms and be dependable for through-life support of their assets offering consistency of support and retained knowledge base.
"We have also become a leader in setting and raising the standards for the industry, leading and serving on several panels within the API (American Petroleum Institute) and ISO (International Standards Organization)," he adds.
Since the recent COP26 meeting, in which world leaders gathered to implement strategies to achieve net zero, BIH has also increasingly recognized the demand for decarbonization solutions. "Through discussions and collaboration with our customers, BIH has led the charge to develop techniques, technologies and solutions to meet tighter regulatory controls on emissions. For example, ongoing improvements in NOX and CO2 emission controls requiring advanced combustion equipment design and post-combustion catalysts, targeting ever increasing fuel efficiency, and eliminating oil firing in all new fired heaters globally.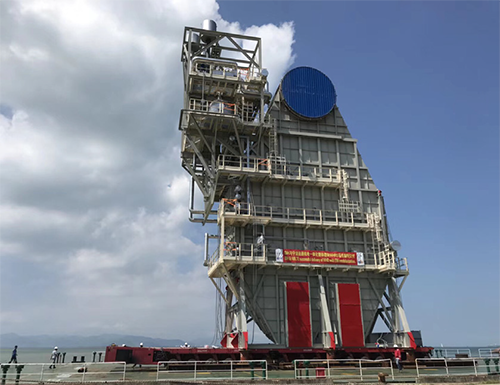 "In addition to this, the fired heater market has seen a shift in the customer base from traditional oil refining to gas-derived products manufacture such as petrochemicals and LNG production. The waste heat recovery unit market has seen similar trends; the application of combined cycle gas turbines (CCGT) to maximize fuel efficiency (both on and offshore) and the introduction of post combustion emissions controls. BIH's global installed base of WHRUs are estimated to have recovered more than 150 terawatt-hours (TWh) of energy."
Stuart takes a moment to acknowledge that BIH's success would not be possible without its hard-working staff who have kept the wheels turning smoothly. The company boasts an entrepreneurial culture that provides an open-minded and adaptable approach to the constant change in market conditions. "Our organization is actively working closely with our global customers to develop high-tech value-added solutions in renewable fuel, hydrogen production, waste heat to power applications and the decarbonization and efficiency improvements of existing installed equipment."
This is why, despite the global slowdown initiated by the widespread lockdowns and associated industrial hiatus, BIH was fortunate enough to have a healthy order backlog to weather the storm. "With employee health and wellbeing at the top of the agenda, BIH had invested significantly in remote working technologies in advance of the pandemic as part of our risk management strategy, and as such were able to transition seamlessly to a remote working model.
"Some of our largest contract awards of 2020 were negotiated and concluded entirely remotely, which is a credit to all parties involved. Despite having work fronts in over 22 countries, BIH project execution was largely unaffected and we worked constructively with our supply chain and clients to overcome difficulties encountered, resulting in all projects being delivered on time. Our teams were versatile, flexible and resilient, adjusting work patterns to suit project requirements, accepting quarantine demands when visiting clients and sites when necessary and developing new procedures to overcome the restrictions created by the pandemic and associated lockdowns," he shares.
In addition to the pandemic, the company also had to square-off with the consequences of Brexit. "The majority of BIH's activities are outside of Europe. However, at the time Brexit was introduced, we had three live projects in the region, which were delivered successfully
BIH is adept at working across diverse international jurisdictions and therefore approached the Brexit challenge like any other international project.
"On the Quality Assurance side, BIH acted rapidly to achieve certification for the UK-versions (UKCA) of applicable pre-Brexit EU regulations such as PED, EN1090 in addition to our internationally recognized approvals for ISO 9001, 14001, 45001 and ISO/TS 29001. Indirect impacts from Brexit, which included increased currency volatility, were more immediate and noticeable, but nevertheless manageable through existing procedures and facilities," Stuart says, adding that BIH has continued to receive orders from new and existing EU customers and is committed to serving this essential market through a particularly dynamic time.
Impressively, above these achievements, the company is also driving the move to sustainability. "BIH has been collaborating and undertaking detailed studies for customers globally to explore feasibility and develop scope of works for a broad range of solutions targeted to decarbonize new and existing installations alike. Some of these areas include on and off-shore combined cycle gas turbines, oxy-combustions, hydrogen firing, and Waste Heat to Power solutions in new industrial sectors," he expresses.
As the world continues to face an increase in pressure for greener strategies, BIH is optimistic about its efforts and is keen to lead the energy industry with its best practices. "BIH recognize the importance of the industrial sector shifting to greener, more sustainable energy sources and is already supplying plant-critical equipment for use with Hydrogen as an alternative to natural gas.
"These are unprecedented challenges, but BIH is well positioned to support stakeholders in achieving their objectives through the development of our innovative products, dynamism of our staff and collaborative business approach," Stuart concludes.
Boustead International Heaters
www.bihl.com/about-us
Services: Thermal Process and Heat Recovery Solutions