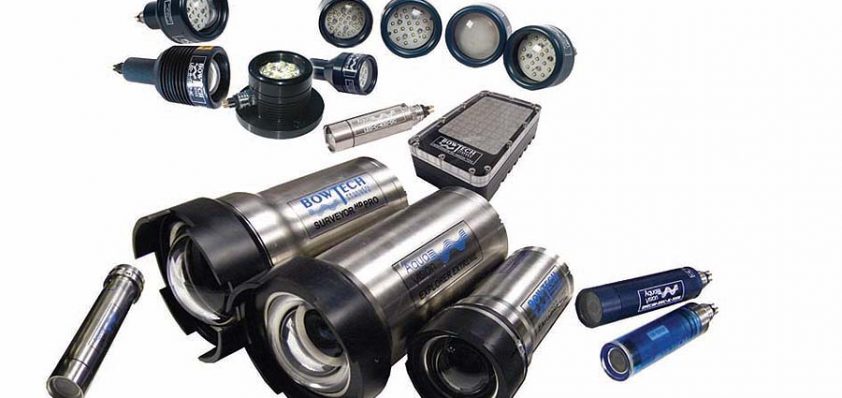 Impressive portfolio
From its humble beginnings as a net importer of US manufactured products specifically designed for the subsea arena, Bowtech Products Ltd has grown over the years to become a specialist in the design, manufacture and supply of underwater harsh environment vision systems, as Mike Winstanley begins:
"Bowtech Products Ltd (Est. 1989) began trading in January 1990 with just two members of staff: founder Steve Bowring and myself, then operating as sales executive. Bowtech grew over the next 18 years to become a specialist in the supply of cameras, lighting, connectors and multiplexers. In 2008 we decided to concentrate on the design, manufacture and supply of our own range underwater harsh environment vision systems. Today our underwater vision systems are deployed in the harshest environments within the ROV AUV, oil and gas, defence, oceanographic, nuclear, leisure and marine science industries."
On the verge of celebrating its 25th anniversary in operation, Bowtech has expanded in all areas over the years as it developed a strong reputation for meeting market demand for innovative and game-changing products. Beginning with two personnel, the Aberdeen-based company today boasts 50, of which over 30 are highly trained electrical and mechanical engineers and technicians that strive to provide high quality technical support to the entire product range. The growing numbers of staff operate at Bowtech Products' brand new headquarters, located in Aberdeen's major new international business park, ABZ, which it moved into in December. Having secured a prominent entrance plot, the company developed a high specification office and manufacturing facility, which centralised its operations to one site and ensured there is potential to double staff numbers over the next five years.
"The new building is an enabler; with all departments under one roof it allows us to take innovations from concept through design and production as well as the ability to offer training in house now and ongoing support. The new facility is 2.5 x larger than all our previous facilities combined, which will enable us to grow to over 100 personnel in the coming years," highlights Mike.
Key to this ongoing expansion is Bowtech Products' impressive portfolio of innovative underwater harsh environment vision systems, which includes video inspection systems, underwater LED lights, xenon underwater emergency relocation strobes, custom moulded cable
assemblies, pan and tilts, underwater electrical and fibre-optic connectors, fibre-optic multiplexers and slip rings for use in hazardous areas or subsea, to 6000 metres.
"Bowtech Products' underwater vision systems are deployed in the harshest environments within the ROV AUV, oil and gas, defence, oceanographic, nuclear, leisure and marine science industries. We pride ourselves on listening to customers to ascertain their requirements and supply to OEM manufacturers such as SMD, one of the largest suppliers of work class ROV's, trenchers and ploughs as well as Sub Atlantic and Seabotix who manufacture electric ROV's primarily for light intervention and observation tasks. Contractors such as Subsea 7, Oceaneering, and ROVOP are key clients as well as drilling contractors such as Transocean. SBM head up the customer base for FPSO's but are often specified by operators such as BP," says Mike.
The most recently launched product within the company's range is the high-resolution Pioneer multipurpose underwater camera with six integral high intensity LEDs. Suitable for general underwater viewing observation at depths as great as 4000 metres, the product measures only 53 mm diameter and 78.8 mm in length, and provides a cost effective solution for projects involving tooling and manipulators. Enclosed within a high quality titanium housing, the camera is fitted with a fixed focus wideangle lense, thus providing customers with a 58 degrees diagonal angle of view when submerged through its highly scratch resistant and 98.8 per cent optically pure sapphire window.
"The Pioneer is a product that is so typical of how Bowtech create new products. A Norwegian client, FMC, was being supplied by a competitor but found that they were lagging behind in technology and non-responsive. Bowtech listened to the clients' needs and created with them their ideal solution, which was to fit within the existing space envelope but deliver higher performance," explains Mike. "The camera is 4000 meter rated with a 720 TVL resolution camera, 300 lines greater than the incumbent. In addition it has greater sensitivity, draws less power and is manufactured with a highly corrosion resistant titanium housing and sapphire viewport. The camera has been designed with other markets in mind and is already being introduced to other clients."
Although the innovative firm boasts a global client base, the highest areas of activity are the North Sea, Asia Pacific and Brazil, where its products are used in projects involving equipment such as ROVs, semi-submersibles and FPSOs. In fact, Bowtech Products was recently involved in BP's Quad 204 project, which involves the redevelopment of the Schiehallion and Loyal Fields in the North Sea. The project, which was approved in July 2011 and is due to begin production in 2016, will extend the life of both fields, thus enabling them to continue production beyond 2035. Since being awarded the EPC contract for the internal turret mooring system (TMS) for the Quad 204 project, SBM Offshore subcontracted Bowtech Products to supply its Chain Stopper Monitoring System during the TMS's installation.
Following this contract win, the global market leader in subsea vision systems announced the delivery of a new £100,000 Chain Stopper Monitoring System in July 2013; the system will allow visual monitoring of each chain stopper ratchet when chains are being tensioned during the installation phase. The TMS has a total of 20 chain stoppers located on the chaintable on the lower turret; because these will be based approximately 15 metres below sea level during the phase, the company's scope of supply for the subsea system includes high sensitivity, high resolution monochrome cameras and LED lights. These will be installed on the I-tubes above the chain stoppers to allow downward viewing of operations throughout the installation. Meanwhile, the scope of supply for the topside system includes a video inspection and control system, which will enable viewing and controlling of the cameras and LED lights. On top of this, Bowtech Products supplied all associated cables, connectors and brackets for the contract.
Having earned a reputation for excellence in the oil and gas industry, Bowtech Products is now focusing on its strategy for future growth by taking its products overseas to new geographical markets and continually improving its portfolio in conjunction with its client base. "We want to work with customers to enhance the vision systems and create solutions which make remote operations safer, more reliable and more cost effective," concludes Mike.
Bowtech Products Ltd
Products: Underwater harsh environment vision systems