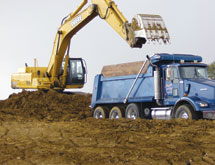 Boyd and Sons Construction
Founded in 1978, Boyd and Sons Construction has become known as one of the Midwest's premier and diversified construction companies. As it was at the beginning, Boyd and Sons remains a family owned and operated company built on the bedrock of honesty, integrity and performance.
"The secret to any successful business is surrounding yourself with good people," owner Mike Boyd says. "I was raised in a family that believed in hard work, honesty, production and efficiency. I lean on my upbringing and all of the great people we have here."
The Right Approach
The company, headquartered in Washington, Ind., is part of the Boyd and Sons family of companies, which includes trucking, farming and machinery companies. It also has a motor sports division, which includes the Green Steak Pulling Team, a seven-time 10,000 Pro Stock World Champion sponsored by Lucas Oil.
Although it is based out of the Midwest, Boyd and Sons Construction works on projects across the entire country. Currently, most of the company's work is in the coal industry in Midwest. However, it is seeing oil and gas activity expand in North Dakota, along with other areas of the country.
Boyd and Sons Construction has the experience, equipment, workforce, safety record and financial stability needed on energy and mining projects. It has continuously expanded its scope of services as part of keeping up with the changing needs of the customers and industries that the company serves.
The company's ultimate goal is to provide customers with high-quality work and excellent results on every project. In order to achieve this goal, Boyd and Sons Construction regularly improves its core services and invests in top-of-the-line equipment.
"We continue to invest in specialized tooling such as hot tap machines and directional drills. We do a lot of hydro testing of pipelines for different organizations to ensure the integrity and safety of new pipelines being installed," North Dakota Regional Manager Tod Ammerman says. "We provide clients with detailed reports after we've tested their pipelines, so they will know that a pipeline is safe before it goes into service."
Another important company characteristic is its focus on value. Boyd and Sons Construction isn't always the least expensive option for customers, but the company believes price and cost are two different things.
"We prove to our clients that the cost of working with us is cheaper because we are faster and more efficient than the competition," Boyd says. "At the end of the day, providing customers with great value and service means they will come back to you."
Diversified Divisions
Boyd and Sons Construction includes several divisions. These include mass excavation, utilities, mining and reclamation, oil and gas, forestry, grinding, boring, heavy haul, crane service, roller compacted concrete, soil stabilization and disaster recovery.
Some of the divisions are specifically tailored toward the energy and mining industries. Boyd and Sons Construction's mining and reclamation division specializes in heavy mass excavation, plant and facilities construction, utilities, contract mining, slurry line fusing and installation, soil and rock removal, and mine reclamation.
As for the oil and gas division, the company annually constructs hundreds of miles of pipeline for leading energy companies. Boyd and Sons Construction is capable of performing all aspects of pipeline construction, including trenching, directional boring, jack and boring, welding, testing, well hookups and plant construction.
Thanks to an array of state-of-the-art equipment and a multitude of experience personnel, the company is capable of taking on any oil and gas size project. Boyd and Sons Construction understands what it takes to work in harsh conditions and deal with tight schedules, and the organization has built an exceptional safety record and has become listed as a contractor on the ISNetworld Safety Network.
Although its other divisions may not be tied solely to the energy and mining sectors, the diversification they provide expands the services that Boyd and Sons Construction can offer to customers. For example, the company's mass excavation and utilities division's services include coalmine and land reclamation, as well as gas collection systems and plant construction. Its forestry and grinding division specializes in land clearing and grinding.
There is also the heavy haul and crane service division, which provides transportation services for heavy equipment and oversized loads. It can assist with everything from engineering, load planning and logistics to permits and final delivery.
Boyd and Sons Construction's roller compacted concrete and soil stabilization divisions build strong load bearing surfaces for roads, pads, parking lots, and residential and commercial buildings. Finally, the disaster recovery division specializes in removal of the debris and wreckage after natural disasters.
For the company to continue its growth, it will continue to invest in people to ensure it has a stable pipeline of trained, experienced folks in its workforce, Boyd says.
Boyd and Sons Construction will also need to have access to capital, which is why it strives to maintain great relationships with banks, such as First Financial Bank in Indiana and Great Plains National Bank in North Dakota. But the company's future success will forever hinge on what grew the company in the first place: honesty, integrity and performance.
"We need to maintain our people and cash flow, but the key to our success is keeping customers happy, providing excellent service and maintaining our drive to work hard," Boyd concludes.