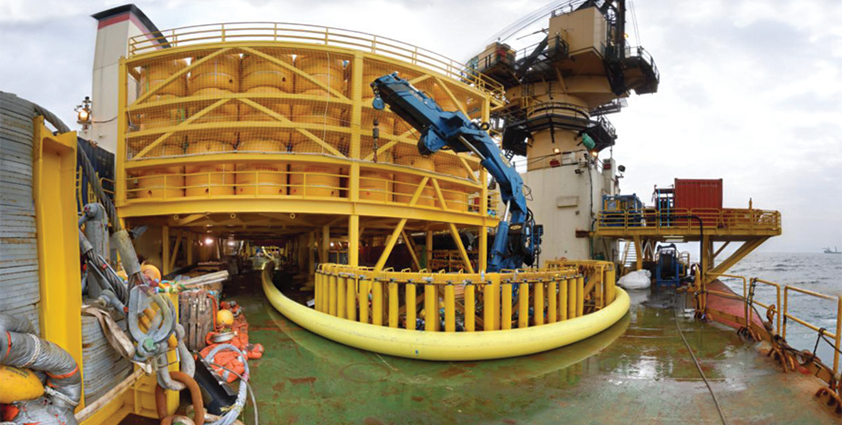 Technically minded
BPP-TECH was established in 1982 to exploit patents and new developments in technology for the offshore industry that were emerging from the work of its founders.
BPP-TECH is headquartered in London with two branch offices in Houston and Aberdeen, which enable it to best serve its diversified international customer base. Approximately 85 per cent of the company's operations are based outside of the UK with activity in the Gulf of Mexico, West of Africa and South East Asia.
In terms of the oil and gas market, BPP-TECH provides specific and unique technical services to the principal oil companies to assist their upstream oil and gas exploration and production operations. Darren Patel, director, outlines BPP-TECH's core areas of business today: "We offer technical services to the international oil and gas, and renewable energy industries. This includes engineering design and analysis of subsea umbilicals, flexible risers and power cables, drilling conductors, offshore platforms and FPSOs. Leading oil companies also look to BPP-TECH for technical support in the specification and procurement of critical subsea equipment for their offshore operations. This is an essential aspect of the safe and reliable operation of complex oil fields.
"Another core activity is risk, reliability and failure investigations, which are an essential yet little understood service requirement. We supply quantitative risk analysis for offshore and onshore plants and pipelines, technical audits, and expert consultancy services for the evaluation and prediction of environmental risks, safety studies and peer reviews. BPP-TECH works with leading oil companies to carry out research, and develop new technology and products for their operations. Typical current product development projects are liquefied natural gas (LNG) flexible offloading hoses, long-life undersea and downhole power cables, and novel innovative low cost pipeline structures."
New technologies are key to facilitating the operations of the oil and gas industry, particularly as new oil field developments are increasingly located in deeper waters and harsh weather environments. With safety at the heart of the company's culture, BPP-TECH continues to align its service portfolio with these demands through extensive in-house research and development. This work is funded both by internally generated funds and by partnerships with oil companies. Commenting on some of the projects currently in the pipeline, Darren says: "At present we are completing operational tests on a high-power subsea cable of lower submerged weight and higher service life than currently available designs. BG International, BP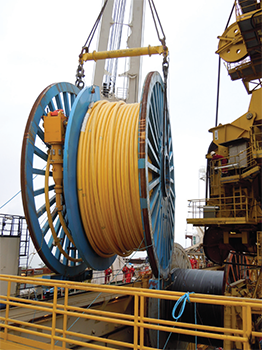 Exploration, DUCO (Technip), Shell UK and Norske Shell have all been project partners in this development. Looking a little further ahead, BPP-TECH is in the early stages of developing a patented advanced high-pressure flexible hose design using high-strength man made fabric materials. This deve opment has the potential for new low cost applications in the oil, gas and hazardous fluid transportation sectors."
One example of the commercial application of these developments is a cryogenic transfer hose, developed by BPP-TECH in partnership with BHP Billiton. Drawing on its significant and unique expertise in the handling and transportation of LNG, BPP-TECH invented, manufactured, tested and obtained Lloyds approval for the product, which is available in a range of sizes including eight and 16-inch diameters. Describing the market scope for this particular innovation, Darren adds: "These hoses are a key enabler for ship-to-shore, and in the future ship-to-ship, LNG transfer, and have the potential to transform the worldwide gas market. The LNG hose is currently licensed by Bluewater Engineering for commercial exploitation."
Alongside the competitive edge gained by its development projects, Darren highlights the other factors behind BPP-TECH's industry success: "BPP-TECH's core philosophy is to deliver technical excellence and a continuity of services to its client base, achieving customer loyalty and a steady workload for long-term success. We have a team of excellent engineers with deep technological know-how and specialist expertise in the oil, gas and related energy industries, traits which are in short supply in the industry." BPP-TECH has also established a wholly owned subsidiary known as BPP-Cables, which arose out of successful product development projects on high capacity, long life, subsea power cables. BPP-Cables was established to give these cable products and related services more prominence in the market place.
Given the rapid pace that the oil and gas industry develops at, the engineering capacity within BPP-TECH places it in an ideal position to evolve alongside these demands. With strong commercial and technical foundations, Darren explains how the key aim for the future is to promote BPP-TECH's achievements: "We would like to see the company's technologically advanced products in service, and contributing to the challenges of providing energy to the world whilst protecting the environment. In line with this vision, we would be interested in forming strategic partnerships with investors and manufacturers, with the objective of accelerating the uptake of our new products and solutions for the offshore industry. We would also plan to increase our presence around the world for our services, with higher activity levels in Brasil and in the high latitude sub-arctic areas."
BPP-TECH
Services: Engineering solutions