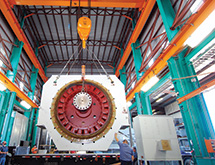 A privately owned family business that has survived, grown in expertise and led the industry for 85 years is noteworthy in today's business world.
A business owned within one family for five generations requires one person in all five generations to love the business. Bradleys Inc. is currently owned by the family's fifth generation, Jim Williams Jr., who purchased the business following his father's passing in 2007. His son, Jimmy Lee Williams, is the sixth generation, working his way up the chain of command as foreman in the production department.
After 85 years, the company's name remains the same, but it is realigning its business model to meet the needs of customers' improved reliability expectations. Through the decades, Bradleys has implemented cutting-edge technology, procedures and processes to provide state-of-the-art electric motor repair, rewinding, horizontal and vertical load testing, CNC services for hard-to-find or obsolete parts, field services, new motor sales and climate-controlled storage for critical motors and equipment.
Its 110,000-square-foot facility, built in 2010, employs the latest equipment, including a 100-ton bridge crane with 45-foot hook height and a load-testing facility with full-load and dual frequency testing capabilities up to 10,000 HP. It is the largest electric motor repair facility in south Texas. Bradleys is located at 600 East Highway 35 in Gregory, Texas, adjacent to Corpus Christi, Texas, the nation's sixth-largest deep water port, accessible by rail and state highway.
Bradleys uses real-time software to collect data and track clients' motors as they move through the production line. History has proven that a company that does not document their processes and procedures, control expenses and maintain a quality product cannot survive the test of time. The ISO 9001:2008 certification process provided the structure Bradleys used for over a decade and documented many of the company's processes and procedures. Over the past two years, the company has painstakingly documented every process, procedure and best practice, utilizing decades of knowledge from its highly skilled and aging workforce.
Using Bradleys' quality management software, these processes and procedures were broken down into line-by-line programming code for data entry from the production floor. Documented training modules are added to each procedure, and customer specifications cross-referenced to each activity identifying out of spec measurements. Collecting and assimilating data accumulated over 85 years was a huge undertaking. "The driving force for all of this effort was not only to improve quality and production efficiency, but also to prepare for the ISO 9001: 2015 program that will be implemented in 2018," General Manager Lola Williams says. "These changes move the company from a 'corrective action: learning from our mistakes' ideology to 'performance: assessing risk models' ideology. You can't predict what you don't know or can't control."
Improving production efficiency gives Bradleys an edge in a competitive market. Reducing the time required to train personnel to perform their tasks accurately and efficiently reduces costs and creates a predictable workforce more quickly. Unlike their grandparents, the new millennials move from job to job every two years. Technical skills in the electric motor repair service industry take years – and in some skill sets, decades – to master.
Bradleys created a workforce development program within its human resources department to train personnel and track their progress. A local community college was awarded an educational grant to assist Bradleys with improving their employees' technical skills in the electric motor service industry. These skills are needed throughout the region's industrial workforce. Bradleys' employees will earn a certificate of completion after completing the 12-month program.
As with any global culture shift within a company, change is difficult and fear is the mind killer. A three-phase process based on human performance principles was utilized to mitigate this fear of change.
Phase 1: Put people in positions based on their strengths where they can be successful. "We called it musical offices. Knowing the new software would eliminate several positions, our focus was to retrain our good employees," says Angela Waller, human resources manager. "We utilized The StrengthsFinder Assessments to facilitate this process." A behavioral psychologist works on-site to help transition the employees.
Phase 2: Train the personnel for their new tasks. Document all processes from the front door to the back door of the business. Invite employees who choose not to help the company move forward to seek other employment.
Phase 3: Put the quality program in the driver's seat. Utilize the principles of the ISO program to track and analyze the processes and procedures of day-to-day operations.
Along with Bradleys' culture change, the company has also expanded to include an 8-foot epoxy VPI tank for high-voltage global rewinds, along with its polyester VPI unit for mid-voltage rewinds. The depth of technical expertise on Bradleys' staff is exceptional, with two level III vibration analysts on staff, customer-specific project managers and in-house technical training programs online and on-site in Bradleys' training facility for both employees and customers, taught by EASA industry instructors.
Bradleys' expertise is well known in the industry and to its customers. The company is EASA accredited, ISO 9001:2008 certified and the 2013 winner of the TECO-Westinghouse Blue Diamond Award for Quality, Cost, Delivery and Service.
Bradleys' goal to exceed customers' expectations continues to drive the company today. Utilizing its load-testing technology, the company is helping motor manufacturers perfect their new motor designs to create smaller and more efficient motors. "When these new motor designs arrive at our facility in 10 years for repair, we will already know their performance curves and internal design. This is a decided advantage," President Jim Williams Jr. says. "We are performing dual frequency or synthetic load testing per IEEE 112 on a 138,000-pound, 12,000-HP RCP motor – a feat our great-, great-uncle would never have imagined in 1930."