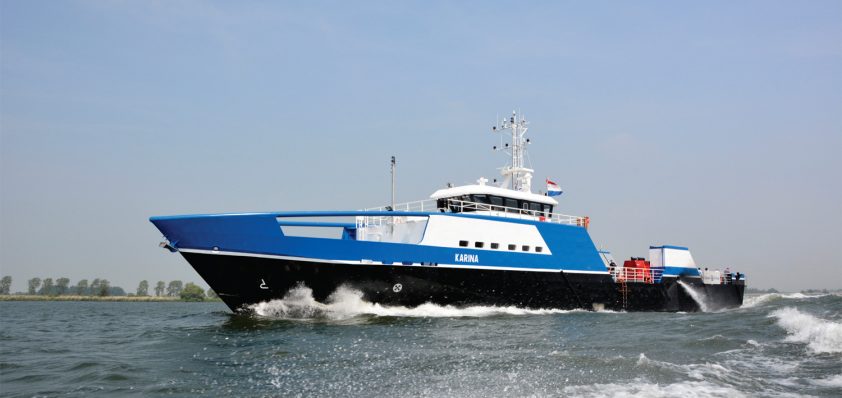 Get connected
Proud to provide smart solutions to any power requirement across the globe, family-owned company Bredenoord guarantees absolute reliability when it comes to delivering customised power to temporary, permanent or mobile (back-up) systems thanks to its long term expertise and commitment to customer satisfaction. "Bredenoord has been operating since its foundation in the Netherlands in 1937 three generations ago," begins Jaap Fluit, CEO of Bredenoord. "The company grew after the war as it began trading in used power equipment; growth continued when the second generation of the family came into the company and we progressed into producing our own generators. In the 1970s we completed our first rental job, which led to rental becoming part of our business model alongside production and sales of generators as well as the trading of engines and generators. In 2000 the second generation of the Bredenoord family stepped down from direct management and the new board of directors was formed; I became part of the board at the age of 28 and was responsible for the rental department.
"Together we continued to grow, particularly in rental, and now, in 2015, we have 230 employees and depots in the Netherlands, Belgium, Germany and Denmark. We are involved in rental projects worldwide, with the main rental markets located in North West Europe; we also provide the service and sales of generators and installations. Today our turnover is approximately 50 million euros."


The standard and custom-made generators within Bredenoord's range ensure its flexibility when it comes to meeting the requirements of customers, whether that means budget, application or functionality. The installations within its portfolio range from five kVA to 2000 kVA, and can applied in power-plants up to 60 MVA. Hereby, if required, these can be fitted with more specific configurations, housings and sound insulation. Because all generators are designed and developed in-house, the company is able to deliver a virtually endless range of possibilities of optimum quality to clients.
In addition to meeting the increasing need for reliable energy at the right place and the right moment, Bredenoord is also focusing its attentions on developing smart solutions that meet regulatory and legislative requirements both now and in the future, as Jaap notes: "Of course regulations are becoming increasingly stringent, but it was in 2008 that we started to wonder if we could use an alternative product to oil and what would be an alternative carrier of energy. We decided on hydrogen as an alternative and developed a hydrogen power generator that used a fuel cell and named it The Purity. We have two prototypes available, but the road to alternative fuel is still long, so for now we use diesel oil as efficiently as possible through the development of the ESaver, a hybrid unit that we can use with our regular gen sets. We measured that this combination saves in general 70 per cent of the fuel with the same reliable power output. We are always looking into new products that are not only cleaner, but also give the same reliability."
Committed to raising the standard of quality of its products and services, Bredenoord continuously innovates by focusing on the latest market trends and through the training of its personnel. The most recent example of this is the company's launch of a new range of generators specifically for the offshore and marine market at the Offshore Energy Exhibition in Amsterdam in October 2015. Complying with the IMO Tier II emissions regulations, the Marine & Offshore certified generators are available as part of the rental fleet for the offshore industry and are designed to meet the IACS, SOLAS and NORSOK requirements.
"Although we have our own R&D engineering and construction facilities for gensets here in Apeldoorn, for this marine application we looked at partners to work with that are not active in the rental industry but have a lot of knowledge of these products. We came to DBR and together we developed this product for our customers," explains Jaap. The new offshore rental gensets are suitable for use in harsh environments and under heavy duty conditions.
With Bredenoord's qualified technicians providing fast installation of the gensets, the company is able to offer 24/7 flexibility and efficiency in meeting the needs of offshore customers. "We want to grow to applications with Marine and Offshore support vessels, rigs, wind farms, dredging and so on in this market, so we started with the 500 kVAs that have been specifically designed for offshore operations. This machine range complies with all emission legislation and regulations and I think we are quite unique with that at this time. We now have a dedicated machine to fulfil the requirements of the offshore industry and from here we will see how we can build on this position."
He continues: "We also founded another company together with two partner companies in April 2014 in which we provide solutions for large scale events across the world. The company is called EPG (Event Power Group) and we use our expertise to finely tailor total solutions for powering any major event." Created in response to market demand, EPG combines the expertise of Bredenoord, Horlemann and Powershop to provide the best equipment of the three parties to safeguard successful events. Power equipment offered by EPG includes Techpower, Bredenoord's special power supply to support the highly sensitive equipment for broadcasting events, Tier 3A diesel technology, transformers of all voltages, complete cabling, LED light towers and temporary charging posts.
Having diversified its markets since the economic crisis in 2007, Bredenoord has continued to grow thanks to its specialist knowledge, reliability, efficiency and forward thinking approach to collaborations. These strengths are certain to hold the company in good stead as it anticipates increasing demand for maintenance and temporary power solutions within the offshore and marine industry.
Bredenoord
Services: Customised power solutions