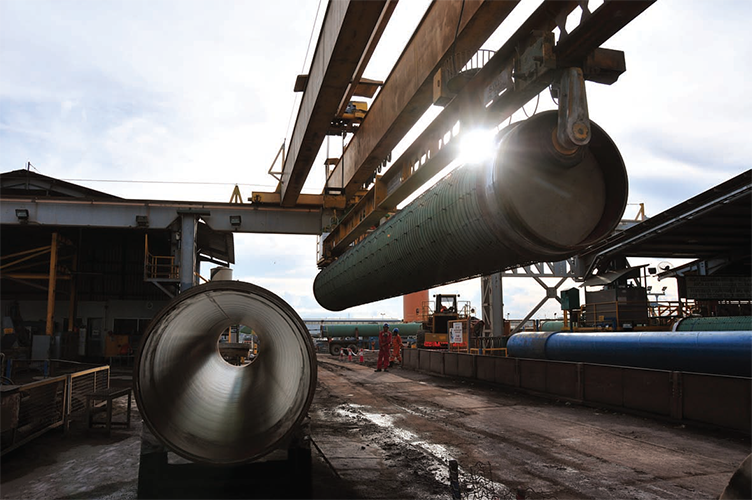 Bredero Shaw Asia Pacific
Layering up
In 1996 two companies, Shaw Pipe Protection and Bredero Price, collaborated under a joint venture forming Bredero Shaw.
Today the company is a division of ShawCor Ltd, a global energy services company specialising in technology based products and services for the pipeline, petrochemical and other industrial sectors.
As a leader in the development and manufacture of pipe coating solutions for the oil, gas and water industries, it has a history dating back to the 1930s that attracts major energy industry clients around the world and as a result over 400,000 kilometres of gas, water and slurry pipelines are protected by its products.
Through extensive knowledge and one of the largest teams of experienced and dedicated pipe coating professionals in the industry, Bredero Shaw has coated more pipelines in more diverse geographical areas and climates than anyone in the sector. It has introduced foundation type coatings such as asphalt enamel, FBE, concrete weight coating and wet thermal insulation. Bredero Shaw currently offers a range of anticorrosion coatings, protective and weight coatings, thermal flow assurance coatings, internal coatings, field joints and custom coatings.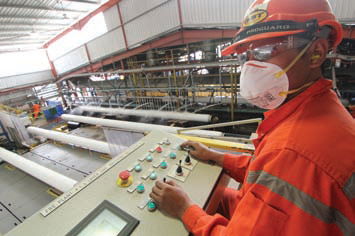 Bredero Shaw Asia Pacific has personnel in Kabil and Kuantan covering project management, production, quality control and quality assurance. The project teams have dealt with some of the most complex and challenging projects in the industry with a clear understanding of the technical and planning requirements of deepwater pipeline projects.
Featured in European Oil and Gas Magazine in May 2012, Bredero Shaw Asia Pacific announced a $400 million contract with Mitsui & Co Ltd on the Ichthys project. It has since undertaken several high profile contracts and expanded its land development sites as Neil Uppal, regional marketing manager explains: "Coating for the INPEX Ichthys LNG is on track for completion by the end of 2013 and load-out operations will begin in mid 2014. We have been quite busy in the Asia Pacific region, with work progressing on major and smaller projects and further development at both our Kuantan Malaysia and Kabil Indonesia sites, including massive land development for pipe storage, with both sites now over 100 hectares each."
Shortly after the 2012 publication Bredero Shaw received a $45 million contract with Apache in Australia for the coating of 47 kilometres of 18" pipe as part of the Julimar development, as Neil explains: "Virtually all of the pipe has been loaded into Kuantan and Kabiland coated, with tentative completion by the end of 2013. The project involves various combinations of three-layer polypropylene anticorrosion coating, concrete weight coating and five-layer polypropylene insulation. Load out of pipe should commence in the first half of 2014."
The new multi-layer thermal insulation coating plant in Kabil adds to the company's capacity and offering to local clients. The Kabil site is the only coating facility in Indonesia offering all coating technologies for pipe up to 56" diameter, providing a one-stop centre to efficiently manage and deliver multiple pipe coatings. Located adjacent to the Kabil offshore deepwater port, there are dedicated, priority load-in and load-out facilities within 300 metres of the site, providing logistical savings and reducing the risk of laybarge downtime and demurrage due to priority berthing.
Currently operating more than 20 plant locations across the world Bredero Shaw has a distinct knowledge and understanding of local practices. The Malaysia and Indonesia facilities are amongst the world's largest pipe coating plants, and are supported technically from the regional office in Singapore. Kevin Reizer, senior vice president Asia Pacific adds: "We can rely on our headquarters in Houston, testing facilities in Calgary and Orkanger, and ShawCor Corporate Research and Development (CR&D) team based in Toronto, which has 22 researchers for further support. The CR&D laboratory is continually adding to its capabilities, with the recently constructed large Simulated Service Vessel (SSV) as the latest example."
The SSV replicates service conditions experienced by subsea insulation coatings. By surrounding the insulation coatings with pressurised water while maintaining the temperature inside the pipe it mirrors actual subsea operating conditions and allows for measurement of the heat flow and the compressive creep of the insulating material.
Backed by the support of its strong capabilities, the company received a second pipe coating contract for the Ichthys LNG project in 2012. "The project involves coating approximately 148 km of 6" to 18" diameter pipe with three-layer polypropylene anticorrosion coating and Thermotite multi-layer polypropylene insulation," says Neil. The project, worth $100 million, covers the infield lines that feed the 889 kilometre subsea pipeline with 8.4 million tonnes of natural gas per annum.
In June 2013 Bredero Shaw announced a $30 million project with Statoil Norway to provide pipeline coatings for the Edvard Grieg Oil and the Utsira High Gas Pipeline projects. With offshore subsea projects becoming more complex the design and execution risks are greater, and being part of a diversified energy services company is beneficial, as Kevin says: "A strong balance sheet provides a competitive advantage for individual, capital intensive projects and also a strong platform for robust future growth. Our new complete coating assurance model offers a total package from design to installation. This model addresses every stage of the project life cycle with a reduction of risk on multiple fronts."
Reviewing the market, Kevin comments: "The complex subsea and deepwater areas continue to grow. The Asian demand for LNG is resulting in a significant number of new projects feeding LNG production facilities around the world. The Caspian area is generating significant activity, and the domestic markets of several Asian oil and gas producers are surging.
"2014 will see the beginning of a pipeline activity pivot from Asia Pacific to the Central European and Canadian areas, with the planned start of the Southstream and Caspian Projects and a hopeful approval of several LNG Projects in Western Canada. Bredero Shaw will be supporting these developments, and also working on new solutions for both unconventional hydrocarbon developments, upgrades to standard coating systems, and evaluation of certain emerging markets."
Bredero Shaw looks towards the future with confidence. Kevin concludes: "In addition to furthering our position as the global leader in pipe coating solutions, Bredero Shaw will play a central role in ShawCor's growth plans to become a leading integrated energy services company focused on growth, innovation and excellence. The market can expect to see increased, differentiated integrated ShawCor solutions using combinations of existing and new product lines."
Bredero Shaw Asia Pacific
Services: Pipe coatings