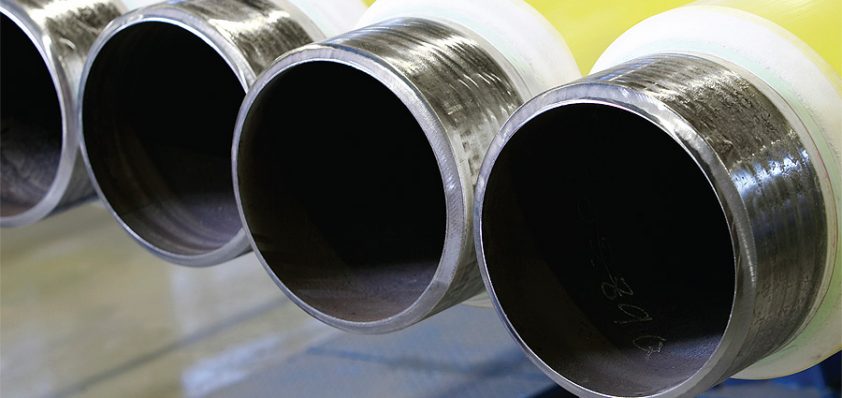 In the pipeline
Bredero Shaw Norway AS is part of the Bredero Shaw group of companies, which have been offering pipe coating solutions for the oil, gas, and water industries for over 75 years.
It employs over 4000 people in a total of 27 plants, of which two – Orkanger and Farsund – are located in Norway. Having coated over 250,000 km of pipeline around the world, the company is, with good reason, regarded as the market leader in its field.
Bredero Shaw is able to offer a wide range of coating solutions, each with its own specific purpose. The company's anti-corrosion coatings can be effectively used under concrete and thermal insulation, whilst its protective and weight coatings offer security to pipeline areas where there is a risk of damage to the anticorrosion coating, and to pipelines in high-traffic sea corridors.
Meanwhile, Bredero Shaw's flow assurance products offer benefits for both onshore and offshore insulation. The offshore products, for example, consist of highly efficient thermal insulation systems with optimum thickness, which ensures easy installation and flow assurance. Finally, internal coatings are used to increase flow efficiency for natural gas pipelines and other anti-corrosion applications.
Bredero Shaw is currently working on projects worldwide. Orkanger, the busier of its two Norwegian facilities, is well placed to meet this challenge. It is strategically situated to work with customers in the North Sea, and located adjacent to a deepwater port and spoolbase, which provides logistical savings and a highly efficient pipe-handling process. Orkanger specialises in supplying anti-corrosion, flow assurance and custom coatings, and is also able to fabricate double joints, which is both cost-efficient and allows for easy installation.
The Orkanger operation is currently working on several projects, including some in the North Sea and the Gulf of Mexico. In some instances, too, Bredero Shaw Norway is co-operating with its partners around the world. "We have been working on an $85m project in Western Australia as a sub-contractor to our sister company in Singapore," explains general manager Eirik Simonsen. "There, our teams will work together to provide anti-corrosion, flow assurance, concrete weight and internal flow efficiency to the Woodside Pluto LNG Project from three Bredero facilities in Indonesia, Malaysia, and here in Norway. Specifically, Bredero Shaw Norway is undertaking the thermal insulation for a critical portion of the flow lines from the wellhead up to the processing platform."
The nature of such work means that Bredero Shaw always places great emphasis on safety. As part of its Incident and Injury Free philosophy (IIF), the company is committed to ensuring that its workplaces are of the highest possible standards for its employees, and its performance in this regard has hit increasingly high levels. Indeed, many of the company's plants have achieved freedom from injuries and accidents for very significant periods of time, as a consequence of which the company's lost work time has fallen dramatically. This success is based on several core principles, such as a relentless desire to improve HSE performance, and intolerance of any conditions or behaviour that could be a cause of increased risk to workers.
This provides Bredero Shaw with the basis to cope with a demanding workload, and Eirik believes that the company's position as the leading force in the market is attributable to a number of factors. "The company has many strengths," he says. "Firstly, we have a very large amount of products to offer, and put a great deal of effort into developing quality new ones. Then you have to consider our employees; we always work to ensure that we have an excellent workforce, which has the necessary knowledge base to allow it to do the best job possible. Finally, we are represented by operations all around the world: in North America, South America, Africa, Europe, the Far East, and the Middle East.
"Most of the products we offer are polypropylene-based thermal insulations for the sub-sea and pipeline market," he continues. "We have many key clients, including the likes of StatoilHydro,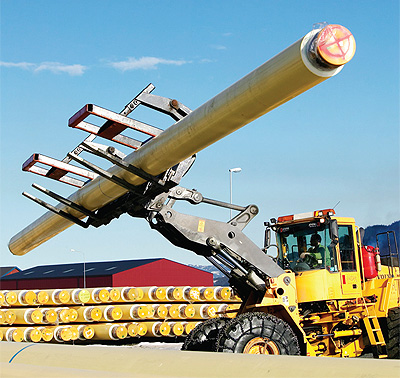 Shell, Chevron, Woodside, BP, Technip, and SubSea 7. It is important for us to have a close relationship with them, particularly in terms of our R&D, as we want to make sure that we deliver the best quality possible. It goes without saying that R&D is very important, both in terms of being in front technologically, and to give ourselves the best chance of securing future work. We need to think about how we can provide our customers with the best technical solution for their project. For example, we currently have programmes going on that focus on products for higher temperatures and deeper water. The big challenge is to develop products that can be installed by the most common methods."
Indeed, Bredero Shaw Norway has overall responsibility within Bredero Shaw for research, product development, process development, qualification and market introduction for new thermal insulation systems based on polypropylene or other thermal plastics. This includes the responsibility of training operators, troubleshooting, and proving all forms of technical assistance to any related projects.
The results of such research have included the development of syntactic polypropylene and closed cell PP foam, which was deployed as part of the Blind Faith Project in the Gulf of Mexico. There, Bredero Shaw was awarded contracts to provide insulation coating for a sub-sea production pipeline, and the field joints and SCRs for the project were located 2200m deep. In order to minimise the risks from highpressure leaks and burns, Bredero Shaw engineered a multi-layered insulation system, which consisted of a three-layer polypropylene anti-corrosive base layer (3LPP), syntactic polypropylene, weight coating and polypropylene thermal deep foam insulation in various configurations. The project involved over 13 km of flowlines, eight km of SCRs and almost 1500 polypropylene field joints, and the pipe coatings were applied onto eight-inch pipes, with the capability of withstanding operating temperatures of up to 149 degrees Celsius.
With such major projects in Bredero Shaw's portfolio, it is of little surprise that Eirik is very optimistic about the future of the business. "Of course there is always the challenge of increased competition in the sector, but the markets are certainly looking promising for the future, and the global company is always looking to expand in this way," he explains. "Here in Norway we are currently focused on continuing to develop quality products for the high temperature and deep water markets. We are looking to maintain and strengthen our position in the North Sea, and we would ultimately like to move into the Russian market. It will be a major challenge, but we have the experience and the skills to meet it."
Bredero Shaw Norway AS
Services: Pipe coating solutions