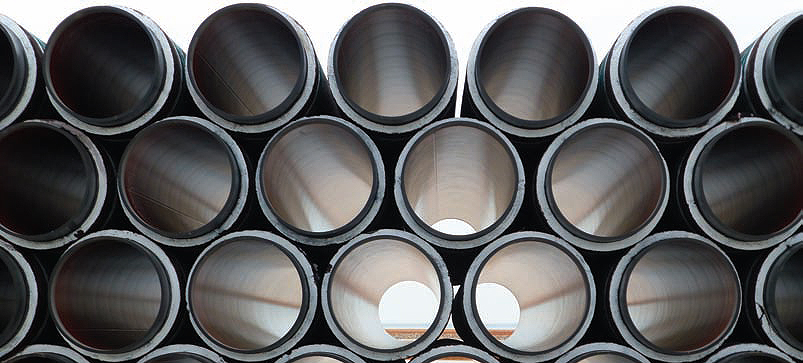 Assured flow
Bredero Shaw is the global leader in the development and manufacture of pipe coating solutions for the oil, gas, and water industries.
With a history that dates back to the 1930s, the company is the preferred choice of major energy industry clients around the world. Over 400,000 km of pipelines globally have been protected using Bredero Shaw technology and services. "We offer a range of solutions including anti-corrosion coating, insulation coating, anti-buoyancy coating, internal coating, field-joint coating, as well as custom coating," says Henri Tausch, senior vice president. Bredero Shaw is the largest business within ShawCor, a company that occupies more than 70 manufacturing and service sites in over 15 countries. "Globally, we are the largest pipe coater with facilities in the US, Brazil, Canada, Mexico, Scotland, Norway, UAE, Malaysia, and Indonesia. Our sister pipe coating division, Socotherm has additional coating facilities in the US, Italy and Argentina. We also have a range of mobile coating plants that can be mobilised quickly in specific locations to provide additional logistical benefits or meet local content requirements. Logistics creates significant cost implications for projects so it is important to have a strong presence in many locations," he adds.
To optimise costs in today's global market, it is often financially beneficial to buy bare pipe from distant markets, not necessarily close to the location of the project. The ability to undertake the coating en route to the project location ensures that the overall cost of the project can be kept down, as Henri points out: "What is nice about Bredero Shaw is that we have the facilities everywhere to be able to do this, with access to the same quality available from every plant." The global operator has witnessed a shift of activity in Asia and the Caspian, a result of the demand to moving gas from Eastern Europe and Russia into Central and Northern Europe.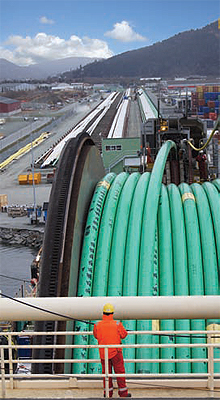 In June 2013 the Shah Deniz consortium announced that it had selected the Trans Adriatic Pipeline (TAP) to deliver gas volumes from the Shah Deniz Stage 2 project to customers in Greece, Italy and Southeast Europe. The decision marked an important milestone in the multi-phased approach to the opening of the Southern Corridor, scheduled to deliver up to ten billion cubic metres annually (BCMA) of natural gas to European markets. The project, with its associated pipelines (TAP, TANAP and SCPX), will cost over $40 billion and will bring over 16 BCMA of Azerbaijani gas to market adding to approximately nine BCMA from Shah Deniz Stage 1.
In May 2014 Bredero Shaw was awarded a $70 million contract from BP for coating services for the South Caucasus Pipeline Expansion (SCPX) project to be executed from their Ras Al Khaimah (UAE) manufacturing location. The objective of the SCPX project is to expand the capacity of the existing SCP pipeline to accommodate additional gas throughput from the Shah Deniz Stage 2 development in the Azerbaijan sector of the Caspian Sea. This contract involves coating 491km of predominately 48″ pipe with a three-layer polyethylene and internal flow coating. The Stage 2 development of the Shah Deniz field, which lies 70 kilometres offshore in the Azerbaijan sector of the Caspian Sea, will consist of 500km of subsea pipelines in 550m of water depth and an overall pipeline length of 3000km. Bredero Shaw recently received awards valued over $200 million for various coating services for this subsea development and is bidding on additional work associated with the same field.
"The focus is on getting additional gas to Europe, particularly relevant with current activity in the Ukraine. As such, we have also been active on the South Stream Offshore Pipeline system, which is comprised of four pipelines that will cross the Black Sea, transporting gas from Russia to Bulgaria and on to Central and Southern Europe," says Henri. Under two separate $50 million contracts, one with EUROPIPE GmbH, and the other with Marubeni Sumitomo Consortium, Bredero Shaw will coat 148km of 32″ pipe with concrete weight coating, and 342km of 32″ pipe with a three-layer polypropylene and internal flow coating.
Having developed over 40 leading pipe-coating technologies, the business has been instrumental in introducing innovative coatings for cold climates, rugged terrains, high operating temperatures, deepwater environments and other unique applications. "Most recently we have focused on higher temperature insulation coatings. New exploration fields typically have higher temperature oil that necessitates the need for insulation coating able to handle that temperature," explains Henri. The new product Thermotite ULTRA is an innovative subsea insulation system with unlimited water depth capability, comprising an engineered blend of polymeric materials with unique mechanical and thermal properties. Whilst actively applying ULTRA on three projects in the North Sea, the business has engineered a second product, NEMO, which is an epoxy-urethane hybrid system. Developed for subsea pipeline and structure insulation, the novel molecular architecture provides improved hydrolytic resistance in the subsea environment, whilst ensuring a high level of bonding to existing coatings.
"We invest heavily into R&D and our customers appreciate the solutions we develop. One of the most important factors however, is our commitment to HSE, ensuring employees are safe and the environment is protected. A safety culture is embedded within our company, and with health and safety comes quality. We have many coating plants across the world, and a global procurement and operation group that oversees quality and safety. We're proud to show that we have processes in place to deliver consistent quality at any location," highlights Henri.
Looking further ahead, the company is targeting further geographical expansion, particularly into West Africa. "We are already well positioned to serve this market from our factories in Europe but we also have mobile factories that we are able to set up if local content is required. Iraq also holds a big opportunity, although the renewal of instability in the region makes this somewhat more risky. Lastly the activity in the Arctic region is increasing significantly," says Henri as he concludes: "As part of the joint industry project to develop a Smart Pipe with on line pipeline performance measurements, the trend of going into deeper water with higher temperature is a path Bredero Shaw is ready to take as we develop more complex and creative solutions."
Bredero Shaw
Services: Pipe coating solutions