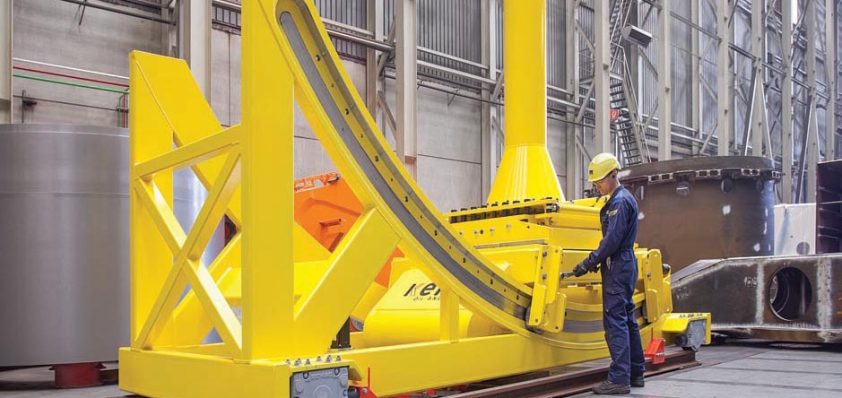 Precision and reliability
Breman Machinery is a family owned, private company that makes components for the builders of machinery, engineering bureaus and industrial end equipment users.
With clients that operate offshore, in the heavy machine industry and within the aerospace community, its database of industrial customers is extensive as well as serving the large players in the offshore market and international offshore companies. "We specialise in complex mechanical components. These are work pieces of high precision, often with extreme dimensions and weighing hundreds of tonnes but made to a precision of 100th of a millimetre. The key factor in our business is having the right people, and our workforce of 120 personnel is complemented by the complex machinery at our extensive premises," says managing director Henk Breman.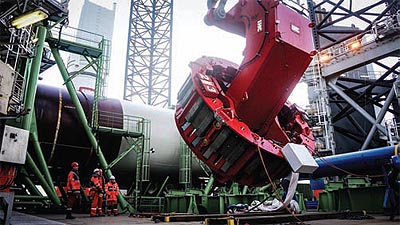 In recent years the business has progressively evolved into a role as a complete turnkey solution provider as Henk explains: "At the moment we are working on a project manufacturing large handling equipment for users in the wind farm industry. The equipment is designed to assist in the process of installing monopiles into the seabed but we have developed into a complete turnkey player in the wind farm market, the offshore oil and gas market and the heavy machine building industry. As a result, we are also busy manufacturing winches. Currently we are working on a 200 tonne abandonment and recovery (A&R) winch and a 25 tonne storage winch. We are involved in these projects from the earliest stages of developing the blank sheets of steel through to the complete and final delivery. We undertake all aspects from the co-ordination of the assembly such as rolling, welding, machining, milling and turning to function acceptance tests of the fabric. This is all completed in-house, under one roof before delivery to our customers." In a very customer driven market the business is serious about fulfilling all its clients' needs and thoroughly investigates all specifications before commencing any project.
"We aim to please our customers, and have built up a reputation for delivering difficult projects, with a short lead-time to a high quality. Our order books and project history demonstrates this market position with orders for large handling equipment, winches and locking systems for jack-up barges. The market for jack-up systems and motion compensated systems on the sea is busy for us," points out Henk. Last year the business made two very different kinds of investments, each with the common goal of placing the business in a future proof position. The RX18 is a very sophisticated machine with high-speed and very high accuracy, which is of benefit to the market as a whole with Breman Machinery equipped to provide very efficient machining work. "Working efficiently can significantly reduce lead times, and for us this is a very important issue. We also opened up a new facility at our site in IJmuiden, Breman Offshore bv, and for us it is a new opportunity to provide service to a new market. The location benefits from its proximity to the sea, and with a quay that is 12 metres deep and 300 metres in length, it is appropriately sized to accommodate large sea ships, opening up a new market from which we can provide new services to our customers," he continues.
The family run business has a wealth of strengths that keep customers returning. "The key strength is how you make the products. We have a lot of knowledge and experience in skilled manufacturing. Our customers design
engineer most of the work but what is important is that we know how to make the products, we have a lot of experience across a wide variety of projects. Our company has existed for 150 years and that experience is essential," explains Henk. Utilising its experience, the company has produced an upending tool for monopiles up to 1000 tonnes. Having completed the envelope of activities in-house, it further demonstrates the company's capabilities as a deliverer of new, single and innovative one-off specialist products to the market.
"We can bend up to thicknesses of 250 millimetres, but that depends on the width of the rolling work. You don't see many workshops in Europe with the combination of machines that we have and it is this combination that makes us stand out. The variety of functions assists us in producing special products in house. All the knowledge that we have is retained in-house and facilitates us in providing unique products to the field. Because our market has such a short lead-time and demands a high quality product, this position makes a difference and delivers an advantage over our competitors," Henk emphasises.
At the company's premises, it has the facilities to hoist up to 240 tonnes in four large construction and machining holds. Commenting, Henk says: "We have the capabilities to do the right job, the main challenge is delivering each job at the right time. Sometimes the work pieces are 750 to 1000 tonnes, and it is a very big challenge that we meet the delivery time and critically, the specification. Manufacturing large equipment to a very high accuracy of 100th of a millimetre, to a delivery of six months poses a potential hurdle."
To remain at the forefront of the industry, its workforce undertakes constant training as part of in-house schemes that maintain and improve the high level of workmanship. The training schemes cover welding, machining, programming, and logistics and is seen as a part of everyday employment to ensure success. As the business enters the second quarter of 2014, it continues to work towards becoming an established complete turnkey solutions provider with a greater international footprint. "Europe is our main market and we are looking to increase our presence and activity in Scandinavia, UK, Germany, Belgium and France. As a business that is still growing, we are very confident for the future. We don't have the goal to get bigger, but we do have the goal to get better. In the future we will invest in the newest technologies of machining for steelwork or composites, becoming even more of an efficient player, but right now we have a good level of machines and we are ready for the market," concludes Henk.
Breman Machinery
Services: Manufacture of components