Transmitting power
In the new Brevini headquarters, the whole production cycle of the planetary gearbox has been reconsidered and redesigned, with solutions aimed at guaranteeing production excellence.
The stance is replicated throughout the group in efforts to maintain its image as a world-class manufacturer. In a history that dates back to the 1960's, the business has gained vital experience in the engineering and production of power transmissions, hydraulic based equipment, and winches. In 1979 the group established the Benelux division, which today manages a strategic combination of those three key interests.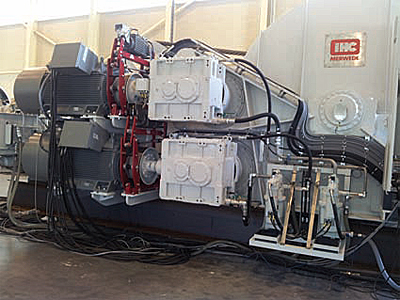 Brevini Benelux, with its manufacturing site in the Netherlands, offers a complete product and knowledge portfolio with its equipment having been granted multiple patents, and the combination of its components and services has made the business a worldwide success. It was in 1995 that the fluid power division was incorporated into the group, offering a range that includes compact units, hydraulic valves, gear pumps and motors, axial piston pumps and motors and proportional valves. The scope of its offering is completed with a winches division, boasting a complete portfolio with respect to winch drives, including hydraulic, pneumatic, and electric options, available as standard design or customised. "It is through this division that we have our biggest export market, utilising our sister companies in surrounding countries with key contacts," begins Dennis van Arkel, sales and marketing manager. "The UK market is one of particular interest, where our products are sold directly to offshore businesses or to rental organisations supplying the industry," he adds.
Whilst it is the compact and low maintenance planetary gearbox system that holds the key to the group's success, the recent drive into the winch market has seen the business launch one of its latest products, developed and built in conjunction with IHC Hytech. "The man-rider winch guarantees the highest level of reliability. We have had a high demand in requests relating to this product, and having developed specialist versions we are really starting to see results," highlights Dennis. The competitive and growing design is perfectly suited to the wind industry, which itself is a growing sector. Turbines that already utilise winches at the bottom and top sections to offload supply vessels and man power benefit greatly from the endurance, strength and safety of the winch.
"Not only is our product very compact but the double braking system is a necessity for a man rider system. The product advancement differentiates us from the competition, yet successfully maintains a cost advantage," Dennis points out. Importantly, as a manufacturer of the transmissions and the hydraulics, Brevini is able to take the majority of the specialised parts from its own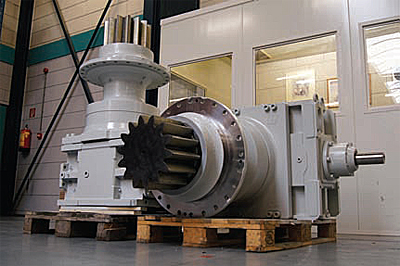 production, saving vital time and expense that would be laid out outsourcing such items. "This is advantageous to ourselves and our customers. If there is ever an issue that needs addressing, they only need to make one call to solve the problem. We are one of the few companies that have all the disciplines in house," he explains.
Focused on continual product development to attract an evolving client base, he continues: "We have developed a new high power series of gearboxes used frequently for big tension winches, between 500 and 800 tonnes. The new series of right angle gearboxes for average and high power industrial applications, combines all the typical advantages of the output configurations of a planetary gearbox with the tried and tested, reliable and high-quality right angle gearboxes. This solution is more efficient, quieter and more compact than a standard gearbox, with the combination increasing the internal power capacity." Through close working relationships with valued clients the business continues to successfully develop more powerful solutions, all based on the existing planetary systems.
"Product development and innovation is vital to survive in the market. You have to continuously innovate, increasing the capacity as well as the choice of materials. By working closely with universities and organisations we have been able to make substantial breakthroughs in material strength and component capability," says Dennis. Of course, the core of the products has been available for some time but it is only in recent years that the advantages have really become clear. "There are always opportunities and the offshore market is a very interesting one for us. Oil price has inevitably affected some investments, but in principal the market is ongoing and moving to deeper waters and as it does so, clients require more advanced equipment.
"In respect to that, we have a very strong focus on the special winch business as our clients begin operating in more complex environments. We see a lot of opportunities, especially with rental businesses, which purchase such equipment in bulk. There is also heavy demand from customers seeking customised solutions, so it is important for us to keep a degree of flexibility in our engineering so that we can fulfill that demand," he concludes. Through the patented portfolio and the innovation driving new combinations of already advanced equipment, the business is able to take advantage of its self nurtured position to continue to grow, in the knowledge that it brings a unique concept that has to be considered.
Brevini Group – Benelux
Services: Manufacturer of power transmission, hydraulics and winches