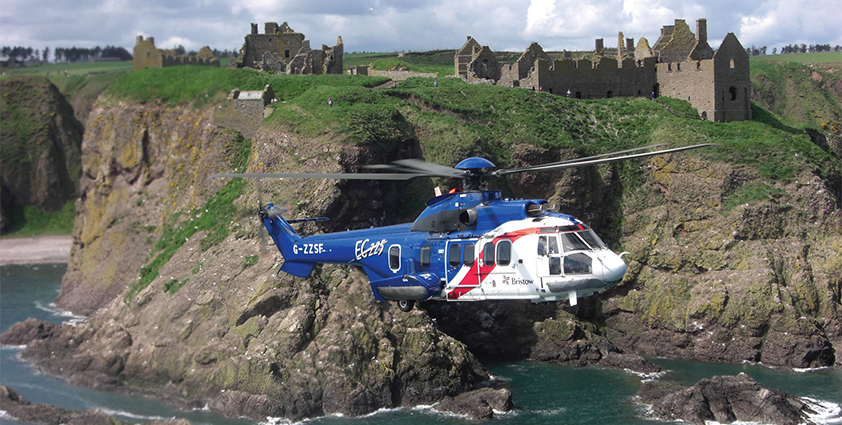 The great ascent
For more than 50 years Bristow Group has provided exceptional transportation, production management, and related services with a focus on the oil and gas industry.
The Group is the leading provider of helicopter services to the worldwide offshore energy industry in terms of the number of aircraft operated, and global presence. This encompasses major operations in the Gulf of Mexico and the North Sea, as well as other regions like Alaska, Australia, Brazil, Mexico, Nigeria, Russia, and Trinidad, through its fleet of 600 aircraft. Bristow Helicopters is a UK-based affiliated company of Bristow Group, with a market-leading reputation as the first civil helicopter company to be active in the oil and gas industry, and to operate in the North Sea.
As well as helicopter transportation, Bristow Helicopters offers maintenance and search and rescue services, and participates in several military helicopter training centres, both in the UK, through its ownership interest in FBH Ltd, and throughout the world. In 2010 Bristow Helicopters secured a multi-million pound five-year contract renewal with the UK Integrated Aviation Consortium (IAC), which includes BP, CNR International, Fairfield Energy, Petrofac, Shell and TAQA.
With the company having been a key player in service provision to the IAC since 1994, Mike Imlach, director of European operations, highlights what this contract entails: "We will be acting as the lead management contractor providing helicopter services from Scatsta Airport on the Shetland Islands, to the East and West Shetland Basins. As part of the contract, Bristow Helicopters is also responsible for airport management and fixed wing services provided by Eastern Airways. This integrated package of services offers operators the benefits of having a single point of contact for different interests. We are the first helicopter company to provide such a service, which showcases our status as a leading logistics company and flexibility in meeting client demands."
As highlighted by the IAC contract, Bristow Helicopters prides itself on its ability to adapt to the ever-changing demands of the oil and gas industry. The company continues to invest in new technology to ensure that it is providing a service that is as safe as possible, whilst keeping clients informed about any relevant maintenance and operational issues. With the oil and gas industry playing a major role in its business, Bristow Helicopters' pilots are highly experienced in this sector, and trained to deal with the unique environment that the offshore industry presents. This includes flying in extremely challenging weather conditions, and taking off and landing on helidecks. As a result Bristow Helicopters has excellent flight statistics with both aircraft uptime and on time departure performance of over 90 per cent within its European Business Unit.
There is no doubt about Bristow Helicopters' commitment to providing its clients with the safest and most efficient helicopter transportation in the world, as Mike highlights: "We brand our safety programme 'Target Zero', which is based on the philosophy that genuine commitment to safety comes not only from systems, procedures, equipment and training, but also from company culture. We believe that no one has a better track record in pushing the industry forward, with Bristow Helicopters playing an instrumental role in the introduction of innovative technologies, such as new aircraft types and equipment enhancements that have revolutionised helicopter operations." This approach to safety, along with Bristow Helicopters' handling of the volcanic ash cloud crisis in early 2010, were key contributory factors to the company gaining a Partnership Service Award at Chevron's annual supplier event in December 2010.
Additionally in 2010, Bristow Helicopters invested in a new dedicated offshore industry training centre in Aberdeen. With this new site now fully operational, Mike notes some of its key amenities: "As Aberdeen is home to one of the world's busiest commercial heliports, this facility enables us to remain at the forefront of the industry, and to respond quickly to any training requirements. We have invested $10 million in two state-of-the-art simulators for comprehensive training including numerous emergency scenarios, landing on and taking off from offshore installations and FPSOs, as well as preparing pilots to cope with the wide variety of wave and weather conditions experienced offshore. In particular, the facility enables us to train pilots for the most extreme incidents that can't be practiced safely in a real helicopter."
Having overcome the challenge of reduced operating activity in Europe following the economic crisis, Bristow Helicopters is continuing to go from strength to strength in today's market. In particular, the company has become a leading figure in offshore wind turbine support, and with plans to launch a new brand promise this month, it seems that for Bristow Helicopters the only way is up. "Building on our current activities, we offer expertise in operating large aircraft in the emerging deep water drilling markets which are often located further offshore and demand greater payload requirements. Whilst as a Group we are the number one helicopter operator in many regions, there are other areas around the world where we hope to strengthen our presence, such as South America, Australia, and West Africa. Despite being a mature market, we also expect business to increase in the northern North Sea, especially in Norway and around the Shetland Islands," concludes Mike.
Bristow Helicopters
Services: Helicopter services