A company ascending
With over 4500 personnel and more than 500 aircraft working across 21 countries, Bristow Helicopters is one of the world's largest providers of helicopter services.
The bulk of its activities take place within the oil and gas industry, operating predominantly in places such as the Gulf of Mexico, the North Sea, Western Australia and Nigeria. The company specialises in the transportation of personnel to offshore production platforms and drilling rigs, search-and-rescue facilities, winching and heavy lift capabilities, aircraft maintenance as well as training civil and military aircrew and engineers.
With more than 50 years of aviation experience, Bristow has developed a global reputation for speed of response and quality of service. Operating as part of the Texas-based Bristow Group, the company was established in Aberdeen, Scotland, by Alan Bristow in 1953. The company was one of the earliest suppliers of offshore helicopter services in the UK, and in 1985, it was acquired by British and Commonwealth Holdings plc. In the late 1990s, the company was again taken over – this time by Offshore Logistics, an American offshore helicopter operator. Offshore Logistics rebranded itself as The Bristow Group in 2006, and it continues to operate under this name today.
Bristow European Operations, the division that is responsible for the North Sea sector, operates 52 aircraft out of nine bases in the UK, Holland and Norway.
Fiona MacLeod is commercial manager for the Bristow Group's European operations, which are headquartered in Aberdeen. She reveals some of the strengths of the company: "Perhaps the most important factor in our success is that we have a fleet of new, state-of-the-art helicopters, an enviable reputation for pioneering safety and engineering initiatives and have recently opened a new European headquarters and training academy. We believe our continuous improvement keeps us focused on delivering a cost effective, safe and reliable service. Over the last five years, we have changed out more than 60 per cent of our European fleet, investing £180 million in new training facilities and aircraft."
Underlining Bristow's commitment to the oil and gas sector, the need for such an injection of capital comes from the company having won its largest global contract to date, providing helicopter services to a consortium of six different oil majors based in the Shetland Islands, off the Scottish mainland. Working with the Integrated Aviation Consortium (IAC), Bristow introduced six new Sikorsky S-92 helicopters to its fleet for the project, which are together worth more than £70 million.
Fiona elaborates: "Bristow's role is lead management contractor in this billion-dollar Shetland contract which will last an initial five years with an option on a further five. The six oil companies participating are Shell, CNR, BP, Petrofac, Fairfield Energy and TAQA. It involves a fixed wing service with Eastern Airways providing aircraft from Aberdeen to a privately owned airport in Scatsta in the Shetland Islands. From there, we work with our airport management service company, Serco, which processes the passengers through the terminal before having them flown to their respective North Sea platforms by our S-92s. This investment has been further backed with an £8 million project funding from Shetland Leasing and Property developing a new hangar, terminal and control tower due for completion by the end of 2011."
Bristow has invested more than $30 million towards its new European headquarters in Aberdeen, comprising a three-storey pavilion providing 18,000sq ft of offices, classrooms and associated training facilities linked to a 11,500sq ft bespoke simulator complex with the capacity to house up to four full flight simulators. This first-class training facility with simulators to support the new fleet is CAA approved and permits training for both pilots and engineers in both helicopter and fixed wing services. Third party operators will also benefit from training their personnel.
Fiona says: "At present we have two simulators operational, with another two planned over the next couple of years. This means that, rather than sending people off to Florida to train, they can remain in the North East. Financially, and in terms of time saving, this benefits both Bristow and our clients, so it really is a great investment."
This facility continues Bristow's investment into its own training devices, which began with its Super Puma simulator in Aberdeen in the early 1980's. The new complex will enable Bristow to continue with a policy of providing the best quality initial and recurrent training and checking programmes for pilots and engineers, enhancing flight safety and the skills of key employees. A third AS332L Tiger simulator remains at Bristow's original premises at Forties Road, Aberdeen.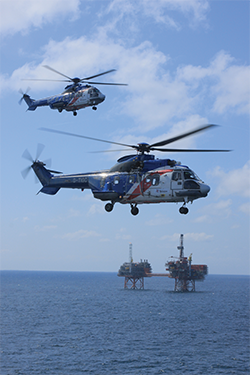 Bristow Helicopters sees training as an integral part of the business, particularly in the challenging North Sea environment. Fiona explains: "Many of these platforms are several hundred miles offshore and greater exploration capabilities and improved seismic technology means exploration development is changing. We are seeing demands for aircraft to fly further north, almost reaching the Arctic Circle. The terrain is tough and extreme weather conditions can be present for most of the year – which naturally incurs conditions under which it makes it more difficult for aircraft to operate. Then we have the more recent implications of volcanic ash, in terms of monitoring and maintenance of the aircraft after they have returned from flights. Fog is also an issue throughout the year and so we have to be prepared to operate under any circumstances. With our training facilities in Aberdeen, we can do this – the new simulators are equipped with motion base and extensive visual systems together with full replication of the aircraft systems and flight characteristics, enabling full mission training including re-enacting a comprehensive range of emergency scenarios that would be impossible to undertake in the air, such as an engine failure. The training academy is a unique resource that is a central part of our flight training programme and will enable us to attract future generations of pilots who will be the best, most comprehensively trained pilots for our operations worldwide."
Training is very much an ongoing process within Bristow Helicopters, as the company is also constantly updating and modifying its fleet. Fiona reveals why: "We work closely with aircraft manufacturers Sikorsky and Eurocopter for new aircraft have various options on additional aircraft on their order books for the next five years. The EC225 is the only aircraft in the North Sea that guarantees a full 19-seat payload and that is very significant for Bristow customers who need this reliability of payload. To be able to offer customers the consistency of planning for 19 passengers is key to the helicopter's success and very important in the maintenance of the Bristow reputation for safety and reliability. Our Aberdeen base is now the world's largest single operating base for Eurocopter's EC225 helicopter type. Furthermore, we have signed a deal with Augusta Westland for a new aircraft fleet type into our operations – the AW139. Previously, we would work with up to three-year lead-times on purchasing new aircraft, but now we are having to react to client demands so have to be able to provide the latest aircraft at relatively short notice.
"Now that the world's economy is entering a period of recovery, much more drilling activity is taking place. We find that 80 per cent of our operations are dedicated towards companies working in oil production, and the remaining 20 per cent being used by drilling businesses. Platforms that had been mothballed and several new drilling projects are planned to be on-stream next year, and so we expect to see short-term, 30-180 day drilling programmes more prevalent now the price of a barrel of oil has risen. Most projects for operators were not viable under the $40-$50 a barrel mark. In order to ensure these clients can conduct their operations effectively, we have to ensure that our fleet and our pilots are working at the highest standards."
Maintaining such a high standard of aircraft crew can often be a challenge in itself, with the procedure of training a pilot to 'Commander' status or permitting an engineer to sign off an aircraft to be cleared for flight, taking up to seven years. Fiona elaborates: "It is not a simple case of being able to train up a few pilots and have them flying in a couple of weeks. A lot of resource planning is involved and there is an ongoing process to ensure that we have the right pilots. We also undertake conversion training, where pilots and engineers will undertake a six-month process of being able to train from one aircraft type to another."
This is one of the reasons that Bristow held on to its staff during the recession, according to Fiona: "During the credit crunch, companies across many industries were forced to lay off their staff. That was just not feasible for us. We could not simply drop our pilots and engineers and then pick them up again when needed, and so we kept our core staff numbers level. If we have a quieter spell in the Northern North Sea, for instance, we can deploy our staff to our Southern North Sea business or other European or international bases if required."
Despite the effects of the crisis, Bristow has been successful in both retaining business and securing new contracts, as Fiona continues: "The North Sea's key players recognise Bristow's professionalism and experience in the sector. We have recently won two significant contracts with BP and ConocoPhillips in the Southern North Sea, and we have extended large contracts in the Central North Sea with Talisman and Chevron. In addition, we are expanding our Norwegian operation following the integration of Norsk Helicopters into the Bristow fold eighteen months ago."
Fiona believes that there is significant potential for growth, as she highlights: "We have certainly noticed a rise in smaller oilfield operators coming in to take over the fields that are no longer commercially viable to the larger multinational companies. Even if oil production was to stop tomorrow, a requirement for helicopters in the oil industry would still remain through the decommissioning of rigs – so either way you look at it, oil and gas will be the main stay for us for the foreseeable future.
"We are also looking into renewable energy options, primarily wind farm developments which we see as a medium to long-term opportunity. Helicopters can be utilised to winch people onto the wind turbines and with plans for more than 6000 wind turbines around the shores of the UK, we hope to be involved with clients who are looking to both erect them and maintain them in subsequent years. Of course there will still be a need for vessels to go offshore and build wind farms in the first place, but we can certainly help speed up the process of sending people out to maintain them once they have been built."
By continuing to strengthen its operations in these two key areas, Bristow looks set to succeed. Fiona concludes: "We have two main UK competitors both of which have their own strategies and operations. There are a finite number of oil and gas contracts out there, however, and so we need to avoid complacency and truly understand the needs of our clients. Our service has to be safe and reliable and to that end we have to ensure the highest standards of maintenance to ensure our aircraft are serviceable.
"Bristow has looked at every aspect of our activity and taken steps to improve safety across the board. This has included: launching a technique which bar codes maintenance tools, trialling a new system to improve flight safety, introducing special helmets to protect engineering and maintenance staff and embarking on major research and development projects. These are in addition to our Target Zero policy, which encourages employees throughout the world to think safe and act safe. At Bristow, safety is a core value. Customers expect it. Stockholders expect it. Employees expect it. We aim for zero accidents, zero harm to people and zero harm to the environment."
Bristow Helicopters recently reached the finals of prestigious safety awards organised by Oil and Gas UK. The company's safety initiatives across its operations saw it finish in the shortlist of three finalists for the Innovation in Safety award with more than 30 companies entering the innovation category. Fiona says: "Safety is at the core of everything we do and we were delighted to be recognised by our peers in the energy industry. It's essential that none of us become complacent about safety and as a result we continually strive to improve our safety culture by investing in training and new technology. A finalist position underlines the hard work and dedication the whole team at Bristow has shown to raising safety standards much further than the minimum required.
"We are optimistic about the future of the company, and we have been fortunate enough to secure many medium and long-term contracts across the globe despite the recession. By continuing to consolidate our position and by investigating opportunities in new markets, we hope to develop strategic alliances with numerous key companies. The relationships we have with our clients are vitally important to us, and safety and our global reputation will remain the key driver for our continued success."
Bristow Helicopters
Services: Helicopter services