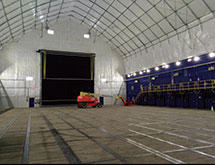 Britespan Building Systems Inc.
A new hybrid pre-engineered building structure has become an asset for the mining and oil and gas industries because it combines Britespan Building Systems Inc.'s expertise in fabric-covered structures with Corner Cast Construction's innovative modification of shipping containers.
Four years ago, Magnus Consiglio, Rene Bernaert, Ben Lipowitz and Eric Jorgens founded Corner Cast Construction by carving out a niche in a difficult, recession-hit market. The Montreal-based company began by building shipping container rooms and supplying mining camps with offices and sleeping quarters. Corner Cast Construction's founders worked with Vertical Building Solutions in Alberta to come up with the idea of using furnished shipping containers as the foundation for a fabric roof. "We really had to innovate to succeed in the marketplace," Consiglio says.
Innovative Structure
To create a hybrid structure, Corner Cast Construction begins by modifying shipping containers in its pre-fabrication facility based on how the customer will use the space. "We convert the container by adding insulation, doors and windows so it can be suitable for people to live and work in," Consiglio says. "We can add high-level interior finishing to the container so it can serve as a house, office, lunchroom or any other livable space."
Instead of concrete, shipping containers are used as the foundation of the building. Steel trusses connect to the foundation and support the fabric that covers the structure, which are both manufactured by Britespan Building Systems. Corner Cast then coordinates logistics and installation to provide a turnkey solution for the client.
A fabric covered building is made up of pre-engineered steel trusses with a fabric cover, most commonly made from polyethylene. "One of the key differentiating features of us versus other companies is that our trusses are galvanized after we fabricate," explains Ben Hogervorst, president of Britespan Building Systems. "We weld black structural steel to create the truss that is then brought to the galvanizing plant where every truss component, and specifically the tube, is hot dip galvanized inside and out. This leaves no area of the truss burnt or unprotected."
Each piece of the hybrid structure is prefabricated and trucked to the installation site where Consiglio says Corner Cast can construct it in a fraction of the time of a conventional structure. "It's a huge competitive advantage because with our system the foundation becomes a usable space. It is also extremely cost-effective to send anywhere because it fits on all intermodal transportation," he adds.
Grand Design
Corner Cast and Britespan Building Systems built the largest hybrid structure ever made this fall at the Bloom Lake iron ore mine in Fermont, Quebec for Cliffs Natural Resources, an iron ore producer in the Great Lakes region. "This product is new to the mining industry and this project was an incredible accomplishment for us," he adds. "We want to target the mining industry with the hybrid structure because it can service so many different needs."
The Bloom Lake structure was built as a temporary truck shop that required 40-by-40-foot doors and an interior of 160 feet by 100 feet to accommodate Caterpillar 797 and Komatsu 730E trucks. Corner Cast modified and installed 36 containers for this project that were used as locker rooms, lunchrooms, offices, washrooms and mechanical rooms. The containers on each side added 28 feet of width.
"Generally, as you build higher you have to go wider, but when you don't have the land to go wider you need to go up and that's really what Corner Cast has championed with the shipping containers," Hogervorst says. "This project was unique because of the limited flat space and the equipment is very tall, so the structure needed to be taller than a conventional building."
The Corten steel shipping containers were trucked to Bloom Lake and rest on a compacted gravel pad. Once the containers arrived on site they were sealed or "zipped" together to make a series of smaller rooms connected to open space. The steel trusses were assembled and the synthetic fabric was placed atop them to enclose the structure. Finally, the insulation, lighting, heating, doors and steel cladding were installed. Total construction time on site was two months.
Hybrid Advantages
The hybrid structure has become increasingly popular in the mining and oil and gas industries because not only does Corner Cast install the buildings quickly, but also gives clients the option to disassemble and relocate it. "A lot of the mining companies are reacting to the structure because of the speed of installation – that's an important factor," Hogervorst adds. "Also, because of the unique foundation system, we basically leave the site as if we were never there. We don't have a footprint like we would with a cement foundation."
Britespan Building Systems' fabric is partially translucent, which is the other advantage of the hybrid structures as well as all of its fabric buildings, Hogervorst says. The translucency allows 80 percent of natural light to come through the fabric and eliminates the need for lights during the day and increases safety. "The fabric allows for natural light from all directions, which is a very important safety factor because there are no shadows in the building," he explains.
Building Experts
Britespan Building Systems, based in Ontario, has been providing fabric building solutions since 1995 for a variety of industries, including municipal and public works, oil and gas, mining and agriculture.
Britespan Building Systems' fabric is woven polyethylene material produced from two sheets of low-density polyethylene extruded over a layer of high-density woven polyethylene. All three layers are treated with the latest in UV stabilizers and can be combined with a fire-resistant treatment to provide better protection and longevity. The fabric covers are expected to last 15 to 20 years, if they are properly maintained. UV radiation and the roof design also impact lifespan.
The company attributes its success to its experienced and dedicated staff of 48 employees who understand the proper manufacturing techniques and engineering behind creating high-quality fabric cover buildings. "We have the widest product range of any fabric building company in North America and we have come to that through listening to what our customers need," Hogervorst says. "Our research and development is driven by our customers. If a customer's idea is made into a building that is marketable, we put that in our standard product line."
Britespan Building Systems uses the most up-to-date engineering and computer-aided design platforms to create a custom fabric cover building for its customers. Its steel trusses are engineered to the National Building Code in a customer's area and stamped drawings and calculations are created according to the International Building Code. "Every building is engineered to the environmental conditions of the building site and geographical location," Hogervorst says.
Moving forward, Corner Cast and Britespan Building Systems plan to continue to serve the market with turnkey solutions for their clients in the oil and gas and mining industries as word-of-mouth spreads about their hybrid structures. "We have earned our reputation of producing a quality product," Hogervorst says. "I see a lot of opportunity for Corner Cast and Britespan in the future and I think as long as we continue to listen to our customers and innovate, we will definitely see continued growth."