Strength to strength
Broady Flow Control Limited has been operating in Kingston upon Hull for over 100 years focusing on its core competence, manufacturing valves and cocks in the 1930's, when a significant part of the business was producing reducing valves for large boilers installed on trawlers.
Indeed it was this synergy with the trawler fleet, fishing out of Hull, which was the foundation of the business established by William Broady on its present site. To start with, a large proportion of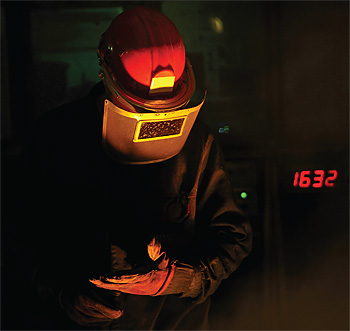 the company's work came from Hull Docks, in the form of installation and repair of marine pipe work but it was the decision to concentrate on the design and manufacture of valves that set the course for the world class organisation trading today. A major step on the road of development came in 1938 when Broady became a key supplier to the UK defence industry.
Today specialising in the supply of innovative and effective solutions to the defence and commercial industries, Broady offers a full in-house engineering service including design, foundry and pattern making services, conventional and CNC machining, assembly and testing to customers' specific and exacting requirements. Supported by a strong supply chain and effective quality assurance procedures
Broady offers both standard and bespoke products, manufactured from carbon steel, stainless steel, aluminium bronze, duplex and many other materials. Broady's non-ferrous foundry produces high integrity castings to Class 1, 2 and 3, primarily from aluminium bronze, for supply direct to external customers, as well as producing castings for Broady products.
Broady's sales director, Paul Robinson, further explains the company's operations: "The business is split into two divisions – defence and commercial. In terms of the valves we produce, we offer a wide range of self-acting pressure regulators and safety relief valves, which are provided to all industry sectors globally. Last year we dealt with 43 different countries, and the main sales stem from one site in Kingston-upon-Hull, where we have been since we were founded. We carry out our business via a network of global agents, and we have a mixture of stocking distributors and re-selling agents. The defence side of our operations serves both UK and foreign navies. The one thing both divisions have in common is the support of a flexible and dynamic organisation able to accommodate the ever changing and highly demanding requirements of our customers."
Throughout Broady's operations run themes of quality, efficiency and loyalty in its partnerships. Paul elaborates: "Currently employing 85 people, we have an ethos of taking on local talent. Every year we try and bring in apprentices to replace the retirees. We've always been a family run company and have a very good record of holding onto our staff. We know that our skilled workforce is key to the success of the company and our low staff turnover testifies to this. Indeed, I started working for Broady when I was 19, so I have been here for 16 years now, and we had a few employees retire early last year, who had given 50 years service, which is unheard of nowadays. We know our loyal workforce is one of our key strengths and this loyalty filters through to our customers as staff build close working relationships with clients. As a result around 80 per cent of the work we carry out is repeat business for longstanding customers. In comparison to our major competitors we are a very small company, but rather than see that as a disadvantage we see it as an advantage, as we're flexible. When customers call us, they can speak to someone they know,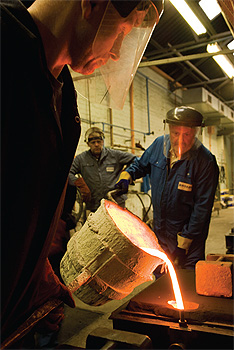 rather than a nameless person in a sales office, as with one of the multi-nationals."
In addition to establishing close partnerships with clients, Broady is also committed to providing the highest level of quality possible in its services, having built up a strong reputation for excellence in its product range. Paul explains how Broady's R&D focus is crucial to upholding quality: "We have invested very heavily in our R&D department in the last two years. We hope that this will set us up for our future operations and maintain the quality our customers have come to expect from us."
With high hopes for the future, Broady has been lucky enough to avoid being hit too hard by the recession. However, as with all businesses there has been an impact, as Paul explains: "We've emerged quite well from the downturn, although last summer was difficult. We are confident for the future though, as valves tend to be specified at the end of a project, so we were only hit by the downturn at the very end, when the affected projects required our services."
He goes on to explain how geographic expansion is the company's next objective: "To strengthen and grow the business once more, we are moving into new markets, such as China, and we are playing to our strengths. We know where we're competitive, and we know where we'll get a good return. The North Sea is a strong market for us, the Middle East is a growing market, and we are also looking to the Far East as well."
Finally Paul outlines the future plans for Broady: "Obviously we need to sustain our growth, so we will be bringing new products to the market within the next 12 to 18 months and I really do believe that these launches will propel us forwards. The company has achieved a pleasingly high level of growth in the past five years based on its strategy of looking for steady, sustained growth rather than aiming for rapid growth and then hitting a brick wall. The work we have performed over the past five to six years gives us a sound foundation, and the company really is going from strength to strength."
Broady Flow Control
Products: Valves