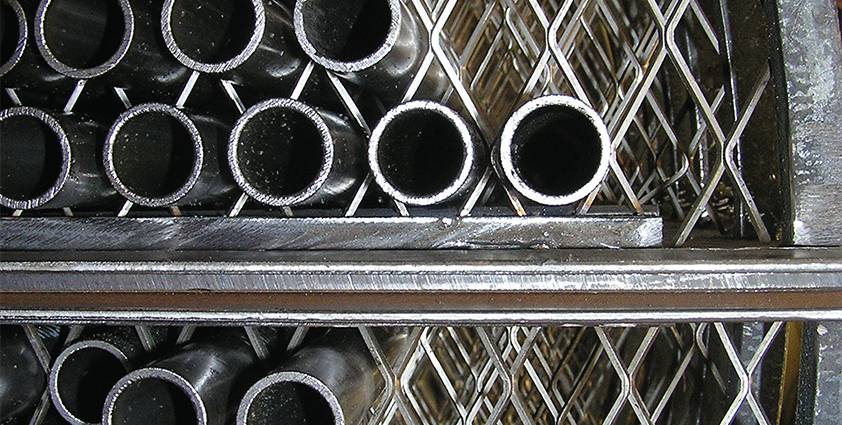 A warm exchange
With over 70 years industry experience, Bronswerk Heat Transfer has developed a specialist knowledge regarding heat transfer systems.
In 1969 the company was acquired by the Stork group in Holland where it operated for a number of years under the management of H.G. Schaëfer. In 1988 when Stork decided to focus on its core business, H.G. Schaëfer bought Bronswerk during a management buy-out. Ten years ago Bronswerk's parent company, BHT Holding, acquired the Czech company Envig spol s.r.o, which currently operates under the Bronswerk name. Today Bronswerk employs 150 personnel at its base in Nijkerk, Holland and is focused on the design, manufacture and supply of industrial shell and tube heat exchangers, cooling equipment, A-frame condensers and air cooled coolers (ACC).
Remco Kruit, business development manager of Bronswerk, describes how the company's background differentiates it from its competitors: "Since the company was founded in 1940 we have produced and sold tailor made equipment focusing on thermal designs. Over the years we have moved away from being a production company to more of an engineering approach. Although we still maintain a production facility employing about 50 people, most of our production work is subcontracted out, as our focus is on supplying total thermal solutions to our clients. We operate in between EPC contractors and equipment manufacturers, as we can provide complete solutions as well as supply the equipment needed to implement these. Clients recognise our experience in this field and ability to provide bespoke systems, and increasingly we are finding ourselves participating in projects from the beginning, helping customers think about their systems and how they can be improved."
Bronswerk's quality, specialised products and process orientated approach means it supplies systems to a number of industries including the oil and gas, chemical, power and air handling markets, and the growing sustainability sector. Remco describes Bronswerk's main markets: "We supply solutions worldwide but our main market is still Europe, with our Czech company focusing on Russia and eastern Europe and the Holland site targeting western Europe. The Middle East is a very important market for us and we are currently working on establishing ourselves across the rest of the world, often through joint ventures with other companies, in markets such as Brazil, Asia and India."
Focused on producing innovative solutions Bronswerk has continuously invested in new developments and optimisation of its existing systems. Recently Bronswerk has developed the Whizz-Wheel®, the world's most ultra-low noise axial fan for air coolers. Lightweight and available in sizes up to ten metres in diameter, the Whizz-Wheel offers 40 per cent better efficiency than current alternatives on the market resulting in a substantial reduction in energy consumption. Remco comments on this new development: "As well as supplying whole solutions, we also recognise that a solution can be a single product, which is why we have invested a considerable amount in the development of products like the Whizz-Wheel. The required electrical power for the axial flow fans in air cooled coolers represents a major part of the total required electrical power in refineries. The air cooled coolers and condensers of Bronswerk, when executed with Whizz-Wheel fans, contribute considerably to our customers' energy reduction program. In co-operation with other companies we are also currently developing new heat pump systems."
When designing new products Bronswerk works to find the optimal combination of costs, material usage, energy consumption and clients requirements, whilst identifying market trends and gaps. "One of the main points clients are looking for is products which combine operational units and smaller sizes, as weight and dimensions are particular challenges in the offshore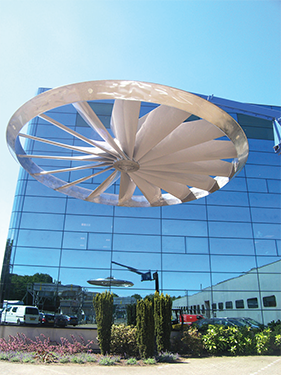 market. This is the kind of information we bear in mind when creating new products – for example we have developed a new type of heat exchanger for high pressure operation which is much lighter and smaller than the usual exchangers produced for this area," highlights Johan van der Kamp, chief design engineer for Bronswerk.
An example of Bronswerk's broad capabilities is a project undertaken earlier in the year when the company was approached by a client regarding another supplier's high pressure gas cooler, which seemed to have 50 per cent less thermal capacity then expected. Employing its skills in thermo-mechanical software Bronswerk simulated the cooler in Computational Fluid Dynamics (CFD) and identified the cause of the problem – the end baffle caused ten per cent of the flow to be bypassed with an enormous impact on the heat exchange. This information meant that Bronswerk could discuss with the client possible solutions to the problem.
Another customer was looking for a gas cooler, where the gas was to be cooled direct by the seawater. The driving forces in the seawater side were just minor and changing velocities due to the tides, and the natural draft because of the increase in temperature of the seawater. In close co-operation with the customer the full design and manufacture of the sub-sea cooler has been performed, and the cooler operates several years now to full satisfaction.
Looking at the general market conditions Johan describes the current opportunities for the business: "Although the market is quite difficult at the moment especially in western Europe, we are seeing that there is a call for reducing energy usage and for more sustainable equipment, which is very different to the past."
Remco continues: "There is a big focus across the major companies in improving efficiency in their facilities and we have to develop systems and components which can help with that. For example, Shell is very interested in air cooled coolers operating with the Whizz-Wheel product and we are going to be conducting a test in the near future, which should prove the benefits of this development."
Bearing this in mind, Remco concludes with his vision for the future of Bronswerk: "We expect over the next few years to see an increased demand for specialist equipment focusing on noise reduction, and improving efficiency and sustainability as part of a complete system. We are focused on the global market and believe that we can help clients on a local basis using our extensive knowledge of heat exchange systems. However, although we see a lot of interest from countries such as India, our prices are usually higher than those of their local market for standard equipment. In the future we are focusing on bringing our technology and expertise to these markets by working together with local companies so that clients can benefit from our experience at a competitive price."
Bronswerk Heat Transfer
Services: Heat exchange solutions and equipment