Dominant player
Brubakken has a long and well established history as one of the largest and most flexible businesses dealing in the sales, service and rental of forklift trucks, terminal tractors, lifts and lift trucks.
The company, which predominantly operates in Norway and Sweden, is one of the industry's dominant players and represents some of the leading high-quality brands in the Nordic region.
Brubakken was established in 1956 and today serves its wide customer base from 17 locations in Norway and three in Sweden, employing around 160 skilled members of staff. Throughout its history the company has been successful at achieving growth and adapting to the market in order to maintain a leading position. Its expansion has been both organic and through acquisitions. In more recent years the company has acquired a number of related businesses that have added value to its operations. In 2008 for example, Brubakken took over most of the bankruptcy estate of AL-Machine, in 2011 it acquired Elektro maskin AS in Sandnes, and in 2012 it purchased Innlandet Truckservice. Other highlights during 2000s have included the company becoming the Worldwide Dealer of the Year for Konecranes (SMV) in 2009 and obtaining the agency for Hubtex in Norway in 2011.
The range of products on offer from Brubakken is vast, encompassing solutions from well-known and highly respected brands such as Nissan, TCM, SMV (Konecranes), MAFI, SeaCom Hubtex, JLG, helpful, Versa Lift, and Ruth Mann. When it comes to lifting equipment the company's range covers a variety of applications for all types of work at height, including vertical lifts, scissor lifts, boom lifts, belt lifters and fixed hang mounted platforms.
Brubakken is well known in the industry for its range of forklift trucks, which is its largest area of business. In this field the company acts as a logistics and machine partner for Norwegian industry by selling and renting equipment for all types of functions and tasks. It is one of Norway's largest leasers of trucks and also has a large number of other machines for rental, such as wheel loaders, logstackers, terminal tractors, reach stackers, international trucks, trailers and other solutions.
In the field of forklift trucks Brubakken has a number of models to suit various client applications. The company acts as a brand-independent supplier of forklifts and prides itself on providing what the customer wants. Included in this offering are forklifts from Nissan, SMV Konecranes, MAFI and TCM.
It also offers a range of four way trucks, which represent a flexible solution for industrial applications. These are four-way side loaders with electric drive that come in load ranges between 1.5 tonnes and 50 tonnes, and can be used for the handling of long goods, sheet metal, tools, cable drums, rollers and large pallets in confined warehouse spaces with rack systems. They can also be used as free-range trucks for outdoor applications. Included in this category is the Hubtex DQ series, which represents a robust and compact four-way side loading solution for indoor and outdoor use.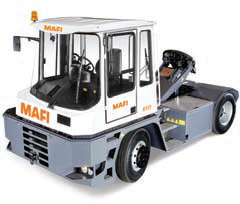 For clients in the marine sector, specifically ports, terminals, supply and distribution bases and other heavy industry sites, Brubakken supplies many models of MAFI manufactured terminal tractor. These diesel-powered machines have a capacity up to 45 tonnes and are characterised by their rock-solid construction, their reliability, low noise and efficient energy consumption.
Alongside new equipment Brubakken has a large range of used/second hand equipment, which it sells both to the home market and customers abroad. In its used catalogue Brubakken has a variety of machines and solutions and it also actively trades/brokers machine acquisitions, which allows the client to free up their capital and time by having Brubakken handle redundant or retired machinery.
This level of customer dedication extends to Brubakken's servicing operations, where the company acts as a service partner for all truck and lift problems that clients may experience. Brubakken will accept service requests for all brands of machinery and has access to the necessary parts to deal with the problem. Its team of skilled and highly knowledgeable technicians and mechanics all have technical backgrounds and are certified to conduct expert inspections. To simplify the service operation Brubakken has a large parts inventory for all brands that it deals, and is able to source additional parts for repair and servicing.
Considering the equipment that Brubakken deals in it is no surprise that the company places health and safety at the top of its priorities. All of its employees across its sites in Norway and Sweden systematically and continuously improve in all aspects of the organisation, striving for zero targets in damage and errors whilst ensuring 100 per cent customer satisfaction.
At Brubakken, each employee is trained in safety every day in their work in accordance with the highest standards and accreditations. All employees have full access to the company's web-based internal control system where all governing documents, HSE manuals, instructions and work practices are readily available. Thanks to its emphasis on HSE the company is pre-qualified as a supplier of products and services to a large number of individual companies, and operates in accordance to the Achilles system on behalf of its members in various industries.
When it comes to truck and lifting solutions Brubakken is able to offer a complete service package to its clients. This dedication to service has enabled the business to grow in its markets and gain an enviable reputation. With Brubakken always looking to add to its range of solutions, and its ongoing focus on improving its workforce and operational procedures, there is little doubt that the company will continue to be successful.
Brubakken
Services: Hires and sells forklift trucks and associated equipment