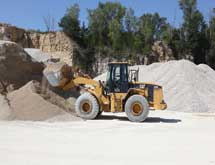 Bruening Rock Products Inc.
As Bruening Rock Products' explosive home page exhorts viewers, "Rock – Don't Build Without It!" Midwestern contractors have been following the company's exhortation and obtaining its rock from the company's 115 quarries in northeast Iowa, north central Missouri and southeast Minnesota for 79 years. "Our main office is located in the beautiful hills of northeast Iowa in Decorah, Iowa," Secretary/Treasurer Keith Bruening notes. "From driveways to major highway projects, we supply all of our customers' aggregate needs. That's our core business."
Bruening and his brother Greg, who is president of Bruening Rock Products, are integrated vertically with additional companies they co-own under the Skyline banner – Skyline Construction,
Skyline Materials, Skyline Ready Mix, Bullseye Trucking, Minnowa Construction and Jennerjohn and Holthaus.
"I never pay attention to who's doing what," Bruening concedes. "The bookkeepers do, but I don't."
A sand pit and quarry are approximately one mile from the company's headquarters. Bruening Rock Products also has an underground mine and a sand pit in Knoxville, Iowa, 35 miles southeast of Des Moines.
Skyline Ready Mix supplies its customers from three plants in Pella, Sully and Otumwa, Iowa, with a fleet of 24 trucks. The variety of quarry and ready mix locations keep trucking distances short, which helps the company deal with the volatility of oil prices. "We burn 75,000 to 80,000 gallons of diesel fuel a week – we're quite concerned about Egypt and Libya," Bruening asserts.
The other major issues the company has to deal with besides the price of oil is the rising price of employee health care and the lack of infrastructure investment at the state and federal level.
Rock Steady
Bruening Rock's products include crushed stone and rock used in concrete and asphalt, for road bases, backfilling houses, walls and buildings, landscaping and drainage work. "We sell a lot of rip rap on the rivers," Bruening notes. The company supplied rock for a $40 million project at lock and dam No. 7 on the upper Mississippi River near Red Wing, Minn.
Not just any rock can be used for these purposes. "You can find rock anywhere – it's getting the quality rock," Bruening points out. "We prospect for it. We do a lot of test drilling with core drills and educated guesses."
Greg Bruening estimates Bruening Rock Products owns more than 1,000 pieces of equipment. "We try to get 25,000 hours out of those before we consider replacing them," Greg Bruening says. "That's kind of the goal on those pieces – it just depends. A lot of our crushers that we have we buy new – we buy most everything new, and then we just do a really great job of maintaining it. A lot of our crushing equipment is quite old, but it's in super great shape, and you're not going to gain a whole lot by purchasing new."
Not So Fine
Making little rocks out of big rocks – once the province of convicts in old jailhouse movies – now is the occupation of Bruening Rock Products, but the company does it with automatic equipment. However, as the company's customers only want rock of a certain quality, they also only want it of a certain size.
"Breaking it down from chunks of limestone – that's all that's up here," Greg Bruening points out. "We have different formations around the different quarries, but basically it's limestone."
Roots of Rock
Bruening Rock Products was founded in 1932 by Leo Bruening, who started hauling rock for the railroads with one truck.
"Next year is our 80th year," Keith Bruening points out. "It's kind of exciting. I hope my dad lives to see it. We'll have a little celebration in the spring. It will be fun."
Despite its resources, Bruening Rock is experiencing lots of competition. "It seems like contractors and graders are all wanting to get into the material business," Bruening observes. "There's a lot more competition, but that's OK, too – it makes us a better company."
The infrastructure projects funded by the American Recovery and Reinvestment Act helped the company. "The stimulus in 2009 was really good for us, but last year was a tough year – as tough a year as I've put in in 31 years," Bruening declares. "[This year] looks a little better, but challenging."
Greg Bruening is concerned about the United States losing much of its infrastructure to neglect. "I just came home from Florida, and the roads are horrendous," he maintains. "For every 10 miles of nice road, you run into 20 that you can't keep the car on the road. In the last two years, the federal government hasn't passed a road bill, and I think that might happen this year. But if they don't react in five years, there won't be any infrastructure to rebuild."
Nevertheless, he remains optimistic. "The future is very bright for anybody in our industry," he says.