Fast-track solutions
Dutch manufacturer BSM Valves is one of the world's most integral fast-track producers of specialist tailor-made valves for a range of industries such as oil and gas, chemical, petrochemical, nuclear and power.
"We started with the valve part of the business 11 years ago and are now the biggest company in the world in terms of tailor-made specialty valves. To increase efficiency we have built a new facility where everything can be done in one place; this is much more economical and operational," explains Govert Coers, marketing director at BSM Valves.
Established more than 20 years ago, the company has enjoyed significant growth due to its short delivery times and modern, fast and efficient manufacturing processes. Originally a trading firm for flanges and fittings from special alloys, BSM Valves set up its own machine shop approximately 15 years ago; from there the company began producing valves and valve components for the oil and gas industry. With production doubling over the last three years, the company's brand new production site will enable it to continue supplying its tailor-made solutions worldwide, as Govert elaborates further: "Oil and gas is our biggest market; working globally, we supply mainly to international firms and see growth opportunities in Brazil,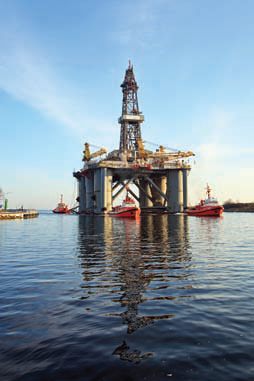 Russia, India and China (BRIC) as well as existing locations such as Australia and the North Sea."
Producing valves in sizes from a ¼ inch up to 18 inches, in pressure ratings of 150 pounds up to API 10,000, BSM Valves utilises state-ofthe- art equipment to guarantee the best possible quality and the shortest delivery times. Current products that the company manufactures at its in-house production facility includes ball valves, gate valves, globe valves, through conduit, check valves, needle valves, specialty fittings, strainers and flanges.
Equipped with the latest production technologies, BSM Valves' manufacturing facility ensures short lead times and unrivalled quality. All valve parts are produced from scratch, using bars and forging materials, which enables BSM Valves to increase production speed while maintaining the best possible quality standards. Manufactured to withstand temperatures from minus 196 degrees Celsius to 550 degrees Celsius, its valves are suitable for a diverse range of applications. Once the parts are manufactured, the valves are assembled by highly experienced personnel before they are tested extensively in the company's in-house testing department.
With a strong reputation for high quality products, BSM Valves makes every single valve from scratch before thoroughly checking they are fit for purpose; this greatly reduces turnaround and gives the company the opportunity to increase efficiency in its research and development (R&D) efforts. Core tests include cryogenic testing, high pressure gas testing, mechanical endurance testing andhelium sniffer testing.
Defined in the industry for its short delivery times, Govert emphasises the importance ofBSM Valves having all of its services under oneroof: "All of our products are designed to thelatest standards while also meeting the specificrequirements of our clients; we are a kind ofdoctor, people come to us with a problem and we deliver a solution to them in six weeks. If companies went to a standard manufacturer they may have to wait up to 30 weeks, so our delivery time is a major strength. On top of our modern production facility we have a very large R&D department, which is necessary for us to get the designs into the factory in a short timeframe to guarantee the requested delivery time. To work in these time limits you have to be organised like in the military."
Viewing R&D as a key part of the manufacturing process, the Breda based firm prides itself on its ability to deliver modern and effective design solutions. Always looking for ways to solve new challenges, BSM Valves boasts a highly-experience team of technical staff and engineers that are all experts in their fields of design, welding and testing, materials selection or customer service. "We have the best skilled and experienced people working in our office, which means when customers come to us with a problem and need an immediate answer we can deliver that answer and analyse the best way to provide a solution. We have knowledge available in-house, which is why people come to us from all over the world; because of time differences around the world, our staff will take work home to find a solution and work out a quotation that night," highlights Govert.
To further guarantee effectiveness, BSM Valves has also developed internal training and an education programme for its staff; this is also available to third parties and other firms. "We don't have many valve plants in places like Italy or the UK so we deliver training to new and experienced staff to ensure we have the expertise available for our 20-30 per cent year-on-year growth," explains Govert.
As the oil and gas industry continues to evolve, BSM Valves has the knowledge and skills to develop its products to continue providing solutions to customers, as Govert concludes: "Companies are now getting oil from increasingly deep seas and we are seeing more and more requests for valves being used at 10,000 to 15,000 psi. Because of this, valves need to be made out of special materials due to problems such as corrosion, abrasion, temperature and pressure; we try to keep our position as a pioneer by using the latest software and IT analysis software, which gives us the feeling that the market will develop positively for us in the future."
BSM Valves BV
Services: Manufacturer of tailor-made valves