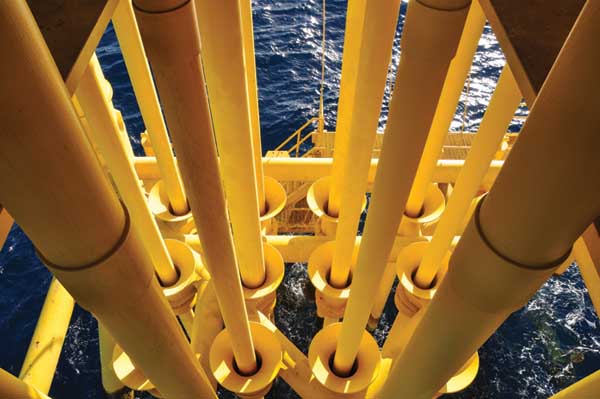 High integrity – Holding it all together
BST Supplies Co. Ltd. is a worldleading manufacturer of bespoke, high-integrity, fully traceable fasteners. Proudly independent, the core business for BST is manufacturing for safety critical / 'must not fail' applications for the harshest environments. Whether the client requires dimensionally standard components made from specialist materials, or 'unique design' components manufactured from standard materials, BST has the flexibility to produce all types of fasteners.
As Sales Manager Raphael Smets explained: "Every single component BST manufacture conforms to international standards or is specifically produced in line with the customer specifications, drawings or samples." He gave Energy, Oil and Gas further details on how the company operates: "We don't design the product, we are given the exact specifications and requirements by the client and we manufacture precisely to those." He continued: "However, we do work very closely with many OEM's, and feel privileged that they will come to us for advice if they need to adhere to particular regulations or a new demand from their customers. Changes in specification happen fairly regularly within the oil and gas sector and every time a new spec or a new requirement comes out, BST is one of the first to know and stock material accordingly."
He added: "Our real strength is the peace of mind that customers get from our expertise in manufacturing bespoke products – they trust us to deliver fasteners exactly as ordered, that are of the highest integrity, offer true and fully comprehensive traceability and are made from only the best quality western European raw materials. This is especially important when you consider the applications that we manufacture for. Our customers demand the very best quality products that 'will not fail' during their lifecycle as they are often incorporated into equipment in inaccessible places and the costs of accessing them is very high. They look to invest in our fasteners, in order to get the quality and reliability they need and demand."
Supporting this excellence in manufacture is a company structure that has always placed the highest quality at its heart. The creators and owners, Tony Lawless and Stuart Mee established the company in 1987, and over the subsequent 28 years it has grown to employ 110 staff and turn over circa £10 million a year. "The focus of the business has never wavered from always being the most reliable supplier of bespoke threaded products and to position BST as the number one supplier of quality fasteners," Raphael confirmed. "Once the business was up and running, profits were meticulously re-invested into the company, in order to purchase the right machinery and set up an in-house manufacturing plant. That philosophy has remained since those early days, meaning that profit is still largely invested into new machines and creating new infrastructure. For example, the last major investments were in a PTFE plant, a new computer system and, lately, a new on-site UKAS ISO17025 approved laboratory.
"So from very humble beginnings when the owners started the business with a telephone, we have grown to become a fully internationally recognised manufacturing facility, where we are able to control the whole production process from sourcing raw materials to finished product. However, the quality philosophy of the company remains and that transfers to our customers viewing BST as the most reliable supplier in terms of delivery and quality."
Being independently owned also allows for flexibility and quick reactions and Raphael noted the significance of this: "We are very customer focused and if we need a fast decision to answer a customer's challenge, we meet with our managing director, James Mee, and if needed get an investment approved the very same day." This degree of reaction time is invaluable to BST's clients in the world's most demanding sectors of subsea oil and gas, nuclear, power generation, defence and marine. "If you look at the history of BST, previously the company's business was split at approximately 50 per cent nuclear and defence and 50 per cent oil and gas. But around ten years ago there was a change of attitude within the oil and gas industry towards high quality fasteners with full traceability and our growth has been pushed by that increase in demand. Subsea equipment fabricators were historically buying threaded components that were simply poor quality, with no traceability or reliability of raw materials origin. They were spending significant amounts on weld procedures, forging and so on, and holding the equipment together with low cost sub-standard fasteners. As a result the risk of failure was high, and eventually it became clear that there was a need to change the requirements for fasteners," explained Raphael.
"Since 2008, in the North Sea for example, there has been a real improvement in the required subsea specifications and the need for increased traceability, and as a result companies came to us because they needed the very highest quality fasteners of the type we manufacture. I would say that this growth in demand changed the distribution of our business from 50-50 to closer to 75 per cent oil and gas and 25 per cent in other sectors," noted Raphael, before adding: "But we are keen to also increase our business activities in other sectors, especially energy and nuclear. The nuclear power station industry in the UK is something that we are also manufacturing for and we would very much like to develop further into it. We are already registered with NAMRC, in a program called 'Fit for Nuclear'. At the moment our business with defence remains more in volume than energy and civil nuclear, but it is something we are looking to expand over the coming months and years.
"Furthermore, there are always other industries to consider, so for example we are also keen to get involved with wind turbines, tidal technology and other renewable sources of energy. Most of them are fairly easily accessible so the question is whether they need fasteners with such a high level of testing and quality as our products." So BST is viewed as an expert when it comes to underwater applications, which alongside wellheads and subsea equipment for oil and gas, also includes submarines and ship's defence with the Navy and MoD. "When it comes to subsea and marine applications we are very well known worldwide," stated Raphael.
What unites all of these markets is their need for a no-compromise approach to quality and reliability, not just from products but also from people. Because BST manufactures to exact customer specifications, it's essential that its products are right first time, every time. This makes knowledgeable and dependable staff a vital necessity. Their expertise and commitment, from initial order through to production, testing and quality assurance, ensures that integrity is prevalent throughout the business.
Thanks to its culture of excellence that extends companywide from the shop floor to the board room, BST Supplies is still welcoming new clients to its order books, despite the downturn in the oil and gas market at the moment due to oil prices. As an established business with nearly three decades of experience, BST has seen dips in the oil industry before, and is confident that its dedication to quality will always remain a firm foundation for success. "The companies that aren't robust will struggle and some may even close, but we are still seeing some positive signs and have opened accounts with major subsea manufacturers. So we are confident that the drop in the market will be countered by new accounts within Oil and Gas and new clients from other sectors," said Raphael.
He concluded: "We have come a long way in the manufacturing process of subsea components, over the last two decades we have had the privilege of working with FMC Technologies. In the last 12 month we have also been approved by Onesubsea, Aker solutions and GE. It has taken us long time to be awarded these approvals by these leading companies. To become a trusted supplier to them is another indication of the high quality services we provide to our customers."
BST Supplies Ltd
Services: High-quality, fully traceable fasteners and components
Issue 125 October 2015