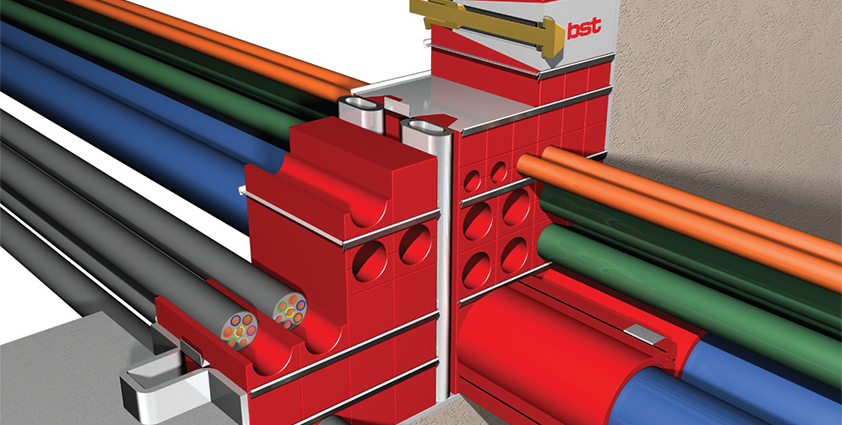 Seal of approval
The relatively close and isolated nature of offshore installations and vessels, as well as the presence of potentially hazardous products, makes protection from the elements more than just a passing concern.
With more than 25 years of experience behind it, BST (Brandschutztechnik Döpfl) is an expert in all matters of preventive fire protection and sealing techniques for cables, pipes, and installation mains. Initially founded in 1976 by Rudolf Döpfl, for five years BST found success as a distributor of other fire protection systems throughout its home market of Austria. Building upon the reputation and knowledge the company developed during this period, Rudolf then decided to produce and market his own system.
From the very beginning, BST differentiated itself from other market competitors through the development of its complementary installation group. This service was strongly accepted within the market, with the division forging close relationships with clients. As a result, alongside enabling BST to offer installation services together with the products themselves, the installation group was also asked to install competitors' products, and undertake repair and maintenance of these systems.
In carrying out these services, BST became familiar with the various advantages and disadvantages of the other systems on the market, which in turn influenced the development of its own cable penetration system. Since 1981 Rudolf focused on the improvement of his modular penetration system, however after recognising the validity of cheaper and different solutions in the market, expanded BST's product range through the manufacture and trade of these other systems. "Clients also found that they could trust in Rudolf's consultancy skills, as he would look at the budget and requirements of the system and then advise them on the most suitable material and solution. For example a cable running between hotel rooms may only require fire protection, whereas an oil and gas installation will require gas, explosion proof, and water protection capabilities," notes Martin Uhlig, sales director of BST.
Constructed from halogen-free elastomeric rubber, each module within BST's modular system seals each cable or pipe separately against environmental hazards such as fire, smoke, gas, water, static, and dynamic pressure. The system itself is ideal for protecting cables and pipes, which have to pass through wall and floor penetrations in buildings, ships, and steel constructions. The company also offers a cable penetration modular system for sealing cables, pipes, and other mains leading into switch cabinets, appliances, and casings. For cables and pipes which have to enter circular openings in walls, ceilings, or steel structures, as well as applications such as core holes, sleeved pipes, or casing flanges, BST has developed a modular plug seal system, which offers the same capabilities as its other modular systems. The module design of these systems enables a flexible adaptation to every need.
Since its early beginnings BST has continued to grow and widen its reach, notably with the introduction of the modular system to the marine market in 1988. Remaining a family owned business, the position of general manager is currently held by second-generation member Wolfgang Döpfl, who in 2001 was joined by his own son Florian Döpfl, as marketing and project manager. Today BST is present in all major industries, aside from aerospace. Approximately two thirds of the business is exported to clients on every continent, with the exception of Antarctica, with BST achieving an annual revenue of approximately four million euros – no mean feat when you consider the company's relatively small workforce of 20.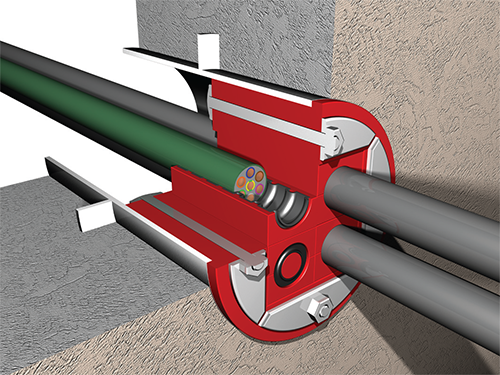 Focusing specifically on the oil and gas industry, BST's products are found across the full spectrum of upstream and downstream operations including production platforms, oil and gas wells, refineries, gas compressor plants, and underground storage facilities. Such is the acceptance of the company's products that within Germany, just one of BST's core markets, the business has an estimated market share in excess of 50 per cent with regards to underground storage facilities, compressor stations, and transportation stations at pipelines.
Highlighting the reasons behind BST's clear success in this, and other markets, Martin says: "The installation aspect of the business is a key differentiator between BST and our competitors. Because our installation team deals with them on a daily basis, we have a deep knowledge of our competitors' products, which means that along with our own products we are experts in all the problems associated with installation. As well as the manufacturing and development side of the products, we can also offer consultancy and installation services for all aspects of fire protection and sealing. We also offer a range of different products for different problems, which means we can tailor make our solution to the demand of the client."
One of the clearest examples of this ability to meet specific demands is BST's 90-minute fire durability system, designed for the German market. BST first developed a cable penetration modular system in 1982, which meets the 60 minutes fire resistance specifications of many companies, however German regulations demand a 90-minute product. "Traditionally in a modular system you can only meet 90-minutes of fire durability with a back-to-back system, which means a double wall construction, or by using the modular system in connection with an intermesh and heat expanding coating. However this solution removes the key benefits of a modular system, as having an additional coating or isolation method interrupts the ability to open and exchange modules," elaborates Martin.
He continues: "As a result we have developed the only modular solution in the world which offers 90 minutes of fire resistance with just one wall. This system is also gas tight, explosion proof, and water resistant, and I believe this is one of the reasons behind our leading position in the German natural gas market. Whilst our competitors also claim that they can meet this regulation, they can only do so using a double wall construction, which is more complicated to install and also more expensive, especially to maintain."
Certainly research and development is a vital aspect of the business, particularly in terms of creating products that are not only functional, but also meet the necessary market approvals. Since January 2011, BST has become the only global producer able to offer a coating system, which has gained a European Technical Approval (ETA). With a strict criteria based around a technical assessment of the product fitness for its intended use, including six essential requirements, gaining a ETA is not a simple process, and as such is testament to the quality of BST's product. Currently the business is working on gaining an ETA for its modular system, which it hopes to have in place by the end of 2012.
Looking at some of the more prominent commercial applications of BST's systems, Martin comments: "This year saw the first operations of the worlds' biggest pipeline project stretching from Russia to China – approximately 9800km long. On the Chinese side there are 24 compressor stations, all of which are exclusively equipped with BST products. In 2007 Hyundai Heavy Industries delivered a 155,000 cubic metre liquefied natural gas carrier (LNGC), which at the time was the world's largest vessel of this type. Developed for BP, the vessel was the first in a series of diesel-electric driven gas ships, and was equipped with our system. In its internal evaluation, Hyundai Heavy Industries called our product 'global technology leader', which I think speaks for itself."
By supporting clients in choosing and installing the most suitable sealing system for their needs, BST helps to remove the potentially hazardous elements of fire, water, and gas from their operations. Given the systems ability to protect not only assets and objects of value, but more importantly the life of personnel and the public, BST remains committed to further improving and developing products for the next generation of industry challenges.
Martin concludes: "We don't have to be the number one in the world in terms of quantity, if we are number one in quality. Unlike many international companies we do not see developments in five year steps, instead due to our family-owned heritage we see the development of the company in generation steps. As a result we develop our business for the next 20 to 25 years. Simply telling people that you have better products than anybody else is not effective, instead we develop our products to the wider market step by step, and we know that once a client changes to our products they never go back to anything else."
BST (Brandschutztechnik Döpfl) GmbH
Products: Fire protection and sealing techniques