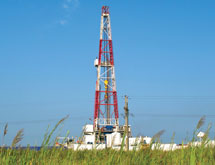 When energy and mining firms need rental, fishing and specialty services, BTI Services says it is the provider they can turn to. Based in Houston, the company offers products and services for field operations and interventions for specialized hydraulic workovers, coiled tubing workovers, fracturing and testing.
BTI says it started operations in 1984 under the name Blowout Tools Inc. Afterward, the company became a leader in specialized downhole tools, high-pressure flow equipment and specialized services.
"In addition to manufacturing specialized equipment needed for unconventional well control and intervention operations, BTI expanded its core services to include more than just well control equipment rental and sales," it says, noting that the addition of fishing tools, marine and subsea equipment, and specialty intervention services allowed it to become BTI Services.
"BTI brings solutions to [our clients'] toughest challenges," the company declares. "Utilizing our years of innovation and application experience, BTI can quickly design custom equipment to solve [the customer's] specific problem and meet [their] needs."
Tough Jobs
BTI's specialized services are geared towards to meet its clients' needs on their hardest projects, the company says. "Through years of experience working with high-pressure situations, BTI is equipped to provide the solution needed for [the client's] project," it states.
For instance, the company offers pipe freezing for temporary tubing, casing and wellhead isolation. According to BTI, this is an accepted, safe and cost-effective method for valve replacement and general pipe work modifications.
"BTI's pipe-freezing technology is unsurpassed in the BTI says. "Through the utilization of nitrogen and state-of-the-art temperature monitors, costly fluid kills no longer have to be performed, and downtime is limited."
In addition, BTI offers specialty bits for drilling gate valves. "The unit can be prepped to drill or mill through valve gates/balls/plugs that have been 'hard faced' with colmonoy, nickel plated, made of ceramic compositions, stainless steel, monel steels, inconel steels, stellite or any other corrosion resistant alloy," it says.
"The BTI valve drilling tool is a tested and proven method for solving blocked conduit problems in valves and other applications caused by non-functional opening/closing mechanisms, stuck or damaged back pressure values and numerous other issues," BTI adds.
BTI also offers hot tap services, which it has performed for wellbore and other pressure intervention operations over the last several years. During this process, the company explains, access is introduced to the ID of a pipe by drilling a hole in its wall while internal pressure is still present.
"The versatile equipment was originally developed for land-based oilfield applications, allowing safe hot-tapping operations on blind flanges, bull plugs, base plates and other unusual equipment," BTI says. "Engineering adaptations for subsea applications have made it equally effective as a 'diver friendly' and safe underwater intervention technique."
A Vital Role
BTI is a subsidiary of Superior Energy (SPN) Services Inc., a Houston-based provider of specialized oilfield services and equipment. According to the company, it focuses on serving the drilling and production-related needs of oil and gas companies, and the plug, abandonment and decommissioning services at the end of a well's life.
"Our role is helping energy producers work more efficiently through the delivery of high-quality tools and services," the company says. EMI