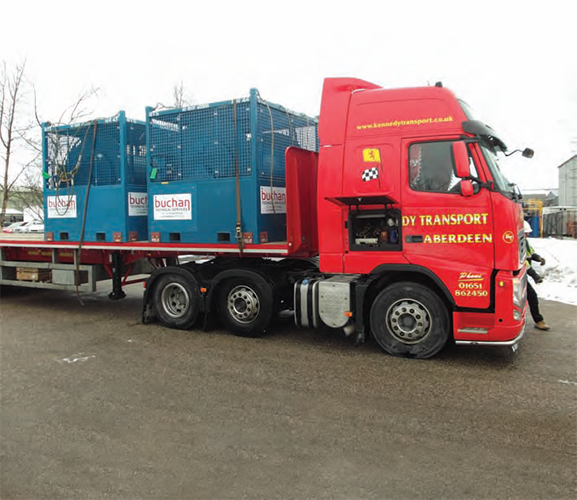 Buchan Technical Services
A reliable option
Buchan Technical Services has announced international expansion, opening a new equipment rental base in Labaun, Malaysia. SE Asia.
The new facility will support its client project needs in Southeast Asia, and the Southern Hemisphere.
Formed in 1997, Aberdeen based Buchan Technical Services (BTS) has grown to become a significant provider of offshore equipment rental and contract personnel to oil and gas firms. Becoming part of James Fisher & Sons, a British provider of marine engineering services, in 2007, the company benefits from access to more than 150 years of expertise in marine environments from its parent firm as well as ongoing investment, as general manager Colin Cruickshank elaborates: "Revenue exceeded £3 million for the first time in 2012, with growth continuing at ten per cent plus per annum. Growth is being driven by our ability to provide reliable equipment at short notice and a three year capital investment programme of £3 million with £1.2 million plus already committed on new generation ATEX CE hose reels, a new subsea hose rental division, HT400 PD pumps, five stage pipeline flooding pumps and DNV certified break tanks."
BTS's product range is complimented by the Fisher Offshore machine and welding facilities that are equipped with cutting edge technology and manned by expert engineers. With skilled designers, quality paint and finishing shops, BTS offers the best quality standards for every product. The most recent addition to its pump rental fleet, the WP43, is one of two Detroit diesel Zone II 12V71 powered HT400 positive displacement pumps to be built in 2013. The portable unit is DNV 2.7-1 certified, has a fuel capacity of 70 gallons, is 2870 millimetres in height, 2430 millimetres in width and 6040 millimetres in length. A further two 1000 HP diesel powered five stage centrifugal pumps are scheduled to be completed by Q2 2014. Furthermore, the company has recently completed seven new air operated hose reels to its fleet, with ten more under construction. Built to various sizes, the hose reels are all built to DNV CN2.7-1/BS12079 standard, are ATEX approved, CE marked and come complete with 5000 psi live centres.
Having entered its 16th year of trading in 2013, BTS recently announced the launch of its six figure investment in subsea hoses, which includesa new umbilical hose rental division in line with the company's ATEX certified hose reel new build programme. Clients can now hire a fully EU compliant hose reel for a project, with the added option of renting new pressure tested umbilical hoses in a range of sizes. The company's dedication to consistently meeting the challenging demands of a changing market with high performance, reliable products has led to long-term working relationships with a number of leading players inthe offshore sector, such as Aker Solutions, Baker Hughes, Proserv and Weatherford.
Offering maintenance programmes to clients, Buchan Technical's new ultramodern,state-of-the-art workshop, covers 1000 square metres, offers overhead crane facilities for customer pre-mobilisation and de-mobilisation services. On top of this, thecompany's new UK headquarters are designed to provide the best environment to find solutions for customer requirements. With a research and development facility, BTS can simulate downhole offshore environments for applications such as de-commissioning tool testing and various upstream and downstream technologies. "We use the R&D facility to testour pumps prior to mobilisation to ensure theywill work 100 per cent in the environmentsthey will be utilised in," explains Colin.
With a pool of 30 temporary/contract personnel available to support oil and gas service companies during their global operations, the ISO 9001, ISO 14001 and OHSAS 18001 registered BTS ensures the provision of competent, certified operators, engineers and supervisors across a range of disciplines through its new training suite and practical pumpingfacility. "Using our new training suite and practical pumping facility we can share our knowledge through various training courses to nurture ambitious individuals in their own career development," says Colin. "We are proud to retain our people because we offer more; by training our people on bespoke courses for diesel engines, zone II equipment, different types of pumps and applications of pumps, we tailor make our courses to nurture each individual's development. Practical training is also offered so our personnel can operate, maintain and repair pumps and equipment. Once the training is completed, the member of staff is assessed and it goes on their record for the clients to see. A further 12 candidates have been trained through a range of theoretical and practical training courses at the company base in Oldmeldrum this year to date."
Throughout the rest of 2013 BTS will be focusing on further training, while continuing with developing equipment for its new build programme and also growing its staff number. Internal promotion, redeployment and four new full time employees are recent developments to support its dynamic asset rental growth programme. The company will also be participating at Offshore Europe 2013, between 3rd and 6th September. Looking further ahead, BTS aims to generate continual annual ten per cent growth and also gain more work overseas, as Colin concludes: "We see demand in the Middle East, Russia, Europe, North and West Africa and Norway. A lot of clients we have been gaining come to us because they have a skills or equipment shortage and know they can approach us because we have the knowledge to best meet project recruitment and equipment rental requirements. Our clients have been asking for support in other hydrocarbon regions of the world, therefore our international facility in Labaun, Malaysia underpins what BTS stands for customer service and on the ground, ready-for-use quality equipment. The new facility will support our client project needs in Southeast Asia and the Southern Hemisphere by reducing their project operational and commercial risks."
Buchan Technical Services
Services: Equipment rental and recruitment services