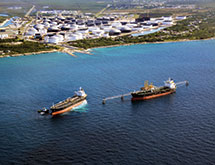 The facility had total installed storage capacity of 21.4 million barrels and after a significant two-year expansion project, Buckeye added about 4.7 million barrels of flexible petroleum storage. "Instead of developing a completely virgin area, we expanded within the existing footprint and were able to achieve significant cost reduction," Senior Project Manager Clint Johnson says. "One thing Buckeye does well is phase in our work so that we don't wait until everything is designed before we begin construction. The phased-in approach achieves results faster than we would have otherwise."
"This project was a great project. It was very comprehensive and challenging," White notes. "It was really the big step-out project for Buckeye."
The marine infrastructure of BORCO consists of three deep-water jetties that are about 4,000 feet from the shoreline. These jetties are capable of berthing the largest liquid petroleum carriers. BORCO also included an inland dock with a 650-foot berth located in Freeport Harbor.
Buckeye oversaw the refurbishment of the jetties and inland dock renovations that included the build-out of a new berth. Both projects combined were close to a $200 million capital investment.
One of the major challenges Buckeye overcame during the BORCO project was sourcing materials, because materials are not as readily available internationally. "We can't run down to the local hardware store or industrial supplier, so we were forced to plan ahead," White notes. "This project was all about planning to ensure we didn't run into those issues."
Buckeye maximized the use of local labor in the Bahamas in addition to its supplemental resources from outside the island. "We are very pleased with the successful partnerships we developed with our Bahamian colleagues," White notes.
In fact, the company partnered with a pipe fabricator in the Bahamas and used the same company two years later when it acquired the Perth Amboy facility in New Jersey.
This was one of the few times a company in the Bahamas had fabricated large industrial equipment for shipment to the United States.
Strategic Acquisitions
Perth Amboy sits on about 250 acres and is located six miles from Buckeye's Linden, N.J., complex. It features more than four million barrels of storage and four docks, as well as pipeline, rail and truck access.
Buckeye acquired the property in 2012 for $260 million from Chevron U.S.A. Inc., which continues to be a key customer.
Perth Amboy was a strategic move for the company because the terminal is located on the New York Harbor, a major trading hub that provides the company with direct access to international and U.S. Gulf Coast petroleum products imports.
"We are excited to bring this strategic facility into Buckeye's portfolio of assets," CEO Clark C. Smith said at the time of the acquisition. "We expect its integration into our network to proceed quickly and smoothly, and we intend to initiate our planned commercialization activities immediately. The Perth Amboy terminal should provide Buckeye with security and diversity of product supply by directly linking our domestic pipeline and terminal network to an owned and operated marine facility through a new 16-inch pipeline to be built to our Linden complex."
Buckeye rebuilt the dock facilities, installed a new rail facility, replaced the internal piping and constructed incremental storage capacity at Perth Amboy. "It was completely modernized with state-of-the-art systems and took a total of two years to complete from inception to completion," Johnson adds.
One of the major takeaways from the Perth Amboy project was the importance of developing good partnerships with local stakeholders, including trade unions and local government. "We had a lot of success gathering a coalition of people who were extremely supportive of our project that we could draw on for expertise and assistance," Johnson says.
Corpus Christi
Buckeye last summer acquired a majority interest in a mid-stream platform in the Gulf Coast with long-term committed revenues and significant opportunities for further growth. The Corpus Christi, Texas-based facility was attractive because of its location.
"For the first time this gives us a significant presence in the Gulf Coast area," Director of Engineering Lewis Collings says. "The facility in Texas was significant to us in our marine terminal strategy that includes BORCO and Perth Amboy, and now Corpus Christi."
Buckeye's Texas hub is a deep-water marine terminal on the Corpus Christi Ship Channel. Its five vessel berths include three deep-water docks, and the facility is equipped for rail and truck loading and unloading.
This facility also allows Buckeye to expand its services to include some processing. "One of the things that is unique about the facility is that it is not just a processing facility, but we have a world-class LPG storage facility that can be shipped by water," White notes.
The Corpus Christi hub is under construction and will be completed in phases. A 50,000-barrel-per-day condensate splitter is under construction and in a May 1, 2015 conference call, Buckeye indicated the splitter is anticipated to be completed in 2015. After the splitter is completed, Buckeye will then begin operations under a seven-year agreement with a global commodities trading firm.
Three field gathering facilities with associated storage and pipeline connectivity will allow Buckeye to move Eagle Ford crude and condensate production directly to the terminal complex in Corpus Christi.
After completion of the initial development phase, the hub will form an integrated system with connectivity from the production in the field to the marine terminal infrastructure in Corpus Christi, creating a premier logistics platform with significant flexibility and optionality. The facility will offer about 5.6 million barrels of liquid petroleum products storage capacity.
Buckeye is expected to invest about $300 million in this project. "We believe these strategic assets will provide significant opportunities for additional infrastructure expansion to support further expected growth in these markets," says Smith.
After completing BORCO, Perth Amboy and now working on the Corpus Christi terminal, Buckeye looks forward to continued growth. "Growth is a very key part of our overall goals," White says. "Our role is project execution and making sure we execute on small and large projects. Our team fully expects we will remain busy with additional expansion and other capital investment opportunities down the road."