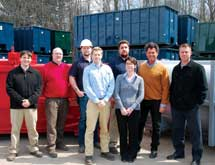 After 35 years, Buck's Fabricating (a division of Deist Industries Inc. since 1993) has enjoyed success by listening closely to its customers, President and owner Matt Wilson says.
"[We try to discover] what issues our customers are facing, what opportunities are there for them, [and go] back to our team and say, 'Are there products we can provide to make their work day easier?'" he says.
The Hadley, Pa.-based firm specializes in manufacturing roll-off containers for multiple industries, including energy and mining, construction and demolition, municipal and solid waste, and scrap metal. Wilson notes that Buck's originally started operations 35 years ago as a small auto body shop with a small staff.
Over time, the company branched out into manufacturing waste containers and complex truck bodies and systems. "In the last few years, we've been supplying various sealed and specialty waste containers that are used in the energy and mining industries," he says.
Today, Buck's employs a staff of 80 and is part of Deist Industries Inc., a holding company also based in Hadley. Wilson says Buck's philosophy of listening closely to its clients has paid off for the firm.
"It really shows in our relationships with our long-term customers," he says, noting that 90 percent of the company's work is for repeat clients, including Adler Tank Rentals, Veolia Water and McCutcheon Enterprises Inc.
Buck's says it specializes in being a customer-driven company. "We take great strides and pride in servicing our customers from the point of order to after the sale and into the field," it says.
"Our customers routinely share how solution-focused we are and how we provide them the best value for their money," Buck's continues. "We are a growing company with long-term strategic relationships and have the manufacturing abilities and processes to handle any size order while maintaining the shortest lead times in the industry."
Passion for the Business
Wilson has been with Buck's since 2006 and became its owner in 2010. Previously, he worked in accounting and finance for the energy practice of Ernst & Young in Houston, working in and around many energy companies throughout the country.
He says he savors the work at Buck's. "For one, I enjoy building things," he says. "Manufacturing is something I have a passion for."
Wilson also enjoys watching Buck's products work for its clients. "There's truly nothing better," he says. "It's rewarding to see the products people made here doing their jobs out in the field."
Buck's products include its Poly Boxes, which are its proprietary line of containers, Wilson explains. "[It] has a roll-off exoskeleton, instead of sheet steel forming the sides and floor, there is a special plastic blend that is resistant to caustic items and releases sticky or frozen materials better than steel," Wilson says.
In recent years, Wilson says, the company developed its vacuum box containers, which can safely transport hazardous and non-hazardous materials, including oil, sludge, chemicals, liquid waste, fly ash, mud and drill turnings. "We really had a lot of customers pushing for us to develop [this]," he recalls.
This required Buck's to venture into types of engineering and fabricating that were different for the firm. "It was very rewarding to see," he states. "It took a little while for us to meet our customer expectations, but our engineering teams and production teams were up to the task."
Additionally, Buck's went through a period of third-party testing with its customers to see how the containers were performing. Today, he says, the product is a self-sustaining line on its own and can supply anywhere from eight to 10 people.
"We test all of our products on a design level," Wilson says. "We brought in a third party and tested the vacuum container with the help of one of our customers who maxed out the draw on their Guzzler truck. Any time we materially modify the design for a customer, we try to do the same test.
"Once a design is tested and confirmed, we hydro test each unit to make sure there are not production issues," he continues. "If there are issues, they are resolved and the container is retested. We are in the process of adding in line vacuum testing for each unit as part of our new product finishing division."
He also highlights the company's dewatering containers, which can help separate liquids from solids. "[Those are] finding a lot of use throughout the industry when dealing with drill turnings or something [similar]," he says.
"Our customers are finding ways to use these and take these innovative products in new directions," he continues. "I'm proud of developing [many] products throughout the industry [that have a long lifecycle]."
Finding Team Players
Wilson says Buck's is now coping with the challenge of maintaining growth while meeting customer demands. But what can make this even more difficult is finding the skilled labor to maintain this balance, he says.
As the company searches for labor, Buck's seeks workers who not only strive to work hard, but also are interested in being team players. "[We want] people that are really willing to roll up their sleeves and do the manufacturing part of the job," he says. "If somebody shows they have the fortitude, we will keep them."
When searching for these types of employees, Buck's works closely with technical and career centers. "We [also] have a regular flow of interns," Wilson says, noting that some of these interns eventually become full-time employees.
Buck's plans for continuous growth, Wilson says. "We [see ourselves continuing] as a provider of containers for the energy and mining industry," he says. "We expect we're going to see energy and growth in our region."
While the company's core business is in Western Pennsylvania, Buck's serves customers within a 500-mile radius of its headquarters. "Over the last couple years, we've expanded our sales heavily into Texas, Oklahoma, Louisiana and the Dakotas," Wilson says.
He notes that this has largely been driven by mining and energy. "There's plenty of exploration and mining activity in those areas," he says.
"We expect to expand those markets as our company grows and demand shifts," he says. "We [also] expect to continue to grow into being more of a full-service provider."