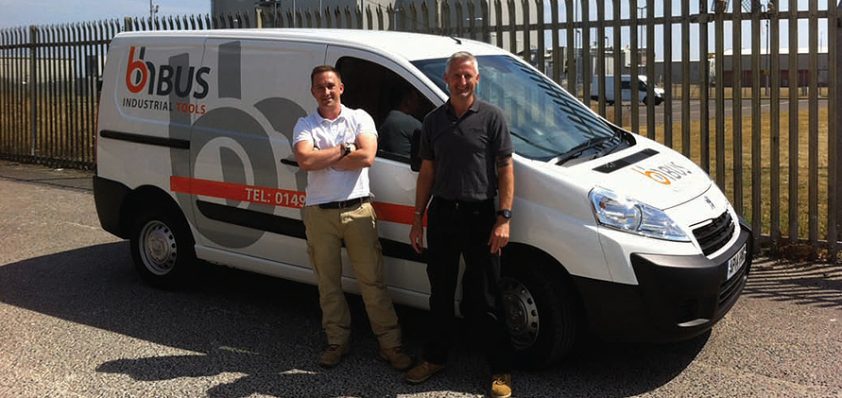 Tools talk
BUS Industrial Tools Ltd was formed in April 2014 to service a new contract in the UK that had been won by its parent company, BUS Handelmij B.V.
The agreement with Shell covers the provision of tools and equipment for the southern North Sea platforms. BUS Handelmij was formed in Lemmer, Netherlands in 1957 by Schelto Sr and Dineke Bus. Just one year later, due to the success of BUS, the business moved to larger premises in Zwolle. In 1981 BUS opened another depot in Sneek, followed by depots in Groningen, Emmen, Marknesse, Deventer, Veenendaal, Tiel, Almere and Eemshaven. In 1999 Schelto Sr and Dineke gradually withdrew from the company leaving their sons Henry and Schelto Jr to take on the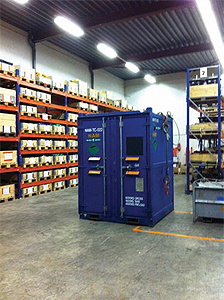 mantle of technical and commercial directors respectively.
The family-run business has come a long way from its early days to become the professional organisation that it is today with over ten offices, with one of the main developments being the centralisation of the company. From its headquarters in Zwolle it controls issues such as automation, administration and purchasing control. Despite this, the various sites are structured to function as autonomous entities, which ensures they can respond flexibly to the local market. As each branch has its own spares department, stocks can be tailored to suit individual clients needs.
"BUS Industrial Tools Ltd has not been in existence for long, but due to the nature of our contract we have been in very high demand. The initial set up of our UK operation has been supported heavily from our partners in the Netherlands, which has been instrumental to the success of our first six months," says Alfons Hendriks, director. The company provides maintenance and inspections services across a wide variety of items ranging from safety harnesses to power distribution units, inspected to high standards and conforming to all current regulations. Beyond that, it also offers equipment for hire including welding equipment, pipe end machines, workbenches and toolboxes, distribution boxes and cables and compressors.
To ensure optimum quality BUS holds ISO 9001: 2008 certification, guaranteeing the delivery of quality products and good service. The company however, does not stop with the delivery of a machine or device as its technical department for installation, instruction, maintenance, repair and annual inspections brings clients several distinct advantages. Employees of the BUS group are committed to profitable growth, through developing sustainable relationships with clients and suppliers, driven to exceed customers' expectations with expert and honest guidance, responding rapidly and flexibly to questions with complete and reliable supplies.
It is the flexible response to the needs of the client that attracts custom to the business, but as Alfons keenly points out: "Setting up the new depot in Great Yarmouth has been so successful due to the assistance of numerous connections in the area. Upon BUS gaining the contract from Shell, one of the first questions asked was 'would you be able to set up a depot in the UK?' and our response was establishing this new branch with an initial staff of three personnel acting as a focal point between AJS, Shell and our depots in Holland. We are currently at the early stages with the new depot, but we feel that we have surpassed our own expectations of what is achievable from our UK branch, implementing our own processes and methodology to insure a high quality service with a fast turn around of orders."
BUS offers its clients a proven concept in e-procurement that can be developed in consultation with the customer, integrating with the supply management service and adopting the ordering and delivery methodology of its customers to meet the needs of various industries. The company also provides a bolting service that consists of on site bolting, calibration and repair of bolting tools, demonstrations and training. "When Schelto and Dineke Bus set up the company in 1957, the question they posed was 'what does the customer want?' and that question is still just as relevant today as it was more than 50 years ago. We believe that by always keeping that important question in mind we can continue to build on our ever-expanding customer base and ensure success in the future," explains Alfons.
Through customer oriented opinion, custom delivery, specialist knowledge, and wide range, it is able to maintain satisfaction for its customers, offering solutions for various sectors, including industrial, metal, installation and energy industries. As the company targets the future of its position in the UK, it looks towards consolidating and perfecting the service that it provides to its existing clients, as Alfons concludes: "We view this period for BUS UK as a key time to create firm foundations and ensure we are able to achieve the 'right first time, every time' ethos. We believe that with the correct attitude to business in the UK there is always room for expansion. The services that we are able to provide will always be in demand, so if we adapt to the requirements of the sector and keep building on our high quality service the possibilities are vast."
BUS Industrial Tools Ltd
Services Supply of tools, machinery and bolting