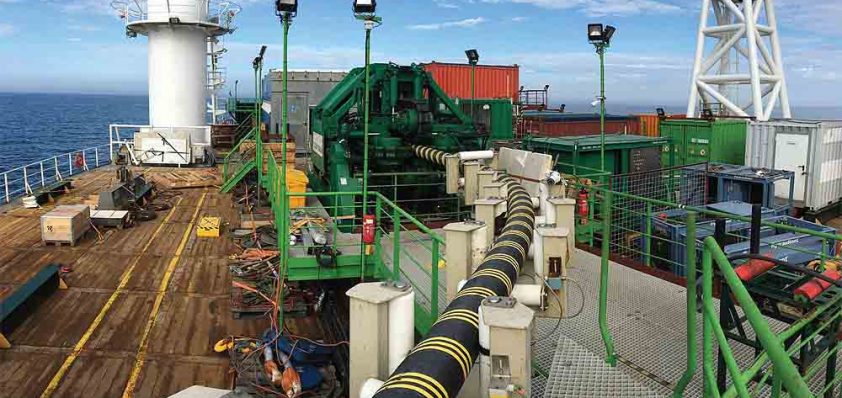 Sparrows Group Cable and Pipe Lay Solutions (CPLS) division more than doubled its business during 2018 thanks to an upsurge in activity in the renewables market. This included the successful delivery of its largest renewables project to date as part of three contracts awarded through VBMS; DEME Offshore, formerly known as Tideway; and DeepOcean. The work scope saw Sparrows provide equipment and personnel to handle the nearshore, export and inter-array cables for the Hornsea One offshore wind farm.
Ewen Kerr, chief technical officer said: "We have experienced an upsurge in business from the renewable sector in the last 12 months and the combination of the three contracts won for Hornsea One, makes this our most significant cable lay project to date. One of the contracts marks the first time we have conducted nearshore cable transfer operations and this is a testament to our highlytrained engineering teams who worked to develop the most effective solution for our client."
In September last year, Sparrows was commended at the 2018 Press and Journal Gold Awards for successfully transferring more than 30 years' oil and gas expertise to the renewables sector over the past two years.
Efficient installation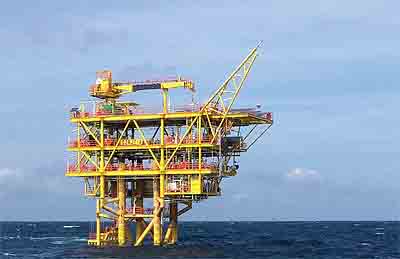 2H Offshore, a riser and conductor specialist in subsea services group Acteon, has completed the installation of a lightweight, conductor-supported, minimum facility wellhead platform offshore Sarawak, Malaysia.
"This project demonstrates once again that 2H Offshore's unique, holistic concept-to-installation approach to minimum facility platforms offers significant value to operators," said Shreenaath Natarajan, 2H Offshore director and project manager. "Collaborating with a local offshore facilities construction yard (licensed by PETRONAS) and using a jack-up drilling rig for installation provided significant cost savings in a challenging climate."
The company was responsible for the concept, detailed design, transportation and installation of the platform in 35 m water depth for the D28 oilfield Phase 1 project for OceanMight Sdn Bhd on behalf of PETRONAS Carigali Sdn Bhd.
The innovative design has a lightweight substructure that is supported by the conductors and a lightweight topside that was installed after drilling and completion. Both components were installed using a jack-up drilling rig, which offered substantial time and cost savings.
This is the first platform of its kind to be installed using a jack-up drilling rig for PETRONAS in Malaysia. The efficient installation method and partnership with major Sarawak onshore fabrication company OceanMight meant that project execution and completion were achieved within seven months of the project award.
In Brief
New supply base
Clariant has opened a new supply base at Bojonegoro in East Java. This new storage facility in Indonesia provides Clariant's Oil Services customers in the region with an improved, more sustainable supply chain for its Pour Point Depressants (PPD) and Drag Reducing Agent (DRA) products, in line with the specific requirements of the oil industry. The new base will initially be used for storage of WAXTREAT Pour Point Depressants among others, primarily for Clariant customers with sites located nearby.
$10 million expansion
The African solar energy company, Daystar Power has closed a $10 million investment with Verod Capital Management and Persistent Energy Capital LLC and has lined up an additional $16 million in debt financing to accelerate its expansion across West Africa. The deal will allow Daystar Power to expand its offering of solar power solutions for commercial and industrial customers across the region.
Safety boost for industry
A significant investment in a state-of-the-art simulator training facility is helping to boost skills and improve safety across the Norwegian oil and gas industry. Over the past seven years, Fagskolen i Hordaland, which is located in the centre of Bergen, has trained hundreds of students and oil and gas industry professionals in drilling and well control operations at its bespoke simulator facility.
The multi-million dollar, 180m² facility is one of Norway's most advanced simulation centres for drilling and has been developed in close consultation with the drilling industry to ensure it meets the sector's skills and competency demands now and into the future.