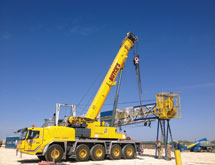 Butch's Rat Hole and Anchor Service Inc.
When Butch's Rat Hole & Anchor Service Inc. was incorporated in 1980, the company started out with a single rat hole truck to service three major drilling companies with locations in its home base of Hockley County, Texas. The company grew rapidly as the industry expanded, allowing Butch's to service even more locations – but the industry wouldn't have accepted this small start-up if it didn't have a lot to offer. Butch's has maintained consistent growth by being "a service company first and foremost" whose technical expertise is supported by a culture dedicated to respect for employees and its clients.
"We have built our reputation on providing excellent customer service and technical expertise, utilizing high-quality equipment, attracting and retaining strong management and field-level talent, and investing in and building a strong sales organization," Sales Manager Darrin B. St. Ama says. "This company has continually expanded its customer base and currently provides services to more than 200 oil and gas companies, many of which are large, independent blue-chip producers that have remained loyal for a long period."
With these values and capabilities in place, he says, Butch's has become one of the leading privately held oil and gas well drilling support, conductor/rat hole drilling, trucking and equipment rental companies in the United States. The company has approximately 400 people spread throughout its 15 locations, serving many of the most "active, prolific and fastest-growing oil and gas markets in the United States," St. Ama says. Areas where it is active include the Broader Permian Basin in West Texas and southeastern New Mexico; the Eagle Ford Shale in South Texas; the Marcellus and Utica shales in Pennsylvania, West Virginia and Ohio; the Broader Williston Basin in North Dakota; and the Barnett Shale in North Texas.
Recognized Leadership
Butch's prides itself on its customer service and technical expertise, and St. Ama notes the company was one of the first rat hole drilling providers to adopt the IMT drilling rig into its fleet, which allowed it to reach depths of 120 feet instead of the industry's standard 40-foot depth. The company also owns its own pumping and cementing trucks, which enables it to reduce customer wait time from third-party cement providers, as well as provide better quality control. At the same time, Butch's is cognizant of the importance of balancing quality with competitive prices.
"In our core Permian Basin market, we are recognized as the price leader and maintain more than a 50 percent market share for rat hole drilling services," St. Ama says.
All of this – quality, efficiency and competitive prices – relies on safe operations, he stresses. Butch's employs a staff of eight safety managers who continuously inspect and review employee field activities, work processes and procedures to ensure the company maintains its strict safety code.
"We place a great deal of emphasis on safety of our personnel and training, and we maintain a good safety record," St. Ama says.
Prime Position
Butch's has been investing heavily in improving its operations and enhancing its capabilities for more than a decade. Since President Scott Bryant took over the operations of the company in 2000, he has focused on organic growth of the core rat hole drilling business as well as diversification into related oilfield services and new markets. St. Ama explains that Butch's also has invested in its primary rat hole service line and new start-up services such as rig moving, polypipe, pit lining and surface drilling and casing services. Last year, it acquired Permian Equipment Rentals.
"Influenced by the paradigm shift toward growing domestic oil and liquids production – primarily due to the application of horizontal drilling and hydraulic fracturing – we believe Butch's is in prime position to continue the growth of our business," St. Ama says. EMI