BWSC Generation Services UK
The green generation
With a global footprint, and more than a century of industry expertise, BWSC Generation Services UK is leading the way in the provision of sustainable energy solutions
There's a rich history at BWSC Generation Services UK (BSCW). Operating out of its base in Allerød, Denmark, the global energy solutions provider for engine-based and boiler-based power plants traces its origins back to 1843 – the year in which Danish industrialist Hans Heinrich Baumgarten was awarded a royal license to establish a machine shop in Copenhagen. A partnership with Carl Christian Burmeister followed, as did Baumgarten's retirement, before the arrival of a new partner, William Wain, led to the foundation of Burmeister & Wain (B&W) in 1872.
B&W quickly established a reputation for itself in the supply of steam generating plants for industry and power stations, a trade that, in 1898, brought the company into partnership with Rudolf Diesel, who granted B&W exclusive manufacturing rights for his innovative and, at the time, revolutionary engine.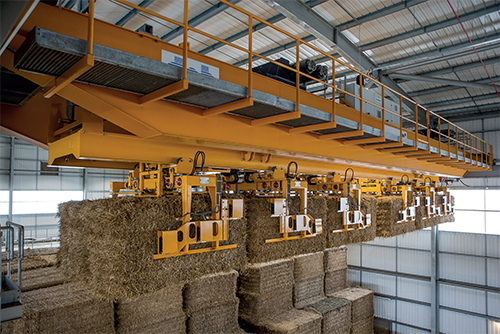 Even so, it would be another 80 years before the official inauguration of BWSC, or Burmeister & Wain Scandinavian Contractor, in 1980 – a move that followed the sale of B&W's contracting division to Japanese company Mistui E&S Holdings (MES). The company was awarded its first IPP contract, for the Sapugaskanda engine-based power plant in Sri Lanka, in 1998 – one that it continues to operate and maintain to this day. A decade later, BWSC marked another milestone, securing its first ever turnkey biomass power plant contract, for the Western Wood Energy Biomass Plant, in Port Talbot, Wales.
Today, BWSC enjoys a footprint that stretches across a total of 74 countries worldwide, and boasts annual revenues of DKK 1.8 billion, coupled with an order backlog of DKK 6 billion. Aided by its re-acquisition of B&W's former steam division, Burmeister & Wain Energy A/S (BWE), BWSC's broad repertoire encompasses everything from turnkey power plants, to boilers and conversions, and operations, maintenance, and service.
When delivering on its contracts, BWSC is able to draw on this impressive track record of plant design and building. The company prides itself on having the flexibility and know-how to deal with almost any limitation or challenge – a capability that helps it to improve the quality of its stakeholders through initiatives to minimize environmental impact and maximise power production value. The result is affordable, reliable, and cleaner power at a reasonable price for consumers.
BWSC has proven itself as straightforward, diligent, and proactive in its business approach, as well as in its ability to meet commitments to quality, deadline, and budget. Nevertheless, the global energy sector is changing fast. Around the world, energy consumption is expected to increase by 30 percent between 2017 and 2040, a shift driven primarily by countries positioned outsides the OECD, as they look to drive economic and industrial growth.
In parallel, significant strides are underway in the development of alternative fuels. Coal, once the pillar of the industrial revolution, is now undergoing its gradual replacement at the hands of renewable energy and natural gas. Technological innovations, along with the ever-falling cost of solar photovoltaics, onshore and offshore wind, battery storage, and more, have already ushered in a radically different future.
But BWSC is not standing still. Fourteen years have now passed since the company's completion of the Western Wood Energy Biomass Plant, in 2008. The first of its kind in Wales, that project marked the beginning of a strong presence for BWSC in the UK, where it has built, and now operates and maintains, a total of nine biomass plants. It's a fact that is indicative of the refined role that the company now plays within its industry, as a provider of technical, operational, projects, and advisory services not only for diesel, hybrid, and boiler-based power plants, but now also for other types of green energy facilities and technology developers.
One of the most recent examples of BWSC's work within the burgeoning biomass sector is the Snetterton Renewable Energy Plant (Snetterton REP). Situated in the UK's East Anglia region, between the towns of Attleborough and Thetford, the 44.2MW plant is the product of a £160 million investment. Developed in a single phase, with construction having begun in 2015, the plant was commissioned in April 2017, when it began generating energy through the burning of straw, miscanthus, and woodchips, providing power to meet the energy needs of approximately 82,000 homes.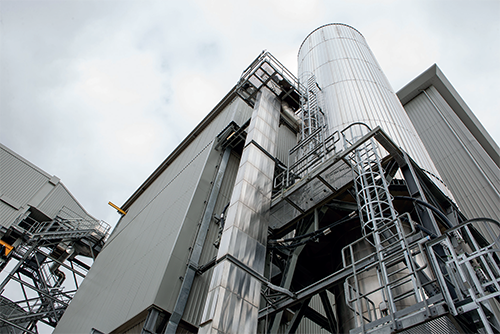 The Snetterton REP is a prime example of how BWSC is delivering projects that combine the environmental benefits of renewable power generation with more local benefits, including the placing of Snetterton at the heart of a new market for the supply of straw feedstocks. As part of its 15-year contract at the plant, BWSC is responsible for the design, manufacturing, supply, installation, and commission of the plant's biomass boiler island, and exercises full oversight for the provision of O&M services.
Developed by BWSC, the plant's straw feeding system and patented scarifier is adaptable to different types of square bales, including Heston and CLAAS, which are conveyed through four sets of straw feeding lines to the boiler. That boiler, itself designed by BWE, is of the drum type with natural circulation, and has been designed and optimized to operate with the corrosive and sticky ash caused by cereal straw combustion. The water-cooled vibrating grate, also designed by BWSC, ensures homogeneous and stable combustion of untreated biomass, and forms part of the boiler evaporator system, a design which ensures the optimal utilization of the fuel with a minimum of maintenance. With an annual consumption of straw in the range of 270,000 tons, the plant's equivalent CO2 reduction sits close to 300,000 tons per year.
Beyond its work at Snetterton, BWSC has also been undertaking efforts to underscore its own transition towards a sustainable future. Most obviously, this was evidenced in the launch of the company's new corporate identity in early 2022, including the release of a fresh logo, and altogether new slogan: Ever better energy.
Despite this new name, BWSC's transition is by no means name-only: it's backed with tangible commitments to green energy, and continuous improvement. As part of the re-brand, BWSC has expanded the offerings within its Distributed Control Systems (DCS) unit, including renewables integration, plant surveys, and fuel conversions. The company has also outlined a promise to greater technology independence – a point on which it is already delivering, following a second announcement, in February 2022, of its strategic collaboration with PJ Diesel Engineering.
Capitalizing on the companies' shared background in the energy and maritime sectors, the aim of the collaboration is for each company to utilize the other's network and technical competencies to promote the remanufacturing of engine and turbocharger components. In doing so, the hope is that BWSC and PJ Diesel Engineering will be able to accelerate the circular economy within the remanufacturing of engine components by encouraging others to take concrete actions to reduce their CO2 emissions, and to extend component lifecycles.
The final element of BWSC's transition is the launch of a new Green Energy Solutions business unit. Dedicated to pursuing sustainable solutions within the energy sector, the division is set to work with plant owners in Europe and beyond to tackle new challenges around energy storage, carbon capture, power-to-X, and related technologies.
Away from its projects, BWSC continues to place a heavy emphasis on the carbon footprint reduction of its own activities. The company monitors and reports its energy use and the carbon emissions linked to its own activities, including the use of office buildings, construction sites, and business-related air travel. BWSC is also strongly committed to the realization of the UN Sustainable Development Goals, with a particular focus on SDG 7, 'Affordable and clean energy', and SDG 9, 'Industry, Innovation and Infrastructure'.
On a local level, BWSC is backing up this work, and the success of its Snetterton plant, with support for hydrogen East, a new body bringing together interested parties and key stakeholders on hydrogen within the East of England. The aim of the body is to raise awareness of hydrogen opportunities across the region, and to promote local supply chains.
Given the dynamic nature of the energy transition, it goes without saying that it's a time of opportunity at BWSC. The company is already working on proposals to support a new set of power providers, with potential new contracts already in the pipeline across Europe, including in Denmark and Sweden. At Snetterton REP, meanwhile, work is set to continue. BWSC is looking forward to evolving the plant's range of feedstocks, with an increased focus on carbon-neutral and carbon-negative crops such as miscanthus – just one of many improvements the company is set to explore.
BWSC Generation Services UK
www.bwsc.com
Services: Biofuel production