Robust construction
With a history dating back to 1982, Byelkamit has a proud tradition of complex fabrication and robust design born of the company's Soviet roots.
Byelkamit began its journey as the 'Gidromash' factory, which was originally commissioned as a facility focused on the production of 'Squall' and 'Eagle' rocket torpedoes. Following the fall of the Soviet Union, the factory began a programme of reorientation in 1995 to the manufacture of civil commodities. Through a joint collaboration between the New York firm Byelocorp Scientific, Inc and financial support of the US government, the Byelkamit brand was born out of a joint Kazakhstan-American-Italian enterprise and by 1996 the factory's first batch of products was completed. This batch was comprised of cryogenic vessels for the storage of liquefied argon, nitrogen and oxygen with 300 units delivered throughout Western Europe.
During September 2011 LLP Byelkamit, LLP Atyrau NefteMash and First Montana Technology formed a single holding company named SGT Group. Today the SGT Group employs 1000 staff across three locations in Kazakhstan, Slovakia and the Czech Republic, manufacturing standard and bespoke components for the oil and gas; mining, metallurgical and nuclear; energy; construction and infrastructure; food and water treatment sectors. "We produce non-standard technological equipment in accordance with domestic and international standards," explains Pavel Beklemishev, general director at Byelkamit.
"All construction documentation is designed in accordance with the client's requirements and we have our own qualified design department to design engineering documentation, which are prepared according to the technical requests of local and international customers in the Kazakh, Russian and English languages. Our plant is certified in accordance with the requirements of American Society of Mechanical Engineers (ASME) codes in design, manufacturing and repair of vessels working under pressure, which allows us to market our products with ASME 'U', 'U2' and 'R' stamps. Our quality management system is certified by Bureau Veritas (BVQI) and complies with international standard ISO: 9001-2008 from 1997 year."
Since the company was last featured in European Oil & Gas Magazine during January 2014, Byelkamit has won a number of significant contracts with several well-known international companies. "2014 has progressed very positively for Byelkamit," Pavel begins. "The first big news is that we have signed a contract with company, the project aimed at modernising the Pavlodar refinery to increase production with new non-standard equipment, specifically three columns with total weight of 556,000 kg, which are currently in the final stage of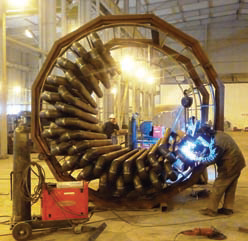 manufacturing. For the Chinarevskoe oil field we have signed a contract on production of 23 bullets and four receivers. Furthermore, we have signed a contract with KazStroyService for production of 24 cyclone separators and 24 horizontal filter separators with a working pressure of 9,81 MPa for the Kazakhstan-China Gas Pipeline project."
Byelkamit's success in gaining new contracts is bolstered by its membership of the wider SGT Group. SGT is able to utilise the strategically located manufacturing facilities of Byelkamit, Atyrau NefteMash and First Montana Technology to form joint ventures that allow it to remain flexible in providing complicated or large equipment orders as well as aftersales services, and the group continuously seeks to expand its manufacturing capability. "Growth and development projects within the SGT group are an ongoing working process," Pavel says. "The construction of a large scale and heavy workshop will give us a competitive advantage over other companies by producing over-sized items for the petrochemical and refining industries. Further project implementation will allow the company to satisfy the demand of industrial companies within the oil and gas sector to develop large-scaled projects such as the Tengizchevroil (TCO) Future Growth Project; works for a chemical complex in the Atyrau region for Kazakhstan Petrochemical Industries (KPI) and KLPE; the second phase of reconstruction for Karachaganak Petroleum Operating (KPO); adaptation of Kashagan field; project CMOC for the development of offshore fields for Zhemchuzhina and Kalamkas and other projects in the Caspian region."
Presently Byelkamit is focused on expanding its presence within its native Kazakhstan and has started working with a number of new customers including Zhaikmunai, however in the near future the company plans to begin exports to Russia, Uzbekistan and Turkmenistan with the aide of a new production facility in Atyrau. "We plan to finish construction of our large size and heavy construction workshop by the end of 2014. New technological equipment is already on the way for new projects that will help us to expand our product range," Pavel explains.
"The market challenge for domestic producers in Kazakhstan is that international companies working within the oil and gas sector in the region do not believe in the possibilities of local producers. Our goal is to change their opinions and to prove that we can make heavy, complex and high-quality equipment in accordance with international standards. In order to do this we need to introduce new technology and continue to develop our staff. We have a good location, which can reduce the cost of transportation and we plan to modernise our technology and equipment, which will offer an increase in quality and decrease delivery rates. SGT Group should occupy a leading position in the production of oil and gas equipment in Kazakhstan. Byelkamit should become a company that will engage in engineering activities, production of new technologies and education of employees for the needs of the group," he concludes.
Byelkamit
Services: Equipment fabrication