The right chemistry
Caldic is an international producer and distributor of chemicals and associated services for a wide variety of industries
The Caldic Group was founded in 1970 from a single traditional chemical trading company, which quickly developed into a prominent chemical distributor in the industry. This growth was through a series of strategic acquisitions of European distributors, creating the ideal network for the distribution of Caldic's products and services. Today Caldic operates out of 25 locations across 13 countries in Western Europe and Asia. In addition to its core business of being a chemical distributor and producer, Caldic also has a strong focus on the food market through the import and supply of food ingredients, and also operates in the technical industry with specific knowledge in energy and power transmission and insulation.
In 1992, the production activities of Caldic were further enlarged by a new production facility situated in the heart of the Rotterdam harbour in the Netherlands; Caldic Chemie. Caldic Chemie is a chemical producer, as well as a prominent storage and handling terminal for methanol and bio-ethanol. Rene van Loon, operational director of Caldic Chemie, describes the key strengths of the business: "It is this combination of production and storage terminal capabilities that differentiates Caldic Chemie from its market competitors. Our main product is formaldehyde along with its derivatives – paraformaldehyde and hexamethylenetetramine, which we produce alongside our storage facilities for bio-ethanol and methanol, whereby the methanol is used in our formaldehyde production as well. Another key strength is that we maintain product-dedicated pipeline systems, preventing the possibility of contamination. It also means that we are able to guarantee the quality of our methanol, which is a major commercial advantage."
Over the last year Caldic Chemie has invested in a number of expansion developments to ensure that its services remain of the highest quality as Rene comments: "Because of customer demand, we recently invested in the expansion of our storage facilities. The additional tanks are used for the storage of bio-ethanol and methanol, each with its own product dedicated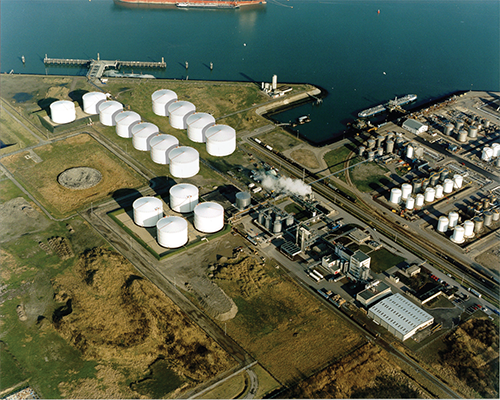 pipeline system and handling equipment. This expansion took place in two phases, increasing capacity from 60,000 metres cubed to 172,500." The expansion is in line with the company's commitment to providing services with added value for its customers by combining the strong chemistry of expertise, resources and knowledge.
As well as working with well-known suppliers across the world, Caldic Chemie also distributes its self-produced chemical products. The company maintains a distribution office in Rotterdam, which plays an important role in the marketing of the chemical products from its production plants. By maintaining its own production facilities, Caldic Chemie is able to fulfil the many different and rapidly changing needs across its diverse markets. Drawing on the chemical expertise of its staff, Caldic Chemie constantly optimises its chemical production processes, and offers both standard and customised services. Besides the worldwide export and storage of its products, the company's flexibility and reliability enables it to cater to individual demands such as supplying different quantities or adding specialities.
Providing chemical distribution services to a full spectrum of market segments, Caldic Chemie has in-depth knowledge of each of the specific demands of these industries. "Our customers include major traders and producers of methanol and bio-ethanol. These products are imported from all over the world for distribution throughout Europe," adds Rene.
In addition to chemical production, Caldic Chemie offers further services to its customers such as logistics and customised formulations. Rene expands on these services: "The plant is located besides the North Sea and has its own jetty which provides opportunities for overseas and inland shipping. Because of the draft depth at the jetty vessels are not reliant on the tide and therefore we can accommodate vessels up to a length of 250 metres. Caldic Chemie is also well located for transport by either motorway or railway in land. The expansion of the tank storage was initially started as an extra service in response to customer demand, which is in line with Caldic's customer, oriented character. At the end, the most prominent service we offer is the large storage facility that we operate."
Caldic Chemie BV
Products: Chemical production and storage facilities