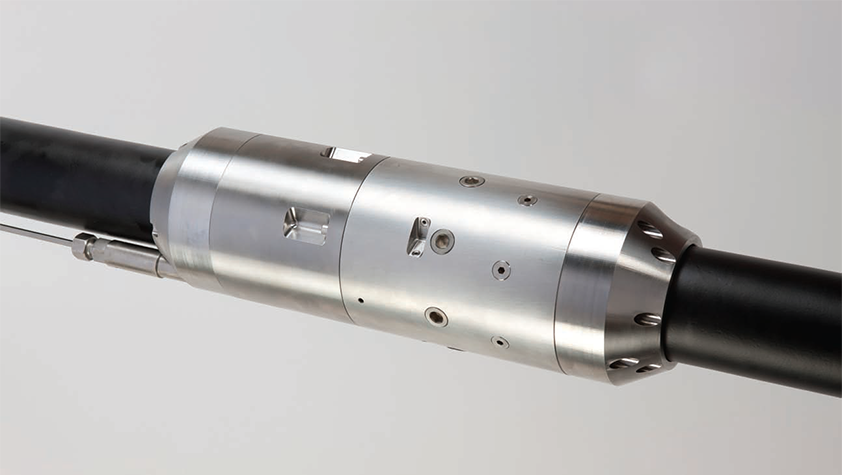 Intelligent operations
Camcon Oil is a world leader in developing intelligent tools for deployment in the upstream oil and gas industry. The company's first product, APOLLO, a Digital Intelligent Artificial Lift (DIAL) solution, is currently undergoing testing in Oman and is shortly to come to market.
This solution is designed to address the challenges of enhancea oil recovery (EOR) head-on. Taking into account the reduced cost of well interventions associated with side-mandrel gas lift units, the loss of production, wireline and slickline intervention incidents, and optimal usage of gas and associated compressor equipment, Camcon believes that its DIAL products can deliver a return on investment of at least 20 and have the potential to increase recovery from individual wells by up to 30 per cent.
Camcon Oil is in fact part of a federation of companies set up to support the development and commercialisation of the Binary Actuation Technology (BAT), which sits at the heart of the DIAL solutions. Since parent company Camcon Technology was formed in 2000, this BAT has already found applications in the automotive, life sciences, and process control industries, with Camcon Oil being incorporated in 2009 to specifically concentrate on product development for the oil and gas industry.
When asked to consider what it is that sets Camcon Oil apart in the market, managing director Ian Anderson reflects that it is the company's innovation and determination to break through in what is a traditionally risk adverse culture. "We have achieved this through a number of methods, starting with funding," he outlines. "Camcon has worked hard to secure sufficient financial support from its shareholders to establish a long-term funding commitment, which is essential to enable us to put all product development, manufacturing, and support programmes in place."
He continues: "By talking continually to the industry Camcon has been able to move from the proof of concept, design and prototype stages to field testing. We've already put in place an extensive distribution network in one of our main targets areas – the Middle East, through agreements with Al Mansoori Group, one of the region's leading oilfield services companies. We've also been working to gain the industry's, and particular operator's confidence in both the technology and its delivery. That is now manifesting itself through what we are confident will be successful field trials in Oman."
Indeed, Camcon Oil believes APOLLO is set to revolutionise the gas lift sector as we know it as a product developed in direct response to operators' needs to have access to variable operating valve combinations in their artificial lift operations. "Today's gas lift solutions come with certain limitations, particularly in regard to the information they generate and the often crude forms of intervention they require," explains Ian. "In artificial gas lift injection, operators still have little information on pressure and temperatures at the point of injection, as well as limited control and flexibility in being able to alter injection rates in real-time.
"Our solution – APOLLO – meets and overcomes these challenges. APOLLO is based around our BAT consisting of a low energy pulse control, which signals to switch an actuator between two stable positions to digitally operate the valve, eliminating the need for side pocket mandrels. In this way, operators can vary injection rates and depths in real-time without production interruption and well intervention, and generate pressure and information data throughout the injection process.
"As such, the solution not only gives operators greater downhole control over gas usage but also delivers increased recovery rates. Recent modelling analysis of APOLLO conducted by a third party showed increased incremental production using APOLLO of over 1000 bopd, and in one scenario up to 110 per cent more production. The result will be to shift the economic operating point for wells with the installation of APOLLO bringing non-viable fields back into production, maximising the lifetime of existing oilfields, and providing real-time production support by monitoring the well's flow conditions and how it adapts to fluctuating parameters," he adds.
APOLLO has now been deployed in an onshore well in Oman in partnership with Petroleum Development Oman (PDO), which counts Shell amongst its major shareholders. This is being undertaken as part of a normal workover programme for a high productivity well where the new intelligent gas lift method will be used to improve the production performance. Oman's focus on EOR techniques has made it an ideal testing ground for APOLLO, with the first well test results expected to be publishied shortly.
Whilst Camcon Oil's focus is channelled on what it is confident will be highly positive results, the company is also preparing for the widespread launch of the APOLLO system. However, despite the huge opportunities presented, the product not only has to contend with the challenge of other artificial lift alternatives, but also the culture of the industry itself.
"In some cases, smaller incremental progress better suits the larger companies rather than the radical changes that APOLLO represents," agrees Ian. "This enables these companies to maximise revenues from existing product lines by simply squeezing better performance out of them for short-term gain rather than tackling the more long-term challenges that might displace established and profitable product lines. Gas lift offers considerable advantages over other processes though such as Electrical Submersible Pumps (ESP) and multiphase boosting. These include its effectiveness offshore and in a wide range of well conditions; its ability to handle high volume, temperature, and pressure wells as well as abrasive elements; and the gas lift injection valves, which allow deeper injection into the tubing."
In order to make these known to the market Camcon Oil is focused on building a suite of reference cases for the APOLLO concept that will help it in its business development programme. Longer-term the company aspires to establish itself as an accomplished, leading supplier of next generation production utilising its unique patented technology. "With our continuous focus on research and development, we are also looking at bringing other innovative BAT-related products to market in the oil and gas sector over the coming years. In addition, we would like to see APOLLO become the digital gas lift solution of choice in the upstream oil and gas market today," concludes Ian.
Camcon Oil
Products: Downhole tools