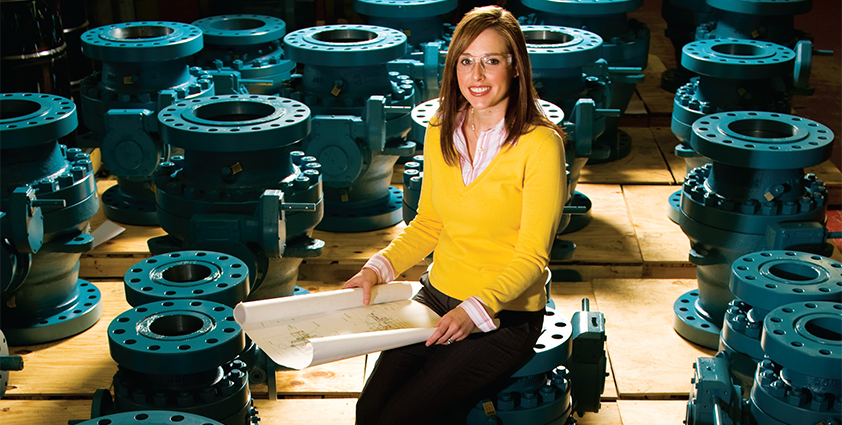 Cameron's Process Systems
A total solution
With a history spanning an incredible 177 years, Cameron is recognised throughout the world as a leading provider of flow equipment products, systems and services to the global oil and gas industry.
Headquartered in Houston, Texas and employing an 18,000 strong global workforce in over 300 locations, Cameron works in partnership with oil and gas producers, drilling contractors, pipeline operators, refiners and other process owners, marketing and supplying over 60 unique product brands.
Cameron's customers are all the major international and national oil companies and
EPCs. Building a close working relationship is critical and allows the company to provide the best products at the best price for its clients. The company goes to market under one common trade name using an organisational and product brand structure aligned to global upstream and downstream flow equipment market segments. Its 11 operating divisions are managed through three operating groups, Drilling and Production Systems, Valves and Measurement and Process and Compression systems.
"The Cameron brand is all about raising performance," Nick Winterbourne, vice president, Europe, Africa, Caspian and Russia of Cameron's Process Systems division, explains, detailing the key strengths that make Cameron the industry leader it has become. "Our unique proprietary technologies for use in oil and gas processing markets around the world set us apart from our competitors."
The company possesses a number of key competencies that it utilises to provide its customers with a range of services. These include tailored solutions and integrated systems for the treatment and separation of oil and gas, proprietary technology andequipment innovations, coupled with worldwide manufacturing capabilities, and valuable solutions that address even the toughest processing needs in conventional fields.
Another strength Cameron has over rival companies is its technology centre: "This dedicated, state-of-the-art facility is the most comprehensive resource the company has ever built. Bringing together leading research and development experts and the processing industry's most advanced equipment, this full-scale production environment enables customers to develop the optimal solutions to handle the challenges they actually face in the field," Nick enthuses.
The centre employs an integrated team of specialists on-hand to solve difficult and unique processing problems. Combining laboratory and development services with practical experience, the team works to establish the feasibility using packages in the toughest applications. To support clients' oil and gas products Cameron also offers process debottlenecking where fluid characteristics or production profiles have changed, computational fluid dynamics evaluation, conceptual process designs, site testing, analysis and consulting on solids handling and disposal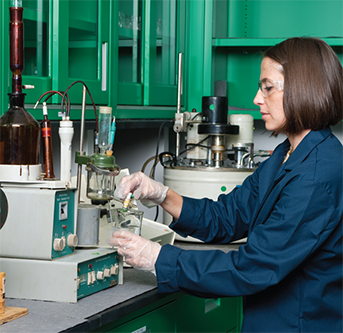 Research and development is incredibly important to Cameron, and this is most evident in its technology centre, which houses the most robust array of testing equipment available anywhere in the world. Its commitment to being ahead of the curve when it comes to new technologies has helped give birth to an array of innovative products over the years as Nick highlights: "We have some of the best electrostatic technology for oil desalting and dehydration. The NATCO Dual Frequency® electrostatic technology provides process improvements over existing convention technology, increasing vessel capacity by up to 100 per cent. This advanced patented technology produces a customised electrostatic field that can be readily optimised for any crude oil, including heavy crudes and highly conductive blends.
"A different technology Cameron specialises in is Mono-Ethylene Glycol (MEG) Reclamation. For the effective inhibition of hydrate formation and corrosion control in nature gas transmission and treatment systems, injection of MEG is most frequently used and has been proven to be more effective than other glycols. This is due to its lower viscosity, lower cost and lower solubility in liquid hydrocarbons. Cameron has a world class MEG Reclamation technology that provides recovery and regeneration while also allowing the MEG to be re-circulated and re-used," continues Nick.
Widely used in the oil and gas industry in wellheads and production pipelines MEG acts to inhibit the formation of gas hydrates at high pressures and seabed temperatures. If allowed to form, these hydrates can ultimately block the pipeline resulting in a loss of production. One of the traditional drawbacks of MEG use is that its units often require shutdowns for clean-outs and repairs as a result of the accumulation of contaminants. Where Cameron's MEG technology differs is that it produces a salt-waste product with a low residual MEG content, reducing overall losses and allowing for a wider range of disposal options.
Developments have been made recently in partnering The University of Manchester for the opening of a pilot plant on its campus to showcase and test new products: "The pilot plant is designed to allow testing of operator-supplied MEG samples as well as the testing of 'model' MEG feed formulations to improve everyone's understanding of the fundamentals of the reclamation process," describes Nick. "The facilities at the University are able to support these processing trials and its in-house academic expertise can provide important insight into the complex physical and chemical processes occurring within the unit.
"In 2010 Cameron announced the acquisition of complementary businesses NATCO and PETRECO to form Cameron's Process Systems, bringing together over 80 years of experience in supplying equipment for the onshore, offshore, upstream and downstream markets," states Nick, looking at other developments. "Integrating the resources and expertise of these two industry leaders has given birth to a company with a long, established track record and a wealth of experience of working in the fields of oil treatment and processing."
With a world class product portfolio resulting from the integration of NATCO and PETRECO, Cameron is well positioned to develop its business and respond to the needs of the market at a time when the industry continues to regain strength after several years of slow growth: "We believe there are significant opportunities for Cameron," Nick continues. "As global commodity and energy markets continue to experience sustained volatility we are seeking methods to identify and respond to market movements and in turn align ourselves closer to the needs of our customers.
"There is large growth associated with deep water developments and current research forecasts a massive 79 per cent growth in capital expenditure compared to the last five years. This equates to a projected spend of 206 billion dollars on deepwater developments over the 2011-2015 period. Our plans for the future are to grow all our business areas and to provide the best separation and processing equipment services and solutions to the operators in the oil and gas market. Cameron is one company with one vision and that is to be the leading total solutions provider in every market we serve."
Cameron's Process Systems
Products: Bespoke processing and engineering equipment