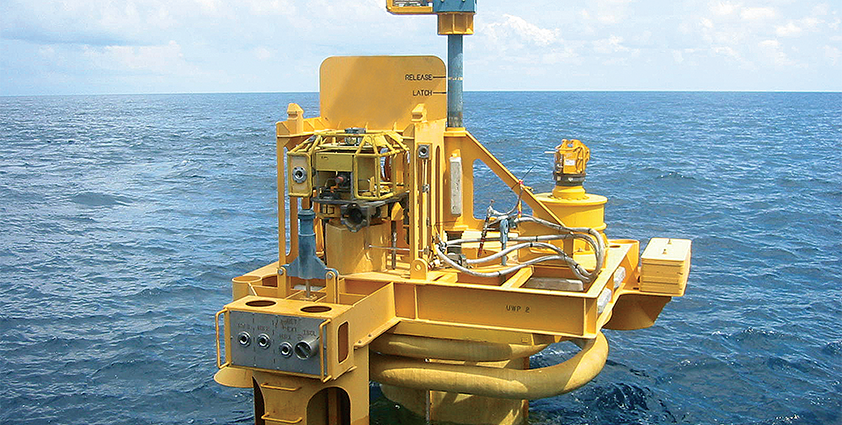 Beneath the surface
Having been in operation for more than 177 years, Cameron has weathered a continuously changing market to become a world leader in flow equipment products, systems and services for the oil and gas industry.
In fact with the company's business beginnings pre-dating those of the modern petroleum industry, Cameron has had the unique position of watching this evolution and building its own brand to perfectly match the market.
Although headquartered in Houston, Texas, today more than two thirds of Cameron's business takes place outside of the US throughits network of over 300 global offices and 18,000 employees. Utilising this manufacturing, engineering, sales and services spread, Cameron works with drilling contractors, oil and gas producers, pipeline operators, refiners and other process owners on their pressure and flow needs with more than 60 strong product brands.
The phenomenal growth of the Cameron name, along with the wide variety of applications for its expertise has led the company to split its activities into three business segments – Drilling and Production Systems, Process & Compression Systems, and Valves & Measurement. Under these headings are a further 11 divisions, which includes Subsea Systems as part of Drilling and Production Systems.
Owen Serjeant, president of Cameron's Subsea Systems division, elaborates on the role of this division: "Cameron's Subsea Systems division provides complete subsea production systems, from wellheads and trees, to manifolds and flowline connectors, to production controls and workover systems. Services include project management, system engineering, operability and training, as well as aftermarket support.
"Cameron designed and built the first subsea tree in 1961 for use in 55 ft (17 m) water depth in West Cameron Block 192 in the Gulf of Mexico. Today, 50 years and 1700 subsea trees later in water depths exceeding 7000 ft (2134 m) in several offshore oil-producing regions worldwide, Cameron remains an industry leader in design capability, manufacturing excellence and successful installations," he notes.
As one business line within the far wider operations of Cameron as a whole, Owen highlights the impact this relationship has on the divisions: "It is very supportive; we share personnel, facilities and technology between divisions very effectively. Cameron is a big company with diverse business across the industry. It is mutually beneficial for us and our customers to leverage across the full capabilities of the Cameron enterprise. Our strengths lie in our experienced and dedicated people, and a long history of successful projects, our global footprint, and being part of Cameron with its extended market coverage."
As demonstrated by the group's 2010 Annual Report, Cameron's Subsea Systems division was a key driver of revenue for the business with its own levels up more than 40 per cent for the year, reflecting deliveries related to several projects booked in the past few years. This included more than 25 projects worldwide, from single-well developments to full-scope EPC systems. Within this were two major West Africa projects in offshore Nigeria and Angola, which are two of the largest projects in the industry to date. Later in the year, Cameron's Subsea Systems division also received an order for the Husky Liwan project in the South China Sea, which represents its first major subsea project in offshore China, as well as being the deepest prospect to date in the Asia Pacific region.
"We are present in virtually every main producing basin where subsea completions are used. Our key customers include BP, Total, Noble, BHP, and Chevron of which we have had major awards announced over the last several years, but we have many other important and loyal customers not listed above. We have made major investments in capital, facilities, training and recruitment especially in the growth areas of Angola, Nigeria, Asia Pacific and Brazil. These are key to our success and reflect our commitment to sharing our success with those local communities," describes Owen.
2011 saw Cameron announce a new agreement with Det norske for the supply of subsea production systems for the Jette development in the Norwegian sector of the North Sea. Both parties are working closely together as the contract represents not only Det norske's first field development as an operator, but also Cameron's first full subsea system for this market. The scope of equipment required for this fast track development includes wellheads, trees, flow bases, electro-hydraulic multiplexed controls, connections, pipeline end manifolds, and other associated systems. Valued at $56 million, deliveries for the contract are scheduled to begin from early this year.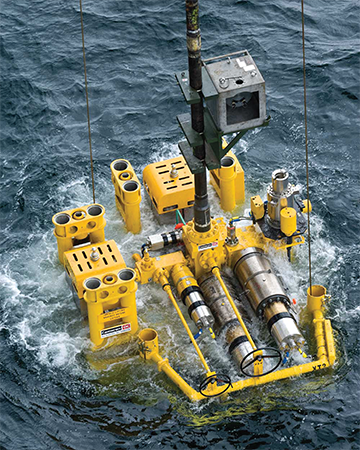 Whilst the individual products and technologies that fall under Cameron's Subsea Systems divisions' remit are important in their own right, the division prides itself on its role as a complete systems solution provider – subsea systems solutions is its business, with all of the necessary technologies, products and the subsequent execution of those projects falling under that umbrella. With the business providing such an in-depth range of systems one can find many examples of the innovative nature of Cameron. One such example is its forefront technology, CameronDC.
The CameronDC system, which is a niche technology for specific applications, has continued to break new ground ever since the pilot of this all-electric production control system was launched in the North Sea in 2008. This has been followed by three years of operational feedback, as well as discussions with operators, to identify the requirements and constraints for the application of electric control system technology. As such, the second generation CameronDC all-electric subsea production control system represents new state-of-the-art technology in many aspects.
For example, it will not only cost less than the original, but by removing the reliance on hydraulics, CameronDC has a number of key advantages over conventional systems, including low power requirements, increased reliability, and greater operability.
In addition, the CameronDC technology has given rise to a spin-off development – the Omni-Choke, which was introduced in 2010. The Omni-Choke provides the benefits and functionality of electric actuation as in CameronDC, but can be used in both greenfield and brownfield applications by virtually any traditional multiplexed controls system through the simple changeout of the choke.
It must be remembered however that CameronDC is just one example of the innovative nature of Cameron, which leads the industry through continuous development and state-of-the-art subsea systems solutions. New technologies have always been incredibly important to the business, as is apparent from the company's state-of-the-art technology centre, which houses one of the most robust ranges of testing equipment anywhere in the world. Elaborating on Cameron's approach to development, Owen reveals: "We work closely with our customers to address their needs and the technical challenges that the industry presents. Cameron has built a reputation on innovative technologies and is known for the quality and reliability of our equipment.
"We are developing solutions in areas such as light well intervention and seeking an entry point for that market. We recognise the growing requirement for enhanced recovery and have carried out extensive greenfield and brownfield R&D work to develop solutions and products for subsea processing. We have those capabilities now, ready to support those markets."
Of course there are some characteristics that the business champions throughout all of its activities: "First and foremost we hold safety as our primary consideration and have improved our safety
performance over the years. Quality is next, together with the development of global procedures, and material and welding requirements. We work closely with our suppliers on their progress for safety and quality," highlights Owen.
Clearly, the Cameron philosophy of 'raising performance together' is one that still holds true, not just in the group as whole, but through each individual division's activities. One area where this aim is most simply met is Cameron's CAMFORCE Subsea Processing Systems, which is an innovative product group that essentially encompasses Cameron's products and technology solutions for subsea processing. This is a growing area of the oil and gas exploration industry, but is one where Cameron has developed its capabilities and is very much ready to support in the future.
One example of Cameron's work in this expanding field is a joint venture that was formed with Curtiss-Wright EMD in September 2006. Utilising 100 years of innovation in aerospace, defence, and energy, Curtiss-Wright provides the system with high-quality, perfectly sealed motors, as well as power distribution and controls. Furthermore, Curtiss-Wright's own partnership with Leistritz has enabled Cameron's Subsea Systems division to implement the revolutionary twin-screw multiphase pump, with notable production and cost benefits, even in deeper waters.
For the oil and gas industry it has become ever more apparent that the future of the world's energy resources is likely to lay in challenging circumstances, of which subsea holds a key role. Therefore not only is there a need for forefront technology, but also equally for partners that have the expertise to delve beneath the surface in terms of what can be done.
In terms of where this know-how will be required, the Asia Pacific market in particular is expected to offer significant growth in subsea over the next five years. Similarly the growing oil and gas industry in Brazil, together with developments in West Africa are likely to provide Cameron with continued opportunities for business. With awards pending for first phase developments in offshore Australia, Malaysia, China, and Indonesia, Cameron has made a series of targeted investments to reinforce its position as a leading supplier in the region. In early 2010, a $65 million investment into the Cameron International Malaysia Systems (CIMS) facility was completed, establishing the site as the group's centre of excellence for subsea wellhead manufacture. A new aftermarket centre is also currently being built in Perth to serve the West of Australia, which is due to be opened in Q3 this year.
Sharing his thoughts on the current status of the market and the opportunities that lie ahead of Cameron, Owen concludes: "The market has made some recovery, but we believe the next two years will bring it to record levels. We believe there will be growth, but that will put strain on the industry capacity. I am sure that the recent decrease of natural gas prices, and the shale boom will impact on any gas projects not related to LNG. However, new exploration shows great interest and growth in deepwater investment is clear with the new floating rig deliveries and utilisation rates. We also believe that our geographic mix will be broader as well, with new oil and gas exploration in the Arctic and eastern Africa as examples of emerging areas that show promise for subsea infrastructure."
Cameron's Subsea Systems Division
Products: Subsea production systems