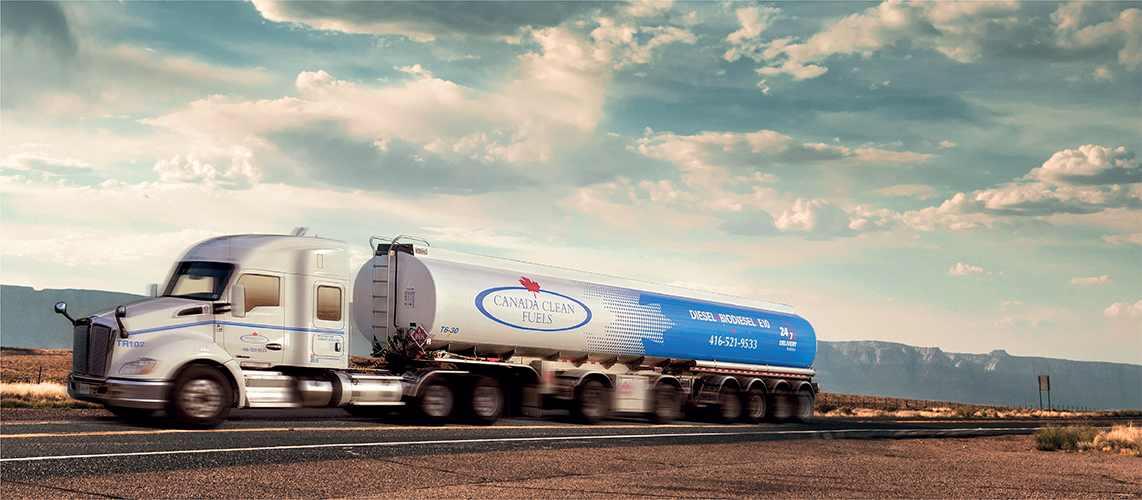 Delivering the goods
For 25 years now, Canada Clean Fuels Inc. (CCF) has been helping to fuel the Canadian economy. A diesel, biodiesel and gasoline wholesale supplier and distributor (CCF also offers commercial and residential propane, aviation gas, jet fuel, diesel exhaust fluid, and various lubricants), the company today serves all manner of industries, including Canada's agriculture, mining, construction, forestry, transport, and power generation sectors, as well as retail stations the length and breadth of the nation.
Recognized as now being Canada's largest voluntary distributor and custom blender of clean and renewable diesel, CCF was the first company of its kind to bring biodiesel to the country back in 2002, as part of a pilot project in collaboration with Toronto Hydro. "We were certainly a pioneer in our industry in this regard," states CCF's Vice President of Sales and Business Development, Giovanni Angelucci. "While biodiesel remained a somewhat niche and small part of our business for some time after 2001, we stuck with it, and in the last four-to-five years in particular it has become extremely popular, more so than ever with many of the larger players in the market."
Supporting CCF's efforts is its fleet of over 200 modern and rigorously maintained pieces of equipment, as well as it's strategically situated bulk plants. The company also boasts a strong, passionate workforce, who Giovanni describes as being dedicated to CCF and its goals. Among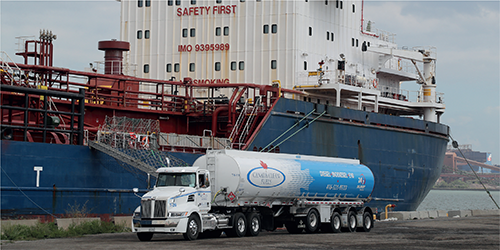 this workforce are what the company believes to be the highest paid drivers in their respective industry. "Not only do we pay our drivers by the hour, but we also guarantee them a minimum number of weekly hours. We also offer a comprehensive benefits package to all of our people, including Christmas bonuses, safety related rewards, and a scheme whereby we pool together the names of our best weekly performers – as per our various metrics – and at the end of the year we select one at random to win a trip to Disneyland for themselves and their family.
"Our drivers are on the front line and represent the face of the business, so we consider it absolutely fundamental to our success that they are kept happy, and that we create the right environment to attract more talent into the company as we grow. What I would also add to this effect is that throughout the Covid-19 pandemic we have made it a point to keep all of our people in secured employment. Rather than letting people go, like a large number of businesses in our industry did, we put a great deal of effort into moving the workload around our teams, so that everybody could continue to feed their families and keep up with their mortgage payments."
CCF began very much as a family business, and it has worked hard to maintain the same mentality and ethos over the years. "Ours is a culture where everyone is able and encouraged to bring ideas to the table, and if we think that they will be of benefit we look to bring that forward and into fruition," Giovanni notes. "Another string to our bow is that our owners continue to be very involved on a day-to-day basis, and look to make decisions quickly and efficiently, avoiding unnecessary red tape wherever possible."
For CCF, customer service takes priority over anything else, and it is its 'above and beyond' mind-set that has enabled it to grow to such scale in a relatively short space of time. "We take great pride in placing our customers at the heart of everything we do, and we are never shy about spending our own money to keep them happy and supplied with the fuel that they need," Giovanni enthuses. "A number of our competitors might be used to saying to customers "we will get to you when we can", but that is not the approach we take at CCF. If fuelling our customers means sending our trucks to different jurisdictions or into the United States to pick up fuel, that is what we will do, and have done many times in the past. That level of customer care goes a very long way indeed."
As important today as it has ever been, one of CCF's key objectives remains supporting Canada's regional and national goals to decarbonize its economy by promoting the benefit and use of biofuels. "As we were the first to bring biodiesel to market here, we have been heavily involved in helping to educate customers of its – and other biofuels' – benefits and how to make the most efficient use of them," Giovanni continues. "This has been something of a two-decade grind at times, bringing more and more businesses on-board gradually, but one-by-one we have managed
to cultivate an ever-growing base of customers who are now more comfortable than ever before in embracing these alternative fuels."
As a business itself, CCF has also ensured that it too has never come close to falling behind the times, proudly considering itself as being at the forefront of technological advances in the fuel delivery sector. To this end, in recent years, it has increasingly integrated various IT systems and trackers into its fleet to monitor all manner of KPI's, from location and average speeds, to ETAs and safety performance. It utilizes its data to carry out tasks such as geofencing, data analysis and predictive maintenance in order to better refine and optimize the company's day-to-day performance. CCF's efforts won't end there either, with another of the other things currently being explored being potential technological solutions that would allow its customers to make better use of higher blend fuels.
With the past 18 months having been dominated by the Covid-19 pandemic, recent times have understandably proven themselves to be quite challenging for CCF. As Giovanni happily points out, however, the company and much of the rest of the country are now feeling a renewed sense of life returning to normality, with hopefully the worst of the pandemic now in the rear-view mirror. Indeed, this feeling of increased optimism is allowing CCF to focus more on its medium-to-long-term future, including the opening of new facilities – two recent additions being sites in Sudbury and London, Ontario – and further developing its network of satellite locations.
"We definitely have ambitions to continue to expand geographically, in particular strengthening our footprint across the Province of Ontario and across Canada, as well as looking at more opportunities to achieve both vertical and horizontal integration of our various services," Giovanni explains. "While we are very unlikely to ever get into some areas such as the refinery business, for example, but we have no intention of stopping when it comes to looking at all manner of technologies that we feel could help to broaden the offering we make to our customers, whether that be other biofuels, liquid fuels, or hydrogen."
Coming off of the back of a federal election in Canada this past September – where for the first-time climate action and a transition to a more sustainable energy future featured prominently in the promises of each political party – CCF has a great deal to be optimistic about as it relates to 2022 and beyond. "We are extremely positive about the changes that we foresee coming in our industry," Giovanni declares. "Meanwhile, our own prospects as a business are very strong, and when it comes to our people I am certain that our drivers and front line staff will continue to see their hard work rewarded with industry-leading wages and other incentives that showcase the huge appreciation we have for their ongoing efforts."
Giovanni concludes with the following important point: "Our industry, among others, needs to start rewarding folks who choose lines of work like driving, hospitality and other operations related jobs. They are in high demand and deserve a high level of respect, given the difficult nature of the work. Once we have that, we as a society will also be able to fix the shortage we're all experiencing as the economy returns to full tilt. This benefits all of us."
Canada Clean Fuels Inc.
www.canadacleanfuels.com
Services: Onsite fuel delivery and storage services