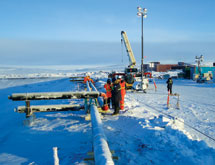 After more than 10 years of ups and downs, a large nickel mine in northern Quebec is finally seeing production. Canadian Royalties Inc. is expected early in 2013 to produce the first nickel and copper concentrates from the Nunavik project, which it initiated in 2001.
The project, located close to the Ungava Strait and 20 kilometers south of Xstrata Nickel's Raglan mine, is ultimately expected to operate at a mining rate of 4,500 metric tons of ore a day or roughly 1.6 million metric tons a year. The company anticipates $300 million to $400 million annually in gross revenues at full production. Commercial production is targeted for the second quarter of 2013, once the mine has operated at a production rate of 60 percent of full production for 90 consecutive days. The production rate shall then increase over the remaining months of the year to full production, Vice President of Sales and Finance Jens Zinke says.
The Nunavik Nickel project has currently a mine life of approximately 10 years, which Canadian Royalties expects to extend to 15 years through additional diamond drilling.
The start of commercial production represents a major victory for Canadian Royalties, who completed a feasibility study on the project in 2007.
"Plans were made to build the mine and construction started in 2008, but the global financial crisis happened and everything fell off the cliff," President and COO John Caldbick says.
The company, which at the time was publicly traded, was unable to raise the remaining funds needed to complete the construction of the project and shelved it indefinitely.
The Nunavik Nickel project's fortunes changed for the better at the end of 2009, when Canadian Royalties was purchased for $192.5 million by Jilin Jien Nickel Industry Co. Ltd., a Chinese mining company. Caldbick says the company's owners take an "arm's length" approach to managing the project, preferring to leave it in the hands of Canadian management and employees.
"This is quite a large project by any standard in the Quebec mining industry," Caldbick adds. "We are a wholly-owned subsidiary of Jilin Jien and they provide our financing, but they rely on us to staff, manage and control the company.
"Our story is one of a company that rose from the ashes to become a producing mining company, but without the injection of capital from our owners I don't think that would have been possible."
Although funding for the project comes from China, all employment and regional infrastructure benefits will be felt in Quebec, the company notes.
Robust Capabilities
Since purchasing Canadian Royalties, Jilin Jien has invested more than $800 million into building a state-of-the-art production facility to serve the Nunavik nickel project. "We put the capital in to build the most modern robust systems and fixed plant capabilities we can," Caldbick says. "I don't think you'll find a more robust fixed plant facility anywhere."
The project consists of several mines which will feed a centrally located concentrator. Support facilities include a power plant, an employee housing complex, a port and other facilities. "We believed in putting a lot of capital in upfront to not only minimize our operation costs, but to also ensure that we have redundancy in a very remote location," he adds.
As an example, each generator in the mine's diesel power generation station is isolated by concrete walls and served by individual cranes. This provides both redundancy and protection in the event of a generator failure. Each generator has a heat recovery system.
Recent construction work includes installing fuel storage, finishing employee housing and building infrastructure such as roads and a dam.
Ship Shape
One of the biggest challenges faced by Canadian Royalties is the remote location of the Nunavik Nickel project. "When you're operating in the Arctic, there are a number of challenges, not the least of which is logistics," Caldbick says. "We need to make sure we have an extremely robust and reliable logistics supply chain, and the same goes for getting our products to market." The company accounted for the possibility of weather making work difficult, so both construction work took place during the summer months.
As all of the concentrates produced at Nunavik will be shipped across the Atlantic Ocean, Canadian Royalties needed to partner with a shipping provider known for its work in the region. The company in 2012 signed a long-term agreement with ocean-freight shipper Fednav International to bring concentrate from the port at Deception Bay to smelters and refineries in Europe, as well as to bring mine supplies and fuel back to the project. Fednav commissioned a new 25,000-tonne dead-weight ice-breaking bulk carrier exclusively for this purpose.
The vessel is being built in Japan by Universal Shipbuilding and will be delivered in late 2013. "We are going to have the best ship in the world to meet our need, and have engaged a company considered to be the best shipper in the Canadian Arctic," he adds.
Fednav owns and operates two of the world's most powerful ice-breaking vessels – the MV Arctic and the MV Umiak I. The Montreal-based company operates year-round in ice-covered waters and has the largest fleet of ice-class vessels in the world, it says.
Regional Partnership
One important partnership at the heart of the Nunavik nickel project is an agreement between Canadian Royalties and Makivik Corp., the regional representation of the Inuit communities in Nunavik, Quebec. The agreement was co-signed by representatives from those villages located close to the project –Kangiqsujuaq, Puvirnituq and Salluit.
The agreement was first signed in 2008, and re-signed shortly after the take-over in 2009. It solidifies Canadian Royalties' commitment to ensure economic benefits are distributed in a fair and equitable manner, Zinke says.
"We consider the Inuit, as represented by the Makivik Corp., to be our business partners," Caldbick says. "The intent behind the partnerships is to allow us to pursue our business on this land and to make a profit in such a manner that respects the environment and to provide business, employment and financial opportunities that benefit the local communities.
"We want to make money and generate profits, but if what we do can generate financial opportunities and funds for infrastructure in these communities then everyone wins," Caldbick adds.
The mine will employ roughly 380 people when fully operational. Several of those jobs will be set aside for local communities. The company is investing $14 million into training programs including a government-sponsored apprenticeship trade program. Canadian Royalties is also working in partnership with a local school board as well as area employment and training organizations.
"Canadian Royalties is committed to creating employment for Inuit people," the company says. "We have established special training programs in a range of occupations and created dedicated Inuit positions focused on promoting Inuit employment and training."
The project has already benefited the native communities named in the agreement, as more than $239 million in construction contracts have been awarded to Inuit-owned businesses. In addition, a substantial percentage of the mine's permanent workforce is Inuit.
The partnership agreement reflects the company's overall commitment to corporate social responsibility. "Any successful relationship is built on trust," the company says. "Corporate social responsibility builds trust by building relationships with employees, clients and communities. We at Canadian Royalties believe this is a direct link between our involvement in corporate social responsibility and the way we are perceived by the public, our employees and the communities in which we work."
Eastern Benefactors
Founded in 1960, Canadian Royalties' parent company Jilin Jien Nickel Industry Co. Ltd. is one of the largest holding subsidiaries of Jilin Horoc Nonferrous Metal Group Co., Ltd.
Jilin Jien owns four nickel mines, one molybdenum mine, a silver mine, two smelters, seven refineries and two chemical plants with total assets of more than 14 billion RMB Yuan.
The company is one of the largest producers of nickel sulfates in the world, and also produces and sells nickel matte, electrolytic nickel, nickel hydroxide, nickel chloride, copper sulfate, copper concentrate and sulfuric acid.
"Jilin Jien's mining investments are globally-diversified and are situated in well-established mining jurisdictions throughout the world including Canada, Australia, Indonesia, Russia, The Philippines and Papua New Guinea," Canadian Royalties says.