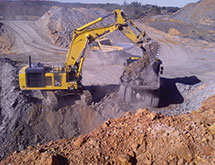 Issues such as regulatory pressures and competition from other fuel sources have certainly challenged the coal industry. But companies like CanAm Coal Corp. remain committed to the continued exploration and development of what is still a critical piece of the North American energy puzzle. At the same time, CanAm has recognized the need to diversify its operations to ensure growth and stability in its future.
"We think we have opportunities for growth on the coal side of our operations, and we believe our diversification strategy and plans can help us become a different company," CEO Jos De Smedt says.
Ability to Execute
A Calgary-based, publicly listed company on the TSX Venture Exchange, CanAm is a coal producer and development company. Its focus historically has been on growth through the acquisition, exploration and development of coal resources. In late 2009, it began pursuing a strategy aimed at becoming a small- to medium-sized coal producer by acquiring producing coal assets and seeking organic growth. It targeted high-quality coals that would be in line with new environmental regulations, focusing on serving local utility and industrial user markets.
Since that time, the company's activities and assets have grown to include four operating coal mines in Alabama, operated by its Birmingham Coal & Coke subsidiary. CanAm has acquired 80 percent ownership of Birmingham Coal & Coke, which has a legacy in Alabama dating back to 1975. CanAm continues to evaluate additional coal-related opportunities on an ongoing basis.
CanAm has successfully executed on its coal strategy, growing coal sales to 680,000 tons, $62 million in revenue and $10.5 million in EBITDA in the last few years. The next several years look bright, too, as 75 percent of production has been sold into off-take contracts for 2015 and 2016 and 50 percent has been sold for 2017 to 2020.
Shifting Sands
Ongoing challenges such as the state of the coal markets, the financing environment and public market perception of the coal industry have led CanAm to explore other growth initiatives within the mining industry. In October, CanAm announced it had signed a binding letter of intent to acquire a 100 percent interest in an Alberta Metallic and Industrial Minerals Permit covering approximately 1,200 acres of land. The property contains high-quality silica sand, which the company believes can be mined and sold as frac sand.
"The acquisition will allow us to become a broader energy company, and we can take advantage of our strengths in the development and operation of surface mines and our expertise in logistics and quality control," De Smedt says.
CanAm believes it is well positioned to take advantage of what should be a growing North American frac sand market. Demand for the material is expected to accelerate in the next couple of years. In Canada, most frac sand used in the market is imported from the United States. By offering a closer source of frac sand, CanAm should be able to offer cost advantages to prospective customers.
"We need to go through a formal resource analysis and permitting process, and we need to invest in mining equipment and a processing plant, but we hope to have the property up and running by 2016," De Smedt says. "We will team up with local people and form a separate operating company and rebrand the main company."
Having already demonstrated its ability to devise and execute a strategy, CanAm is optimistic about its plans. The company believes the similarities between the coal mining and frac sand mining businesses will serve it well as it embarks on its future endeavors.
"We have a great team in Calgary and in Alabama, and we've been able to deliver on our coal strategy," De Smedt says. "We think we can deliver on the frac sand opportunity. Our officers and directors are heavily invested in our success as shareholders, and we are motivated to do the right things for our company."