Starting afresh
Canary Biofuels may be a young business, but it certainly should not be underestimated; with determination, innovation and industry-leading practices, the company is proving itself to be a major player in the Canadian biofuels arena
Based in Calgary, Canary Biofuels (Canary) is one of the leading names in the energy sector taking part in the move towards a cleaner, greener industry through the use of biofuels. Biodiesel's early growth was careful and deliberate, with a focus on sustainability for the industry. Made from an increasingly diverse mix of resources, such as recycled cooking oil, soybean oil and animal fats, biodiesel is a renewable, clean-burning diesel replacement that can be used in existing diesel engines without modification. Today, upwards of 80 percent of diesel vehicles coming off production lines are warranty-approved for up to B20 use, including major manufacturers of tractors, farmers, and other farm equipment.
Canary was originally conceived in the fall of 2020 during the Covid-19 pandemic, based not only on the theory that demand for biofuels was growing, but that biofuels would serve as a viable and quick method to tackle transport GHG emissions. Combined with the knowledge that a significant amount of poorly built facilities and businesses had been deployed over the last 20 years, the company believed that there was a compelling opportunity to take its existing expertise and resources in the energy sector and apply the same approach to the renewable energy industry through a brownfield rollup strategy. Thus, Canary was born.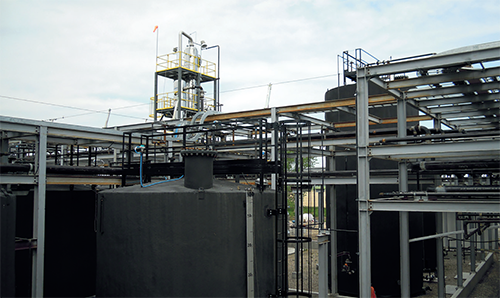 The management team at Canary have shared their insights into the company's successes over the last year, and the plans they have to continue its trajectory to ensure the business's longevity. "After building out the team in early 2021, Canary raised funds through a private placement and purchased its first facility in Lethbridge, Alberta in March of 2021. With commissioning underway and upgrade concepts proven, Canary is on the path to reaching full state production," they highlight.
The company's mission is to abate one million tons of CO2 from the transportation sector by producing biofuels that will be blended into traditional fuels. "The use of biodiesel in place of fossil diesel reduces GHG's emitted at the tailpipe from diesel engines by over 75 percent. Sustainability is achieved by utilizing non-food or waste sources of feedstock, combined with a lower cost production approach that allows Canary to generate profitability. By being profitable, Canary can not only continue to generate low carbon fuels for decades to come, but can expand production to and above our one-million-ton carbon abatement targets."
According to the Canary team, a number of key factors allow the company and its operations to stand out from the competition. Firstly, the low-cost of production through its brownfield upgrade opportunities. Secondly, the business is continually upgrading its facilities to ensure it produces different grades of bio diesel using different feedstocks. Thirdly, Canary Biofuels optimizes each of its department's capabilities to get the best value from its co-product generation. Finally, a level of feedstock integration is implemented to reduce costs, secure a portion of feedstock, and generate additional sources of revenue.
The discussion then moves towards the technicalities of how the business is able to produce its product. The fuel is made through a chemical process called transesterification in which glycerin is separated from fat or vegetable oil. The process leaves behind two products – methyl esters and glycerin; the former is the chemical name for biodiesel, while the latter is used in a variety of industrial products such as soaps, freeze suppressants and many additional applications.
The team then goes on to elaborate on the company's production facilities, equipment, and technology, particularly the 201 retrofit that was recently added to the Lethbridge plant. "The original Lethbridge plant was designed to process only vegetable oils such as degummed canola using a transesterification, water wash and resin bed process. As part of the upgrades, in addition to additional storage that had already been completed, Canary added an acid esterification process, a glycerin wash process and a methyl ester distillation module. The process can now handle vegetable and animal fats,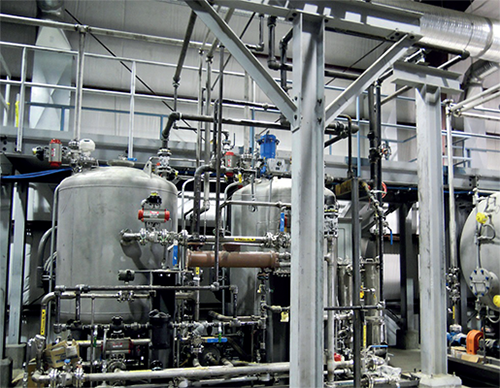 and oils including feedstocks with color. The end result is a more flexible plant that can handle a wide range of feedstocks to produce a higher quality biodiesel."
The team reveals that its Lethbridge plant is in the process of completing commissioning and getting to full plant run rates of 20 million gallons per year, or approximately 70 million liters per year, or 190,000 liters per day of biodiesel, and about 50,000 pounds per day of crude glycerin production.
One might ask, considering that a project of this size took place right before the world was struck by Covid-19, whether the venture fell prey to the consequences of the pandemic. As the team highlights, that this indeed was the case. "Covid-19 did affect the construction timing of completion, but it was only a minor setback in terms of delays," they say. "However, we are now starting to see the consequences of an eroded supply chain making things more difficult. With regards to operating the plant, we have had a few Covid-19 cases during plant commissioning, but Canary was prepared for this by having an additional shift built into the work force. As a result, we didn't have any downtime owing to cases among workers."
The team then moves on to discuss the people side of the business, beginning with relationships with vendors, each of which plays a key role in Canary's success. "Vendors are highly strategic for us as our plants don't run without feedstock. We spend a significant amount of time building relationships with them, as well as developing partnerships or offtake agreements, when possible, to ensure that Canary facilities have significant volumes of cost-competitive feedstock. In addition, we do team up with companies that can provide added value to what we already have to offer, usually on the technology side.
"Just like any successful business, people are key, whether that be the leaders, the accountants, the engineers and chemists or the truck drivers. Canary's approach was to start with a highly effective and efficient team of leaders that covered the disciplines of refining chemistry and engineering, logistics, supply chain, fuel marketing and corporate finance. Start with the right team, create a vision that has purpose, supported by a realistic strategy, and integrate that team into that strategy."
Looking ahead, the company is eager to continue pushing for long-term growth. In order to get there, this year will be spent laying down the foundation that ensures many more years of refined biofuels of the highest quality. "2022 is the year of building the Canary foundation, such that Canary will have a fine-tuned formula that we can use to repeat the process on additional assets. By having the right working formula, Canary will then be in a position to expand, which will allow us to have multiple facilities up and running between three- and five-years' time, getting us to our one-million turnover target."
Canary Biofuels
https://canarybiofuels.com/
Services: Biofuels