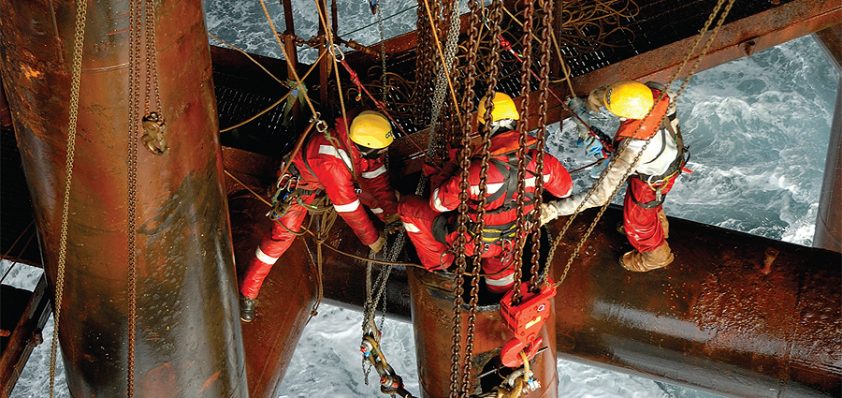 Service-minded
With roots dating back to 1893 as a manufacturer of insulation products, Cape has gone from strength to strength and is now a recognised supplier of non-mechanical industrial services.
Supplying a range of services that includes access systems, insulation, painting, coatings, blasting, industrial cleaning, training and other essential non-mechanical services, the organisation's flexibility is unrivalled in the industry. Over the last decade the business has trebled in size, the value of its equity has increased tenfold and it is now recognised as a leader across its footprint. Organic expansion over the past few years has seen Cape establish itself internationally in the rapidly expanding energy and resources sectors. The company prides itself on its wide portfolio of services that deliver improved efficiency, cost effectiveness and world-class safety – allowing its customers to source all maintenance requirements from one assured source. Ultimately, Cape looks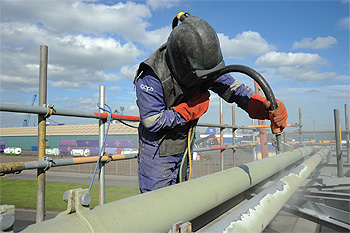 to satisfy the varying requirements of clients operating in demanding environments across the globe.
Any secure large industrial asset that uses energy to produce, say aluminium, water or steel, or produces energy in its own right, including LNG, nuclear power and hydro electricity, will require Cape's services at stages of its lifecycle. Martin May, chief executive of the company explains: "We pride ourselves on carrying out the every day jobs that no one else wants to do in a safe, effective and efficient way that gives clients piece of mind. The growth of the business has been remarkable and we are now recognised and valued by major international players such as BP, ExxonMobil, Woodside, British Energy and BAVT, to name but a few. We have done well in terms of market expansion, though we still remain a small and dynamic company internationally and are headquartered in the UK. Our influence in areas such as the Gulf, Caspian, Asia and Australia is continuing to grow and the demand for our services is ever-increasing – there is no end to the opportunities for Cape going forward."
In 2008 Cape secured a number of major contracts through its involvement in a $5 billion LNG project in Australia and Asia known as Pluto. During 2009 and 2010 this project has been recognised as being the world's largest investment of its kind. Cape's involvement included playing a major part in module fabrication in Thailand, picking up access contracts in Karratha in the Northern Territories of Australia and involvement in a hook up contract offshore. Cape's activities in this region are set to increase as between 12 and 15 new LNG trains are planned for construction in Australia over the coming decade, while two are to be built in Papua New Guinea – the company's footprint ideally suits such new build projects. Recently Cape bid and won a maintenance contract covering all of BP's assets in the North Sea. Further, in 2008 British Energy awarded the company a maintenance contract for its nuclear reactors across the UK.
Such swift expansion has been facilitated by a number of strategic acquisitions over the past few years. The organisation grew its service offering and portfolio in the UK by buying-in capabilities in industrial cleaning. In the Gulf and Caspian, organic growth was achieved through actively bidding and subsequently winning large contracts in the LNG arena, whilst in Australia Cape decided to acquire businesses, investing over £200 million in 2007. This investment in the Far East Pacific Rim (Asia and Australia) is predicted to become the largest region for the company over the next
five years.
The organisation hopes to gain evermore lucrative partnerships with industry leaders in the energy and resources markets through the promotion of its distinctive capabilities, as Martin highlights: "Individually, the services we provide are fairly low tech, but it is when you put them all together that we become a cut above the opposition. Cape's approach is to provide bundle service propositions. This approach is not only cheaper, quicker, it gives more asset up time."
There is no other international company capable of providing such an all-encompassing range of services effectively and efficiently. The most important aspect of its service for Cape and its clients is safety, especially in the demanding and often harsh environments in which it works. Not forgetting of course that being on time and within budget come a close second. Cape ensures that maintenance down time is kept to a minimum and customers are kept up to date, while its evolving experience in the market enables it to stay at the forefront of industry needs.
Despite its international prowess, Cape continues to focus on its home market, the UK, for future growth. The UK economy has faced severe challenges in light of the recent economic crisis but Cape sees great opportunities in the not too distant future in new build and decommissioning for the nuclear field and offshore oil and gas. The business is able to deliver world class services at every stage of asset lifecycle; whether it be for a new build project, the maintenance of an existing operational plant or the decommissioning of an old facility, Cape has a solution.
"Over the coming years we look to confirm our position as the best-in-class in all of our chosen geographic markets. The organisation has transformed itself into an international player and we are proud of our achievements so far – though there is still much more to do. We believe there is a significant opportunity to expand and grow our market share over the next few years in the global energy and resources sectors," Martin concludes.
Cape plc
Services: Industrial services