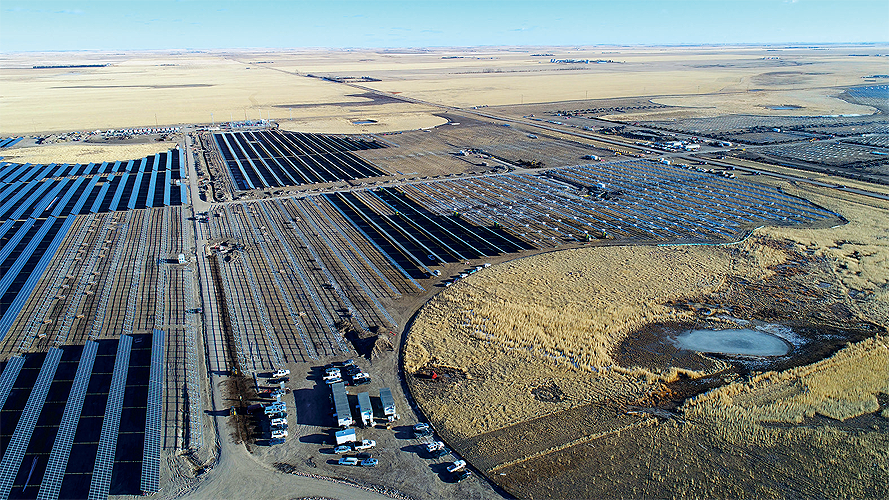 Capstone Infrastructure Corporation
Contributing to a cleaner future
Proudly based in Toronto, where it is publically traded on the Toronto Stock Exchange (TSX:CSE.PR.A), Capstone Infrastructure Corporation (Capstone) is a Canadian developer, owner, and operator of clean and renewable energy facilities. Originally founded in 2004, the company has a strong history of investing in and operating clean power businesses, including wind, solar, run-of-river hydro, biomass, and natural gas co-generation power plants. At the time of writing – July 2021 – Capstone operates more than 750 MW of installed capacity across 29 facilities across Canada.
Capstone's CEO, David Eva, has been with the company since 2013, when he came on-board as its VP of Development. "When I joined, it had only been a couple of years since the company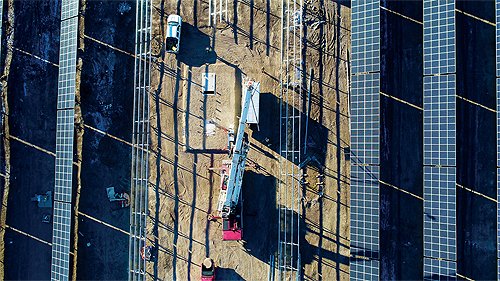 has gained its independence from what was then its parent, Macquarie Power," David explains. "At the time, it was much more of a diversified utility investor It was then the acquisition of Capstone by iCON Infrastructure in 2016 that kicked off another reinvention of the company, and with a new senior management team in place we repurposed as a growth-focused, independent power producer.
"Over this period, with our focus on operational excellence and renewable power development, I feel that we have really found our stride, adding over 250 MW, increasing EDITDA by more than 50 per cent, raising over $1 billion in project financing, and growing our workforce to 133 employees."
Speaking of its employees, David identifies them as being the primary asset that helps to make Capstone stand out amongst its peers. "We have an incredibly talented and dedicated group of professionals who hold themselves to the highest standards, and are committed to excellence across all as aspects of our business," he declares. "Collectively, we are willing to think creatively to find solutions, and have the expertise to deliver results.
"Further to this, as a developer-owner-operator, reputation is everything. Our projects last decades, and over time, we've built this business on the basis of treating people fairly, solving problems, and delivering on our promises. Finally, we are a bit unique in terms of our size. With a $1.4 billion balance sheet and strong cash flows from our assets, we are big enough to invest our own capital into major projects, yet we have remained nimble and able to move quickly to take advantage of new opportunities."
The world that Capstone operates within is one that is evolving rapidly, with project complexity increasing all of the time. "For a company such as ours, working alongside strong partners and maintaining those relationships allows us to solve difficult problems and to get projects off of the ground," David states. "From our experience, building and maintaining these relationships is pretty simple: do business with honesty and integrity, and deliver on your commitments, and people will want to keep doing business with you."
Turning to the subject of projects, in April 2021, Capstone – along with its partner Obton A/S – was proud to announce that its 132MWac Claresholm Solar Project (Claresholm) had achieved commercial operation and is now producing clean, renewable power. Located in the Municipal District of Willow Creek, the project provided more than 350 full-time jobs in Alberta during construction, and will provide on-going employment during its operational life, along with significant long-term property tax revenue to the local economy.
"We are extremely proud of the Claresholm project, which is not only our largest renewable facility, but also currently the largest solar installation in Canada," David adds. "Claresholm was ground-breaking, not just because of its size, but because unlike most renewable energy projects in Canada (outside Alberta), Claresholm will not sell its power under a long-term power purchase agreement with a provincial utility. Instead, the project has a 74 MWac power purchase agreement (PPA) with TC Energy Corporation, one of the first Corporate PPAs to be announced in the country. The rest of Claresholm's power will be sold and settled on the Alberta wholesale power pool." This hybrid merchant-contracted structure required a unique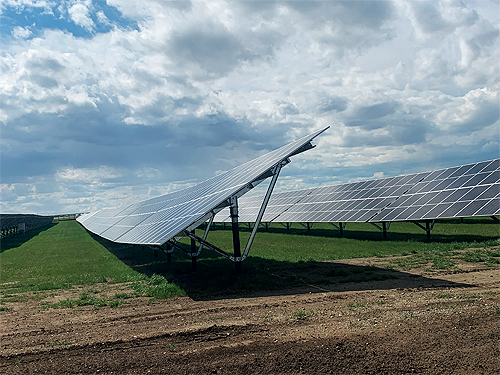 financing arrangement orchestrated by Capstone, and recently the deal has been awarded Proximo Infra's North American Solar Deal of the Year in 2020.
"Claresholm provides a great example of Capstone using the attributes I have previously described, including our reputation for delivering on our promises, acting quickly, and leveraging our skills and balance sheet to acquire, engineer, tender, finance, and construct the project in under 18 months, achieving COD in April 2021, on-time and on-budget. Furthermore, this was accomplished during the midst of the Covid-19 pandemic, with the corresponding impact on global supply chains and financial markets. The facility has transitioned to Capstone's self-performing operations, and is performing well. Truly, this project exemplifies the best of our company and what we can achieve."
As David continues, Capstone also has a great deal of work ongoing throughout the country. "Western Canada continues to be big focus for our growth. In addition to the 150 MW of renewable projects that we have operating in Alberta, we have another five projects in advanced development, which are expected to be operating within the next 24 months, and we are currently constructing the Riverhurst wind farm in Saskatchewan. In addition, through our partnership with Genalta Power, Capstone's development activities go beyond wind and solar, and include utilizing flare gas and waste heat to power, to lower the carbon footprint and improve operating efficiencies for industrial partners."
There can be little doubt that this is an exciting time for renewable energy globally, and as such the same can most definitely be said about Capstone. "When I started in this industry, nearly 20 years ago, it was almost inconceivable that by 2020, solar power – in Canada no less – could compete straight up with traditional thermal generation," David adds. "These competitive gains have also been found in wind energy, and now battery storage – a key enabler of a zero-emission grid – is also making huge strides.
"However, let's face it, the energy transition has been a long time coming. Climate change and the high environmental costs of how we have powered society to this point are not new and there is a long way to go to get to net-zero by 2050. Nevertheless, every day we are doing our best to move this along, and I believe Capstone is in a strong position to help accelerate the transition, and we are excited to have an important role to play."
Moving into the second half of 2021, Capstone continues to put significant energy into continuous improvements of the operating business, including the roll-out of its Capstone Operational Excellence Management System. In the meantime, when it comes to company-wide growth, it is very much focusing on its development projects in Western Canada, and now also in the United States.
"We are excited to be progressing a 1 GW pipeline of wind, solar and battery projects in the state of California," David enthuses. "For us, this represents a fantastic opportunity, with the state recently affirming its ambitious plan to decarbonize through electrification. This will continue to lead to greater opportunities for comcreative solutions to deliver more renewable energy to the grid."
Looking ahead, it is Capstone's ambition to have over 1 GW in operation by 2025. "This will largely come from our more-than 1.5 GW project pipeline in Canada and the United States, with full project-delivery capabilities, from early-stage development, construction, and project finance, to operating and maintaining our facilities in-house," David points out. "So, to reiterate, these are exciting times for our industry, and Capstone in particular is in an excellent position to offer great value, creativity and dependability in working with Canadian industry to transition their business for success in the low-carbon future."
Capstone Infrastructure Corporation
www.capstoneinfrastructure.com
Products: Thermal and renewable power generation facilities