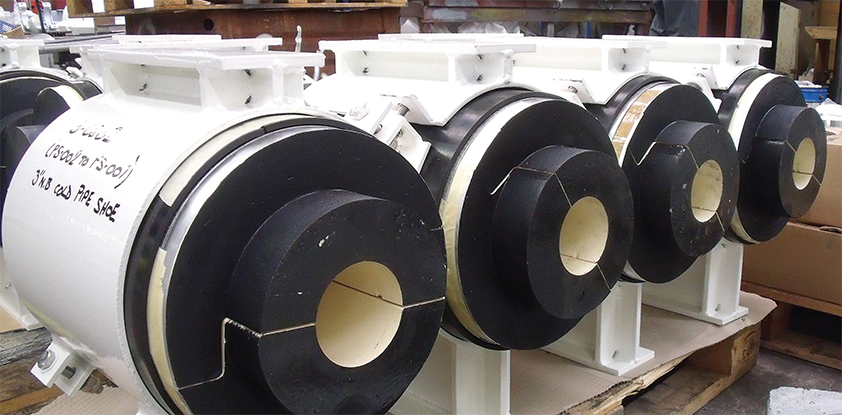 Supporting the industry
Carpenter and Paterson (C&P) Ltd is a pipe support specialist based in Welshpool, Wales.
Its product portfolio includes a wide range of support solutions from simple clamps to complex shock absorbers that can not only be selected from a standardised range but also fabricated to clients' specifications. This flexibility, combined with high quality, has made the company an important partner to many major and minor operators throughout the world.
Managing director Jonathan Lee details the history of the business and its relationship with parent company C&P Inc: "C&P Ltd was established as a UK subsidiary of C&P Inc in January 1956. Welshpool was chosen because it was at the time an area of industrial development with reasonable links to the West Midlands for the supply of materials and services, and to the port of Liverpool from which most of its products were being exported back to the US. However, C&P Ltd quickly developed from its modest beginnings as a sub-supplier of machined castings and forgings, soon introducing its entire engineered supports catalogue to the UK market. We were acquired in 1993 by the current management firm."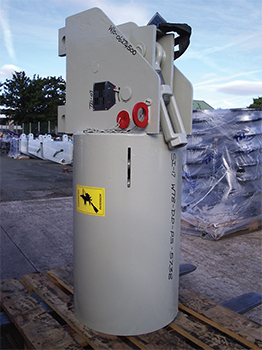 Since this acquisition, C&P Ltd has established itself as a strong independent name in the pipe support market throughout the world. From its 7500 square metre facility in mid-Wales, the company manufactures a varied portfolio that includes: basic carbon steel spring supports, vibration-absorbing spring sway braces, PTFE slide bearings for heavy duty applications, and hydraulic shock arrestors designed to cope with extreme seismic conditions.
The company also manufactures cryogenic supports that, as engineering manager Neil Spiers comments, have been a focus of recent investment: "Our engineering department has an ongoing research and development role in order to add or improve to the current products range. One such case is our cryogenic pipe supports, which have recently been subjected to a comprehensive design study that has resulted in improvements to mould design and chemical mix technology."
All C&P Ltd support systems are manufactured in a range of sizes from 20 nominal bore (NB) through to 1000 NB, and the facility has a five-tonne overhead crane that enable's large steel sections to be fabricated. The 7500 square metre factory has an output of 200 tonnes per month in a single shift, using materials such as carbon steel and low temperature steel, alloy, and stainless steel to achieve the best results possible.
Regional sales manager Steve Lewis discusses how C&P Ltd also provides more than just products, however: "Our services include comprehensive design of pipe support systems, generation of individual support drawings, and site surveys and inspections. Our engineers travel to many different countries carrying out on-site surveys and inspections of the existing support systems. With these plants around the world ageing, and with strict HSE practices, we are being requested to complete more and more of these inspections."
This has served the company well. Its products and services are provided to over 1500 clients throughout the world including major oil, gas and utilities operators, through both direct sales and a wide network of third party agents. This success can largely be attributed to the expertise in both its staff and its structure, which enables it to operate efficiently and responsively. Some employees are even the second generation of a family to work with C&P Ltd, representing the longevity and extensive experience it possesses.
"Furthermore, the key is our ability to react quickly to customer demands when urgent deliveries are required during plant shutdowns or unplanned emergencies," Steve adds. "Our technical services are second to none, with our team of experienced engineers visiting clients in-situ to assist with pipe support problems on anything from power stations to offshore platforms."
Having already gained a firm foothold on the market C&P Ltd is looking to expand its business into new areas around the world. Jonathan suggests that there is one emerging region of particular interest to the company: "We are always on the lookout for new opportunities. Through market intelligence gained from our association with organisations such as the EIC, and from our network of agents, we have identified Brazil as an important market. Therefore, we have made an early approach to Petrobras and though it is early days at present we hope to appoint an agent in the region to represent us."
With an established name throughout the world, the future of the company looks to be bright. Jonathan concludes with confidence in C&P Ltd's success into the future: "The market has its peaks and troughs but overall we predict good opportunities to at least maintain our market share in the Middle East, Scandinavia, Europe and the West, where we have a sound progressive client base. We will take measures to increase our share of the market in these regions, particularly for big LNG projects in Australia and the Far East. We have established a sales office in Singapore and our intention is to set up a manufacturing facility for the Asia Pacific region."
Carpenter & Paterson Ltd
Products: Pipe supports