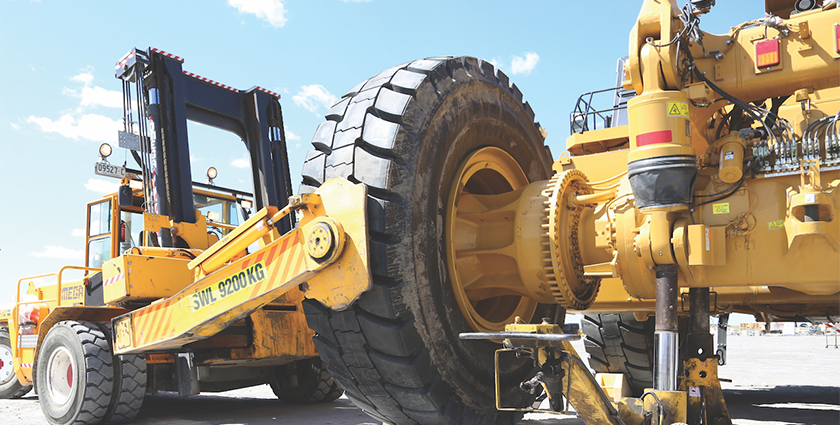 Cascade Corporation's quality and customer-driven solutions allow it to thrive.
Cascade Corporation thrives by providing custom solutions to its clients, President and CEO Andy Anderson says. "Cascade is a company that is built on solving very specific material-handling needs for customers globally," he declares.
Based in Fairview, Ore., just outside of Portland, Cascade designs and manufactures material-handling equipment for the lift truck, construction and mining industries. "We specialize in highly engineered hydraulic attachments for lift trucks, telehandlers and wheel loaders," Global Product Manager Doug Pierce says.
Cascade's history goes back to 1943 when several executives of a foundry company started the business. It initially specialized in machine work on stainless steel components. In 1948, the company started to produce hydraulic cylinders, which launched a business expansion. By the 1950s, Cascade built its first lift truck attachment.
That paved the way for Cascade to become the leader in its niche with material-handling products that help lift, side shift, rotate, tilt and clamp loads, including tires, pipes and metal. "We pride ourselves on manufacturing some of the best products in the industry with a focus on maximizing value to our customers," Pierce says.
Cascade has built a large footprint with 17 locations around the world including facilities in North America, China, Europe, Australia, Korea and Japan. "Several of Cascade's global locations are in proximity with mining centers around the world"," he adds.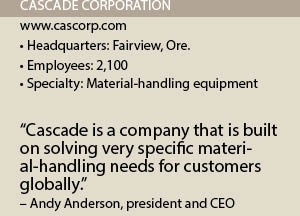 Well Handled
Cascade's products include its tire handler, which it has offered for more than two decades, COO Davide Roncari says. The handlers, which were originally developed in Australia, can move, change or stack tires of any size, weight or type.
But the company also can replicate them no matter where they are built. "We made a global design that we can build and manufacture in every single continent around the world," he says. "This allows us to produce our attachments for the local market, resulting in faster shipment and less freight and duty costs for our customers than if shipped overseas."
Not only are its tire handlers heavily used in the mining industry, but its rotators are used in the processing sides of the mines, along with Cascade's fork positioners and sideshifters. Available for a range of truck capacities, these products allow the driver to adjust load positioning without getting out of the truck. This provides faster and more accurate loading, which is ideal for the heavy-duty loads handled in the mining and energy industries.
Pipe hold downs and a wide variety of specialized clamps also are available in various configurations and allow for secure and stable handling of wide loads such as massive pipes. "Our success has really been based on the quality of our products and the level of service that we provide," Pierce says.
Custom Product Designs
Cascade's ability to customize its equipment has set it apart. "It's not about what we want. It's about what the customer wants," Australian National Sales Manager Rob Whitmore declares.
During the development process, Cascade sits down with customers to find the right solutions for their application. This can include visibility studies and the option of 90- or 360-degree tipping pads on its tire handlers. A wide range of accessories are also offered to go under tire handlers, such as specialized rim-handling or tire chain handling pads.
"It's all very well to have an off-the-shelf type solution, but we've found that one size doesn't necessarily fit all," he explains. "[We] have customers who want to do things in a specific way, although they may handle the same product as their competitors."
After nearly 75 years in the industry, "We never turn down any request from a customer. With hundreds of experienced product engineers across the globe, Cascade designs the most custom attachments in the industry," Roncari asserts. "Special attachment requests are met with reliable and high-performance solutions for the customer's specific needs."
Good Choices
Cascade is investing in increasing the productivity of its equipment for end-users. "We're continuing to work toward lowering the total cost of ownership for our customers through our industry-leading warranty program and extended service lives," Anderson says.
This includes a focus on energy efficiency. "Our attachments are powered mainly by hydraulics, so we've been focused on developing very efficient products which minimize energy consumption," Roncari says.
The company also is responding to industry requests to gather application-specific data and communicate this to a digital platform for easy retrieval. This data could then be used by the customer in a variety of ways to improve productivity, such as preventing overloads or controlling waste. For example, Cascade entered into a partnership with a weighing system company to integrate mobile weighing into its future products. "We're putting a lot of effort in making this information available to the customer," he says.
An Empowering Environment
Cascade has nurtured a culture where people are given autonomy. "There's not a rigid management structure," Anderson says. "People throughout the company are given great latitude and support to work in a very self-directed manner."
With this philosophy, Cascade has placed a high value on its employees. "We firmly believe that by investing mainly in our human capital, we will be able to see the benefits of our shared success as a company," Roncari says. "We really put a lot of focus on the people."
The company's leaders also make themselves approachable. "If you need to reach out to an executive, that's not a problem," Pierce says. "The transfer of information doesn't take long at Cascade.
"That allows us to react to various needs fast," he says. "It is a friendly and open environment [where] a person on the manufacturing floor will talk to the CEO."
Cascade encourages its employees to be involved in its continuous improvement program, Whitmore adds. "That creates a very empowering environment for all staff to be involved in," he says.
In the program, the company is looking at cost-down initiatives, different ways to apply engineering principles as well as areas of further development. This encourages everyone from sales, admin and engineering through to production to be involved in the long-term growth and success of the company.
On Its Own
Cascade often manufactures a large portion of its components on its own. "We start from the raw materials," Roncari says. "That allows us to control the design and the quality of the products."
"It's pretty safe to say that we're much more vertically integrated than our competitors," Anderson adds, noting that nearly all of its factories are ISO compliant and certified.
But when it does source parts, "We only use top resources from around the world," Roncari says, noting that Cascade has built longtime partnerships with its suppliers who have maintained quality standards over the years.
In the Dirt
Anderson sees a strong future for Cascade. "The ability to solve very specific customer needs will provide our foundation for many, many years to come," he predicts, noting that he expects the company to keep growing, particularly in the energy, mining and large vehicle sectors.
Cascade also plans to continue transferring knowledge it gained in various sectors to others. "For many decades, the primary vehicle that our attachments served operated in a warehouse with a concrete floor," he recalls.
"In the past decade, we've also focused on material-handling solutions for vehicles that operate out in the dirt," Anderson says. "There will be a long-term, continuous expansion in this industry, and we're looking forward to serving these customers with innovative, high-quality products to meet their requirements."