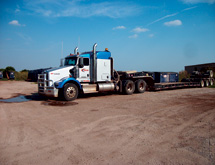 The secret of Cascade Tanks' growth is relatively simple. "We went from a relatively small company to a fair-sized player, and it's all organic," COO Robert Pelham says. "The reason for our growth is our all-around service level and our ability to anticipate customers' needs and moves in the marketplace and, when they call us, committing to service."
Since its founding in 2005 in Rifle, Colo., Cascade Tanks has expanded its regional coverage from Colorado's Western Slope to include terminals in Ross and Arnegaard, N.D.; and Blackwell and Stillwater, Okla.
The company's expansion into North Dakota in 2010 – done in response to the growth of the oil and gas market in the Bakken Shale – has led to "exponential growth" geographically and financially, Pelham adds.
In response to this growth, the company moved its corporate headquarters from Rifle to Denver earlier this year, expanded its executive team and completely updated its central operations. This included hiring Pelham, who having started his career with companies working in the oilfields near Bakersfield, Calif., has extensive experience in executive roles within the energy and environmental sectors.
Full Service
Fluid-handling services have been at the center of Cascade Tanks' operations since the company's founding, and remain the greatest source of its overall revenue. The company employs more than 300 employees operating 260-plus trucks, 500 frac tanks and related equipment.
Cascade Tanks supports all stages of hydrocarbon production from drilling to completion and production. Staff members work closely with field and supply chain personnel to ensure each job is completed efficiently. "We want to exceed our customers' expectations, and that mentality has helped us grow," Pelham says. Customer requests led the company to expand beyond its origins as a frac water tank renter into a full-service fluid management and oilfield service provider. In addition to providing fluid service and frac tank rentals, Cascade Tanks offers rig moving and other heavy haul services as well as heavy equipment rentals. "We've grown into a company that strives to be recognized as a full-service provider that is flexible, innovative and adaptive," he adds.
Standing Out
Cascade Tanks' dedication to service has helped it build strong working relationships with clients. These relationships have helped the company grow in a highly competitive market. "There's a great boom in service companies in the Bakken Shale in particular, and some companies do well while others struggle," Pelham says. "There is no shortage of competition out there, but what really sets us apart as a company is our integrity, safety culture and coming through for customers."
The company offers extensive training to new field employees as well as ongoing supplemental training, and maintains a safety committee led by newly hired corporate health and safety director Todd Rupp. The company implemented PEC SafeLand USA as its core awareness and orientation training, as well as additional training based on the individual training needs.
"True accidents are rare. Incidents are indicators of personal behaviors that are always preventable," Rupp says. "By being proactive in our approach to eliminate, control, or protect our people from those energy's that are key to all incidents, we are better positioned to prevent accidents and injuries before they happen."
Expansion Plans
Pelham sees the company's next few years as being much like its most recent in terms of growth. "We're looking at new markets as well as expanding our presence in the markets where we are already present," he says.
Cascade Tanks' plans include a significantly increased presence with the pending construction of a new purpose-built facility in Williston, N.D., to complement the company's presence in the Bakken Shale.
"I don't see North Dakota or other newer oil plays as just boom opportunities," Pelham adds. "The regions have strength and viability and offer us opportunities for long-term growth and a chance to solidify our company's position in the market."