Caspian Offshore Construction
An offshore partner
From its headquarters in Almaty, Kazakhstan, Caspian Offshore Construction (COC) owns and operates a fleet of 43 vessels that provide marine fleet operation and management services to offshore oil and gas industry. The business was incorporated during 2003 and finally commenced operations in 2005, following the acquisition, refurbishment and complete overhaul of the Shkotov and Caspian Princess floating living quarters. Today COC operates as a leading provider of marine fleet operation and management services in the North Caspian Sea as a 100 per cent private Kazakhstani entity, with offices in Aktau and Bautino in Kazakhstan, Astrakhan in Russia, Baku in Azerbaijan and Turkmenbashi In Turkmenistan.
Caspian Offshore Construction was previously featured in Energy, Oil & Gas magazine in March 2015. During the company's previous profile, Aktau branch director, Stanislav Belov discuss on-going events in the company including the commencement of construction of a new operating base in Bautino incorporating accommodation, canteen and workshop facilities, the delivery of its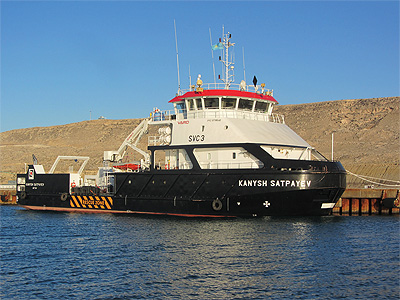 new multicat Kulan and Kanysh Satpayev survey vessels and the further modernisation of its Shkotov and Caspian Princess floating living quarters. Despite the impact of the depressed price of oil, COC has progressed well and remained highly active during the past 12 months. Further to completing the construction of a new offshore support base and continuing to expand its fleet of vessels, the company has also won a significant tender that will provide the business with activity for several years.
"Developments have been slow because the oil and gas business is suffering due to the low price of crude oil. The Caspian region is no exception and there has been a slowdown of the two major oil and gas projects that form our primary business, however, despite stiff competition, the company overcame to win a tender to manage a new vessel for Van Oord which operates as a Dutch dredging company," reveals COC Deputy General Director, Shaun Daniels. "This vessel is an ultra shallow draught multi-cast general purpose tug called the Arlan. The work is to support the dredging of a channel of over 60 Km from the eastern approaches of the Caspian Sea, with the channel intended to land at shore at a place called Prorva. There is a facility also to be built at Prorva by the Tengizchevroil (TCO) Future Growth Project, which will serve as the offloading facility for the expansion of the Tengiz refinery. TCO are going to offload around 60 major modules using tugs, barges and speciality purpose-built vessels and the contract is set to last for approximately three years. It has allowed us to construct a new build vessel, at the Vard shipyard in Brăila, Romania. The vessel was built according to a design produced by Ship Design Group (SDG) and was part of a very competitive tender that we were proud to win."
On October 2, 2015 COC also accepted delivery of the latest ship to join the company's fleet of owned vessels. The ARLAN ultra shallow draft multi-cat AHT was ordered during February 2015 and constructed at the Vard Brăila shipyard. At a cost of $2.4 million, ARLAN was successfully launched during August 2015 to begin an extensive series of sea trials before IDU Shipping finally delivered the vessel from Romania to Kazakhstan. Co-operation between COC and the Vard shipyard dates back to 2009, when a contract for the ice-breaking standby support vessels of the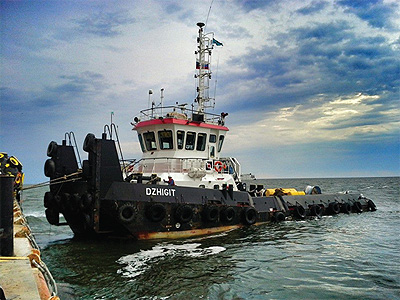 'Mangistau' series was closed. During the period between 2009 and 2011 five Mangistau vessels were constructed, while another survey vessel, Kanysh Satpayev, was built later in 2014.
"Kanysh Satpayev cost $9.2 million and is capable of carrying 20 scientists as well as ten crew. She was specifically designed to deploy various types of survey equipment for ecological, environmental and geophysical surveys. She is built to the latest standards with modern equipment and facilities onboard including laboratories and accommodation space with onboard recreation for scientists and the ship's crew," Shaun elaborates. "She can operate in as little as 1.5 metres of water, which is a must for the client because their operating depths run from three metres to nothing. She is the most modern research vessel in the Caspian Sea at present and I would say the most versatile vessel in terms of research operations."
Further to expanding its presence through the award of competitive new tender and the arrival of the ARLAN multi-cat AHT, COC has also invested in a new offshore support base in Bautino, Kazakhstan. The new base is comprised of three complexes that include office, hotel, crew change, canteen and gym facilities, which ensure that the base is fully equipped to provide accommodation to crew and engineering staff travelling through the region. Additionally, the Bautino complex also includes an education facility that offers expert training to both COC staff and external organisations as well as educational programmes for the local community.
Through its continued investment into the company's facilities, COC is well prepared to carry out its current tenders while it continues to weather the tough trading conditions brought on by the low price of oil. Over the coming years the business will seek to capitalise on its current success and continue to distinguish itself as a trusted partner within the Caspian Sea, which it will achieve through further investment in its people to match that of its fleet. "This is a fully Kazakh owned company and we have 60 Kazakh nationals currently undergoing various education programmes to get them qualified to progress into positions we have identified suitable for their skill sets," Shaun concludes. "Further to the Caspian Sea, we are looking at international markets. These include areas such as Venezuela, South East Asia and Africa and the challenge for the future is to identify opportunities within those markets and open up offices within those regions."
Caspian Offshore Construction
Services: Marine fleet operation and management