New distribution channel to support the offshore market
After having been present for more than four decades in the UK through a distribution partner, Swedish-based manufacturer of hydraulic and pneumatic couplings, CEJN, has now established its own operations in the UK market.
The CEJN group was founded in 1955 by Carl Erik Josef Nyberg, a mechanic in the Swedish army who designed a new coupling that would allow for an improved airflow. Soon after, Carl patented this product, which he labelled the Series 14, and began to produce it from his basement workshop in Skövde.
In 1956, the company launched its first blowgun and, in 1959, Carl developed another new coupling design, this time with a drop-shaped valve. The coupling – Series 320 – became one of CEJN's biggest sellers and formed the basis of its internationally recognised Euro industry standard. The company continued to grow from here and, by 1965, it employed 25 personnel.
Throughout the 1960s, CEJN patented various other couplings – one of which was designed for high-pressure hydraulics, able to withstand a pressure of up to 1000 bar. At the time, no other quick coupling could boast this attribute and its production stood as a testament to the company's innovativeness.
By 1968, CEJN's employee count had doubled to 50 and, in 1970, the company opened a new workshop and office facility in Skövde. In the years following, the company established a growing export base, opening sales offices in Germany, Switzerland, France, Canada, Japan, Singapore, Italy, the US, Denmark, Spain, South Korea, China, Australia, New Zealand, Brazil and India.
Today, the CEJN group has a total of 450 employees and its operations are spread across 19 companies. John Gardner, general manager of the company's new UK-based operations, elaborates upon his segment of the group: "CEJN started as an out-and-out engineering company and it has always been that way. The reasons for its astronomical success are partly due to the fact that its owners realised that, if they wanted to sell worldwide, the needed sales offices in every country within their distribution network.
"The UK has generally been an important market for the CEJN group as well, although it was always dealt with through a distributing company. Now, however, its importance has grown to the point where CEJN decided that it would be beneficial to open its own subsidiary here too. With this new subsidiary in operation, CEJN will be able to offer a better service and the ability to supply high pressure hose assemblies directly to its UK customers."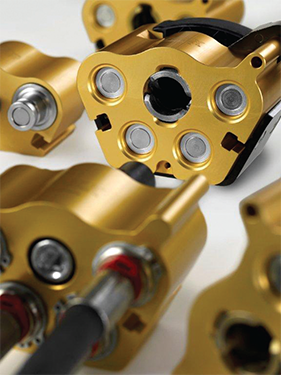 The group's product portfolio today consists of a wide range of product lines, including pneumatics, such as quick connect couplings, blowguns, polyurethane hoses, lightweight and heavy-duty hoses, cable reels and accessories; breathing air couplings, such as nipples, hoses and hose kits; fluids, which are offered in both valved and valveless designs; hydraulics, high-pressure hydraulics and WEO plug-in hose fittings.
CEJN's decision to enable the company's UK customers to benefit more directly from such services has been greeted with a highly positive response. John discusses the progress made thus far: "The opening of our UK offices has been a success, and despite having only opened our offices in April, we are have already won some key contracts. We are trading at the level that was expected of us by our parent company, and we have recently recruited a national sales manager to help strengthen our sales team here."
Whilst the opening of this new UK office may serve to highlight CEJN's global expansion policy, the group still remains very true to its roots, according to John. "We are still an independent, privately owned, family company. Our focus has always been to increase our market share through organic growth. Combined with our production capacity and the marketing of our high quality products in collaboration with our dedicated distribution network, we are in an excellent position to remain totally focused upon the products that it offers," he says.
In order to further increase the exposure of its products to the UK oil and gas market, CEJN has also recently appointed the Aberdeen-based PK Hydraulics as a distributor. John highlights the advantages of working with this Shell-approved company: "Working alongside a company with such accreditation is vital, as it is something that is integral to many end users in the oil and gas market. Gaining Shell approval is also highly costly, and so through working together with PK Hydraulics, we are able to eliminate such cost."
With regards to the oil and gas industry, perhaps the most important products it distributes through PK Hydraulics are its high-pressure quick connect solutions. John explains: "Our 135 Series, for example, is pressure-rated at 3000 bar. This is a very high pressure and it is just one example of the way in which CEJN is able to offer a complete solution of hose assemblies and quick release couplings that can meet the rigorous demands of offshore applications." The business also has a wide range of fluid couplings that cover a wide range of chemical and other applications in brass and stainless steel, both valved and valveless.
Solutions such as the 135 Series are under continual development at CEJN, and John claims that such product innovation plays an important role in the company's philosophy: "We are constantly developing new products to meet the demands and safety requirements of the oil and gas industry. A recent addition to our portfolio, for instance, is a new coupling that uses a special protection cover, allowing it to work in a subsea environment with minimal corrosion, and we have also just launched a new high-flow 1000 bar coupling that will increase flow rates. Also, our medium pressure hydraulic range has been strengthened with the release of the new multi X coupling.
"Product engineering is a fundamental part of what we do, and our strategy really is all bout offering the customer exactly what they need to meet their challenges. Working with Hydratight, for example, we designed an integral t-piece that would mitigate the risks of leakage. This is just one instance of where we have listened to what the customer wants in order to focus on the best way of working to solve their key issues.
"One of the main reasons we are able to operate like this is because we are one of the few manufacturers left that hasn't been swallowed up by the large corporations, meaning that we have been able to maintain our focus. We are directly linked to the manufacturing site and we have dedicated engineers at the factory for each individual product line, meaning that we can work on solutions at a rapid pace."
Having opened the doors to further expansion in the UK, CEJN now appears ready to expand its product and service portfolio further. John believes the future is bright for his company, as he concludes: "We hope to grow dramatically over the next five years, and our current aim is to grow our operations here to at least three times the size of that which is already present.
"Our development will come through nurturing and strengthening our relationships with the likes of PK Hydraulics, thus developing closer links with the OEMs in the market. We will continue to produce the right products for these end users as the demand increases, and our company's organic growth will be fuelled by this."
CEJN
Products: Thermoplastic high pressure hoses for 700 bar to 3000 bar, pneumatic, fluid and hydraulic quick couplings