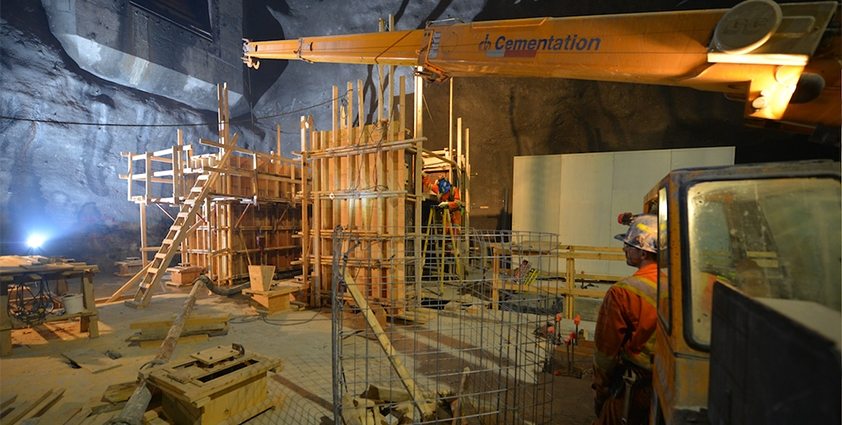 Cementation Canada was founded on the idea of changing the mining industry for the better, and continues to disrupt the industry with its latest technology advancements.
Cementation Canada specializes in building underground mines for its long-term clients throughout the world with a "Best for Project" philosophy it has maintained for 20 years. "Twenty years is an important anniversary for us," President Roy Slack says. "Cementation Canada was a start-up backed by Cementation out of the UK, and I was the first employee. We started from scratch and built from there, and it's been quite an adventure."
From the start, Cementation Canada's vision was to develop long-term relationships and knew that would be the key to its success. "Our vision continues to be to change the way mine contracting is carried out in our industry for the benefit of all stakeholders," Slack adds. "When we started, we had three fundamental things to change. We wanted to change how safety is done in our industry, eliminate adversarial relationships and provide a design/build option for our clients."
The North Bay, Ontario-based company has always worked hard on safety. In fact, Cementation Canada was recognized this year as Canada's Safest Employers in the mining and natural resources division. "Safety is engrained in everything we do and I like to say, safety isn't a thing we do, it's the way we do things," Slack says. "We worked hard to develop a safety culture and we bring new people into the culture quickly through training and orientation."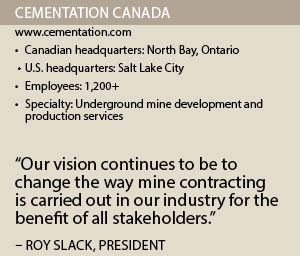 By focusing on long-term relationships, Cementation Canada has worked hard to eliminated the "dysfunctional" adversarial relationship between owner and contractor, Slack says. "You have to have those types of relationships to be in business and be successful for 20 years," he adds.
Cementation Canada is a design/build contractor because it feels that is the best way to build underground mines. "We have a substantial engineering group and as a design/build contractor can engineer and construct mines, which is unique in our industry," Slack notes.
All of those priorities tie into Cementation Canada's "Best for Project" philosophy. "What it means is that when we look at a project, we determine what's best for the project and not what's best for the pocketbook," Slack says. "We are not focused on short-term gains. On the Young-Davidson project, for example, we came up with a great idea to combine proven technologies into a borehole hoisting shaft, which was a great idea for the project, but cut the capital in half. That's fine because our vision is to change the way the industry is done by building long-term relationships, and we have with Young-Davidson."
Partner of Choice
The mining industry is cyclical and currently prospering as the major mining companies are starting up and the junior mining companies are starting to get investments. "We are seeing the market getting busy now," Slack says. "Last year we were steady, but not as busy as we had been, and over the past eight months the market has picked up."
As the market continues to thrive, Cementation Canada looks to attract the best people in the industry. "We are committed to hiring local where we can," Slack says. "We have 12 partnerships with indigenous groups across Canada and the Missanabie Cree First Nation partnership is our latest. We have developed a strong model and working relationship with our indigenous partners, which includes training."
The company's New Miner Training program has been in place for 10 years and introduces those who have not worked in the industry before to mining. "Our partnerships with Indigenous groups are typically focused on one project initially, but often can develop into opportunities on other projects," Slack says.
Disruptive Concept
Cementation Canada won the #DisruptMining competition in 2017 in Toronto, Canada, for its injection hoisting technology. Using a combination of existing and proven crushing, pumping and slurry technologies, Cementation Canada developed a proof of concept model for process injection hoisting that would eliminate the need for mine shaft production hoisting or trucking by transporting ore to the surface using a pump-driven pipeline loop.
The company is looking for a site to build a full-scale prototype on today. "What is interesting about it is that it ties in well to the new technology people are developing for cutting the rock instead of drilling and blasting," Slack notes. "That's a major advancement and matches up well with our injection hoisting technology."
Cementation Canada's caveat with any innovation is that it must be as safe or safer than what it does now. "We are working on a couple concepts now on new projects that will actually remove people from potentially hazardous situations," Slack says. "If we can remove them from the situation, we have eliminated that risk."
Although the mining industry is slow to adopt new technology, Slack says he is seeing more of an interest and progress in innovative technologies. "One of the oldest questions asked is, 'Where has this been done before? That's not conducive to innovation," Slack says. "We are seeing advances in cutting-edge technology, new equipment being proposed, new ways of incorporating data and different management techniques around information collection. There's a whole lot of things happening and mining companies are sorting out what the real game-changers are."
Moving forward, Cementation Canada will look to continue to expand its service offerings and geographic markets. The company recently added a growth and development division to focus on adding offerings that add value.
The company will also continue to focus on innovation and incorporating cutting-edge technology such as automation and virtual reality to remove people from potentially dangerous situations. "Virtual reality is becoming a cornerstone of our constructability reviews," Slack notes. "We are staying abreast of and looking to embrace new technology."