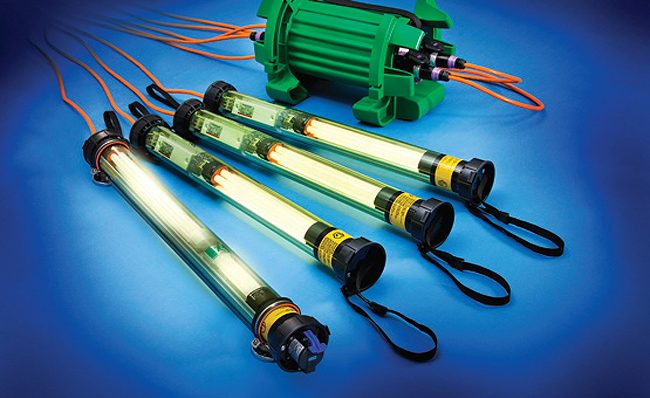 Lighting the way to safe work
Centaurea is a Finnish provider of portable lighting solutions. The company was founded in 1991, with a mission statement of enabling safe working practices in demanding applications, particularly explosive and hazardous conditions.
The company's mission is achieved by designing and producing high-quality lighting units, and by marketing them using a network of partners familiar with portable lighting technology.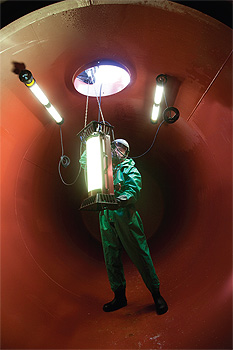 Centaurea's first explosion-protected luminaires were launched in the mid 1990s for use in a variety of segments having hazardous areas, including the oil, gas and petrochemical industries, and the aviation industry.
Sales and marketing director, Tuomas Seilo, elaborates on the company's main market areas: "We operate very much in a niche sector; our temporary lighting systems are not everyday products. They are however essential in certain operations, such as maintenance, inspection, painting, overhaul, and construction work. Portable light is temporary and our lights can be needed in operations lasting from a few hours up to a few weeks. This is a very innovative product with many features that can make challenging jobs easier, faster and more efficient. Compared to many other products our luminaires are, especially in explosive and hazardous areas, very lightweight and they give strong light output, making them highly suited to many types of application."
The company's product portfolio includes the CentaurSlam Series, which is specifically designed for work sites requiring temporary, reliable and safe illumination. The lighting units use compact fluorescent tubes as their light source, making the series the best choice for working conditions that contain hazardous elements. The series comprises models that cover explosion protection, low voltage and other safety related features. Tuomas comments: "Our strategy is to maintain high quality portable lighting solutions. There are many manufacturers providing lighting solutions for fixed installations. Many companies provide torches and flashlights, but our product is a portable lead light, meaning that we really provide a unique system."
The luminaires must be capable of withstanding shock, and they must be easy to use, while providing sufficient light. Tuomas elaborates: "The quality of the light itself is essential because it affects safety and the outcome of the job. The assembly and set up of the luminaires needs to be easy and reliable, and there must be no cables on the floor because that could lead to an accident. They need to be lightweight, flexible units, which can be transported easily from place to place, and balancing all these different requirements is a constant challenge and our main focus. We are following the standards and safety procedures very carefully, and so we are usually one of the first companies in the market that adapts to incorporate the latest standards
and requirements because we want to be pioneers of safety."
The company is currently based in Finland and as such supplies Europe and Scandinavia with its lighting systems. Tuomas describes the services it supplies to the oil and gas industry in this area: "Currently we serve the North Sea area, which covers the UK, and Norwegian and Danish sectors. There are many applications on offshore platforms that use our lights in temporary tents when carrying out maintenance. These tents are pressurised to carry out various work, such as welding. This is classified as a non-hazardous area, but we still install portable explosion protected lights in the tents because if something goes wrong and the pressure disappears, the tent would automatically be classified as an explosive and hazardous area.
"We put a notable portion of our turnover back into R&D – we are constantly trying to discover and explore new innovations to produce safer and more user-friendly products, especially in the explosive and hazardous areas for our offshore customers. In fact we have just launched a couple of new products for offshore platforms, such as a portable transformer and an emergency light for explosive and hazardous areas. We are also now providing packages, for example a transformer with portable and emergency lights, so the customer can order a complete package with one order code, one price, and one delivery slot. This makes our service much more convenient for our busy offshore clients."
The new transformer and emergency lights were a world-first in the portable light sector when they were launched. "Centaurea is constantly looking for new innovations," explains Tuomas. "These two new products are now our highlights and we are constantly seeking to update the existing product range, to meet the new standards criteria, as well as improving the quality of the light output, usability, and accessories. One of our key competitive strengths is our reactivity and our communication with the end users, meaning that we can respond quickly to urgent demands."
Finally, he outlines the company's plans for future development: "We see that we can expand the business in spite of current economic problems. In the oil and gas sector there are still opportunities for growth and we have big plans to develop the business, and to expand into new geographical areas. At the same time we want to develop our relationships with existing customers, because we see our competition growing, and so we need to maintain strong contact with our end users."
Centaurea Oy
Services: Portable lighting solutions for demanding conditions