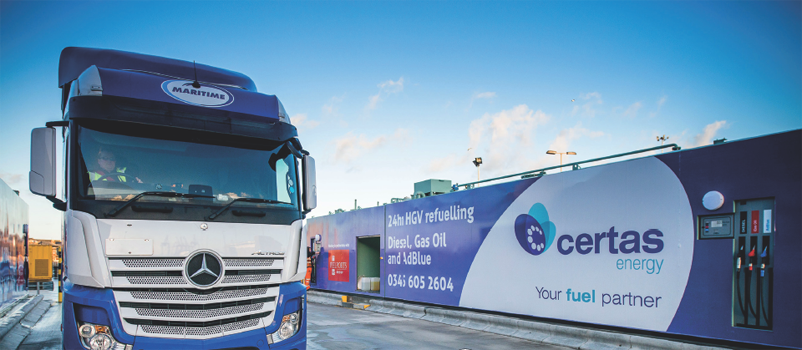 A certain answer
Certas Energy specializes in three major business units: bulk fuels, lubricants, and roadside service, and Steve Taylor is the man heading up the oversight of each one as the Managing Director. He speaks with Energy, Oil & Gas about the successes of the business and how it is contributing to pioneering the sustainability of the fuel industry.
When it comes to its operations, Certas is the UK's leading fuel and lubricants distributor, covering a national network of over 100 depots with 2300 employees. "Regarding our bulk fuel services, that's our domestic heating business," Steve begins, "then we have a B2B business, which is focused on industrial segments, which include agriculture, construction, haulage, and general industry. Through that, we supply kerosene, gas, oil and diesel, GTL, HVO – every liquid fuel that's out there really. Our lubricant business, is both automotive and industrial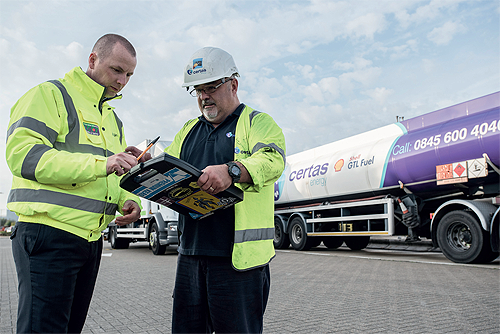 focused, and we represent Shell, Castrol, Valvoline, Q8 and Gulf. Being experts in these sectors has led to us working with many of the country's leading companies, and providing a total liquid solution to them. We also have a blending business in Redditch, where we blend our own brand called Hyperdrive," he describes.
To complement its fuel distribution operation, the business has also incorporated roadside service to its catalogue. This branch consists of approximately 900 forecourt sites. "These locations are typically branded Gulf, which we have exclusive rights to, and we supply dealers with their fuel and lubricant needs. We also have around 100 sites that are company owned and operated, which again largely operate under the Gulf brand. Additionally, in that Roadside Services division, we have a fuel card business, which is focused on the heavy goods vehicle (HGV) market," he continues. Complementing this, we have a parking business called Snap, a digitized end-to-end HGV parking proposition. "Essentially, the customer is able to log onto our website, book a parking slot, and arrive at the site where they're recognized through number plate recognition and autobilled. It can also be used for tolls and other complementary services," he shares.
Across its company model, Certas is particularly passionate about energy transition and is determined to lead the oil and gas industry in this regard. "We see energy transition as an opportunity to be market pioneers. We're in the early phases of reducing our own footprint, but we believe it is our responsibility to take on the challenge of highlighting the importance of sustainable energy, and as such we are committed to reduce our carbon footprint by 20 percent by 2025.
"Once those measures are underway, that will give us a fantastic opportunity to help our customers to achieve a similar transition. Because we're a big fleet operator in our own right – with nearly 1000 tankers running – we understand the challenge that our customers face in needing to transition their own fleets as well. That's why we're leading this from the front; we'll reduce our own footprint and then we'll bring those solutions to our customers," he shares.
With this plan of action at the forefront of the company's visions, the business has gained confidence in its ability to guide other companies with their best practices. "It puts us in a particularly strong and noticeable position to comment on key issues that the sector might be facing in terms of facilitating this transition. Some of the challenges that the industry is facing at the moment include the scarcity of fuels and their distribution. There are obvious solutions out there, but when you've got hundreds of thousands of customers spread throughout the UK, getting those fuels to them is always a challenge. The only slight barrier is that these fuels are likely to cost a little bit more than traditional fuels, and some sectors are more able to accommodate that than others," Steve expresses.
Certas Energy has to prioritize innovation in order to make these goals happen. As a key part to its strategy, creative thinking is the only way it believes it can continue to maintain and advance its market position in the fuels industry. "It's the thing that differentiates us from our competition. As I observed when I joined this business about five years ago, we're by far the biggest in the UK and while there are some really good sides to that, there are also challenges. We're probably carrying proportionately more costs than some of our competitors, because of things like corporate governance, which we take extremely seriously and invest a lot of money in to make sure that position is maintained, and also providing our customers with world class service." Likewise, when it comes to health and safety, Certas strongly believes in ensuring that its name is synonymous with exemplary practices and control. According to Steve, the business has taken its accident rate from three, down to one per 200,000 man hours worked; an impressive investment that some of its competitors are yet to make. "Of course, this means that it's unlikely we're the lowest cost supplier in the market, but to make sure that we maintain our position, we have to add more value to our customers than anybody else and that's why we're so strong on innovation. We are the market leader, and it's our value add that differentiates us and that's what we intend to uphold," he says.
Not only is the business securing its leadership within its operations, it is also maintaining a unique position in the value chain. "Although we want to facilitate change with our clients, just as importantly, we have to do the same with our suppliers. As we are a major buyer of fuel, we can influence other buyers as well as customers so I think that puts us in a unique position in the marketplace and it's one we're quite proud of. This may be a challenging industry and there's going to be a lot of change required to meet those carbon reduction targets, but I think it is crucial that we make influential decisions to achieve them because it's the right thing to do," he adds.
"Our primary value is safety. We take safety extremely seriously, it is our number one value and those aren't hollow words; we invest a lot of action behind that and it's something I take extremely personally. I'm passionate about this business, but I don't want anyone hurt in the process of running it, whether it's an employee or customer. There are two sides to this: available safety concerning our drivers and customers, and the process safety side, at our COMAH sites, terminals and large depots, which have risks that need to be mitigated.
"When Covid-19 struck, we took exactly the same approach, and when it was clear that we had a pandemic on our hands, I called our emergency response team to bring my group together and within two days, we had approximately 700 people working from home, we put in a new telephone system to facilitate that adjustment so we could continue to speak with our customers and keep them informed.
"On top of that, we had ordered masks long in advance, while everyone else was still talking about them, and we brought in personal protective equipment as soon as possible. A potentially big challenge involved our changing rooms, and so we implemented a solution for the drivers to arrive at the depot and change from their work gear to PPE. In consultation with the union and our employees, we figured out how to do that safely and we limited the number of people going into depots and initiated a 'tag in, tag out' system. We think that this displays a pretty good track record for dealing with these unique challenges, and I feel it comes as a result of a combination of the seriousness we've always given to safety, and the superb execution from a very talented team," Steve praises.
Now, as the world becomes more familiar with the reality of existing alongside Covid-19, Certas believes it is off to a good start in making 2021 be a year that sets it on an excellent future trajectory. "I'm really proud of how, even through the pandemic, we maintained a fantastic level of momentum. Not only did we keep everyone safe but we executed all of our key initiatives, which was quite remarkable. With the majority of our teams planning on returning to the office, we will be maintaining our record of keeping people safe. We're gaining market share in our key sectors and continuing to acquire and integrate new businesses. So, we're quietly confident about the year ahead. We've always got one eye on the economy, just watching out for any signs of slowdown, but I've got to say this team is going strong," he says.
One thing is certain: Certas' strategy remains consistent. While it continues to stand out in its innovation, it will also remain a strong advocate in navigating the best and most productive ways to serve its customers. As some of the more traditional energy markets decline, the company's intent is to still grow its share in those declining markets and at the same time, add future fuels and energy businesses to its portfolio. We look forward to revisiting the business' progress in a few years' time to share its continued successes.
Certas Energy
www.certasenergy.co.uk
Services: Fuel and lubricants distributor