Flying with the wind
The gradual expansion of the offshore wind industry over recent years has had a favourable effect on Certex (UK), as with projects getting bigger, the specialist in the provision of innovative solutions to lifting problems is getting the chance to display its capabilities on a larger scale. Part of the wider Certex Group, the UK branch is headquartered in Harworth, with a number of workshops and distribution centres scattered throughout the country to ensure quick accessibility for its specialist clients.
This is not the first time that Certex has featured in our magazine, however, more than seven years have elapsed since we last reported on its activities, over which time the company has evolved to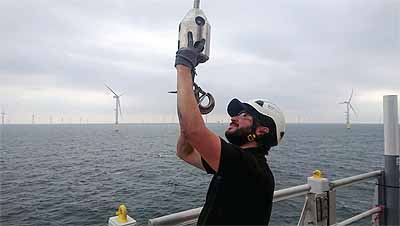 claim a leading role in the renewables sector. "Our department is focused on the wind industry and this is where we aim to stay and develop further," maintains Certex (UK)'s Q&A Manager, Andy Morgon. "Within the last decade, we have considerably increased the size of our workforce, as we got involved in bigger programmes, and this is the major visible change the business has undergone during this time. Where we used to be looking after smaller sites, now we are working on big pre-assembly sites for some well-known clients, such as Siemens.
"Most recently, we have delivered our services to the Race Bank and Galloper wind farms and we can definitely see a trend of wind turbines being built farther offshore and growing in size, which, naturally means there is a lot more work involved in them," Andy points out. "We are flexible in the type of tasks we undertake. Our main activity area covers work done during the construction of a new turbine, but we also provide service to existing and already operational sites, where we carry out inspections and maintenance."
Safety focus
Certex (UK) is currently engaged in the process of tendering to secure work on two new large wind farms that are pending construction. Andy comments on the prospects lying ahead for the business: "The market is getting bigger, as we are now well into what is known as Stage 3 of the wind turbine industry. Building larger sites means that we have come to a point where CTVs (crew transfer vessels) are no longer the most efficient option for operators, who now send hotel ships, instead, where you live on the ship and just travel to the turbine, without having to return to shore every day. It is a burgeoning industry and plans for new turbines continue to be unveiled, which should result in our own growth in size, if we prove our ability to supply them with the right service."
In Andy's opinion, the focus for Certex (UK) in the years to come will fall on the development of new and existing products. "Safety is a major issue on the turbines, as you can imagine, because the work involves being up high and moving components, so the fall protection equipment we provide is now gathering in popularity. For example, we are the supplier for the German company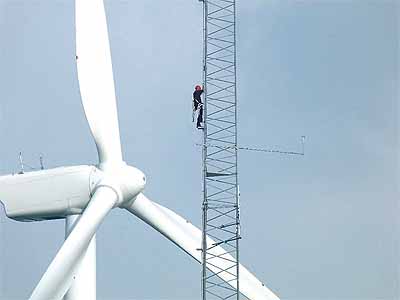 Skylotec, a worldwide leader in the manufacturing of fall protection products, and we promote its safety and comfort to our customers. Alongside the upscale of product sales we want to achieve, we will look to develop our service offering, too, placing strong emphasis on maintenance," he projects.
Furthermore, as the sole provider of the Evacuator™, the company has high hopes for this Dutch life-saving escape device as a driver of a significant spike in sales. Designed to save people who live and work at heights ranging from six to 300 metres, in simple terms, the Evacuator™ is comprised of a housing that contains reels fitted with steel cables. The execution requires users to put on a safety harness and latch on to a central connecting hook. Next, the Evacuator™ will automatically lower them to the ground in a controlled fashion at a speed of one metre per second. Since the tool is fully mechanised, it does not depend on electrical power or any other utility, therefore, it is guaranteed to work safely at all times. The Evacuator™ allows four people to descend at the same time, provided that their combined weight does not exceed 282 kilogrammes.
"It will be interesting to see if the product will become as successful as we hope. We will dedicate time and resources in the next couple of years to get people familiar with the concept of the Evacuator™ and its advantages as a built-in device, as opposed to a portable instrument that needs to be carried around everywhere, hoping that we can get it installed on a number of wind turbines," Andy reveals.
Going on to discuss the fields where Certex (UK) will pursue improvement, he stresses the importance of improving staff performance. "It is the clearest path to making our service more sought-after. We are looking to develop the skills of our employees, so we can broaden our offering and deliver a higher level of support. Our ultimate goal is to be a company people want to work for and at the same time, be the partner of choice for all of our clients."
Certex (UK)
Services: Lifting solutions for the offshore wind industry